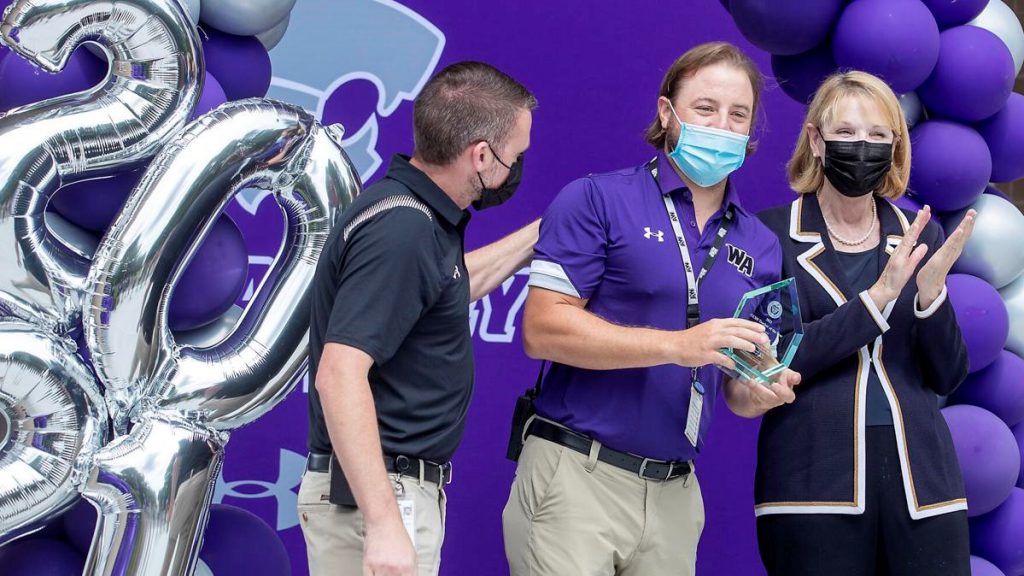 Note: Both Adam "AJ' Barnes and runner-up Abigail Best have benefited from the Zucker Family School of Education at The Citadel. Barnes attended Educational Leadership classes in 2020 through a certification program and Best graduated with a Masters in Educational Leadership in 2020. (Photo courtesy: Grace Beahm Alford, The Post and Courier)
For Adam "AJ" Barnes, being a teacher is about more than giving lectures and helping students ace their tests. It's about building relationships and a community where students thrive.
The Charleston County School District named the West Ashley High School social studies teacher and baseball coach its 2021 Teacher of the Year. Barnes is in his fifth year teaching and coaching at the high school.
Barnes was joined by his family, colleagues, the West Ashley cheerleading squad and many balloons when he accepted his award Aug. 26.
The teacher was one of five finalists throughout the district. In order to receive the recognition, Barnes had to give a tour of the high school, provide a model lesson to be critiqued and go through an extensive interview process with a panel of judges.
The other four finalists for the award included runner-up Abigail Best from James B. Edwards Elementary School, Candace Bare from Ladson Elementary School, Katie Johnston from the East Cooper Center for Advanced Studies, and Vickie Klatt from St. Andrew's School of Math and Science.
Although he's grateful for the recognition, Barnes was quick to put the focus back on the students.
"It's not about me," he said. "I'm tremendously honored and humbled to represent this district, this school, our community and, most importantly, our great kids."
The past year and a half has been like no other. Barnes, like so many other teachers, spent the 2020-21 school year juggling in-person and virtual classes via Zoom.
He's watched as students and staff members test positive for COVID-19, were put in and out of quarantines, and manage to keep it all together while everything remains uncertain.
While he's proud of what he was able to accomplish, Barnes said it's even more impressive to see the capabilities of the students.
"Especially this past year, with everything that we've gone through, you begin to appreciate the resiliency of those kids," he said.
The relationships that Barnes has cultivated with students in his U.S. history classes and on West Ashley's baseball team have been even stronger during the pandemic.
The teacher said he has found himself more invested in student home lives and families now that they're faced with these challenges.
"Teaching is about being the whole package and caring about the whole student," he said. "If anything, (the pandemic) has brought that to the forefront. It's emphasized, once again, for so many of us why we do what we do."
Barnes' dedication to his students and his ability to problem solve, especially during the pandemic, make him stand out amongst the crowd of teachers, said West Ashley Principal Ryan Cumback.
Being able to recognize teachers for their accomplishments is especially important during the pandemic, Cumback said.
"They have hands down the toughest job right now," he said. "You don't know what you're going to get day to day. … It's just tough. Teachers can get burnt out really quick and we try and pamper them as much as humanly possible because they deserve it."
As teacher of the year, Barnes will lead the Teacher of the Year Roundtable, where he will read applications and help choose finalists for the next year's winner.