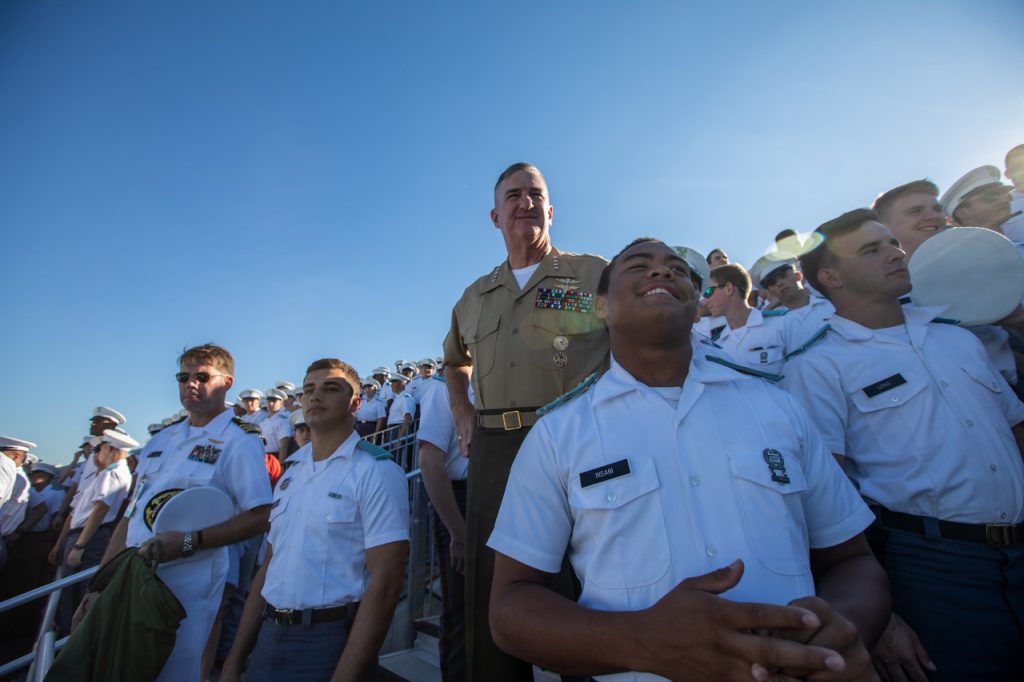 Retired Gen. Glenn Walters returned to his alma mater as its 20th president in the fall of 2018 and found The Citadel had changed for the better.
Opportunities for veteran students had expanded. Popular new programs had been added in engineering, nursing and cybersecurity. The Corps of Cadets had just admitted its most diverse class in history.
Perhaps the most striking change of all: For the first time in the public military college's 175-year existence, a female cadet is leading the Corps as regimental commander this year. When Walters was a cadet, the only women he saw on campus were working in the mess hall or the administrative building.
"There's a lot that has changed that is good, but all that was good has stayed," said Walters, a member of the class of 1979.
The son of a CIA station chief, Walters grew up mostly overseas in Pakistan, Cyprus, Greece, Lebanon, India and Japan. When he enrolled at The Citadel, he wanted to be a history major but switched to electrical engineering after his father and some professors "put the thumb on me," he said.
His fascination with history still endured: Today, he reckons he has about 600 books on his iPad, mostly nonfiction works on 19th- and 20th-century American history.
He graduated as one of only six electrical engineers in his class, and he recalls watching enviously as his classmates entered civilian careers and took their pick of high-paying jobs in desirable locations. He was commissioned as a second lieutenant in the Marine Corps and reported for flight training in Pensacola, Florida.
During his 39-year career in the Marines, Walters served as a test pilot and deployed overseas to Korea, Iraq and Afghanistan. He earned the Distinguished Service Medal and the Defense Superior Service Medal, and he climbed the ranks until he retired in 2018 as the second-highest ranking officer in the Marine Corps.
In his final post as assistant commandant, he oversaw 184,000 active-duty Marines, 38,000 reservists and a budget of more than $42 billion.
For his first venture into academia, Walters now oversees a campus of about 3,500 students and an $80 million budget. He earns a salary of $187,500.
He said he sees the job of college president as a matter of service — a virtue he says he learned back in the late '70s as a cadet.
"In the end, we're all going to get rolled into a pine box. And when they do that, what do you want accomplished?" Walters said. "If my life's goal was to die with the most toys and the most money, this isn't the right place to do it. But if you want to leave something that you paid forward … the best thing we can do for our country is pay attention to and train and educate and make good human beings out of our young people."
Big plans
Among the most ambitious ideas Walters has proposed in his first semester at The Citadel would be a new effort to counter the nationwide trend of tuition rates creeping upward year after year.
"Eventually, I'd like to get the operating costs at such a state that we never have to raise tuition," he said. "In fact, in five years I'd love to lower tuition despite the fact that inflationary pressures are in the opposite direction."
Tuition currently clocks in at $29,663 for in-state freshmen and $52,135 for out-of-state freshmen, an all-inclusive amount that covers dining, uniforms, laundry services and mandatory housing in the barracks.
To rein operating costs in, Walters said he wants to take a zero-based approach to budgeting, weighing the benefits of each budget item year after year rather than automatically funding something just because it was funded the year before.
He said the school also will pursue new grants and foundation donations to help students afford tuition.
And he said he'll look into new possibilities for generating revenue. He highlighted the example of the college renting out Johnson Hagood Stadium to the Charleston Mac Off, a popular annual mac-and-cheese competition coming up Jan. 12. He said more ideas like that could help turn the college's athletic facilities into greater revenue producers.
One other possibility for increasing revenue remains on the table: increasing enrollment. But with all cadets required to live on campus, any headcount increases would have to come in lockstep with new barracks construction. The beginning of the fall semester drove that point home dramatically, as an unexpected influx of 92 new cadets forced the college to squeeze bunks into trailers and even a clock tower.
"I don't think we should take it off the table," Walters said.
Walters' other great ambition is to come up with a comprehensive plan for building improvements, renovations and replacements for the historic campus on the banks of the Ashley River, which dates to 1922. He said he plans to hire a vice president specifically to work on capital projects.
After breaking ground on Bastin Hall, the future home for the School of Business, Walters has turned his attention to replacing Capers Hall, an iconic Moorish-style building from 1949 that houses several academic departments. He said his other concerns include the school's parking and engineering facilities.
"All those things are moving parts that we haven't had to look at in detail," Walters said.
Holding to tradition
The portion of Citadel graduates who enter military service waxes and wanes with the demands of wartime and peacetime. The federal government drafted the college's entire Class of 1944 into service during the summer before its members' junior year. For the past several years, about one-third of each graduating class has commissioned as an officer in the U.S. military.
Still, from the barracks to the mess hall to the uniforms and precision drills, the college maintains a distinctly military feel. And when it comes to a hallmark of that military environment, the "fourth-class" system that requires freshmen to obey the lawful orders of any upperclassman, Walters said he doesn't plan to make any changes.
Leaders within The Citadel's own ranks have criticized the system as a root cause of the violent hazing that has plagued the school for well over a half-century, starting with President Gen. Charles P. Summerall in 1943, who told the Board of Visitors, "The oppression exercised over fourth-classmen is not discipline but the antithesis of discipline." More recently, in 2014, former Citadel Assistant Commandant Kevin Dopf wrote in a doctoral dissertation that the fourth-class system remained a key part of an abusive culture on campus.
Walters acknowledged that the college has had hazing problems in the past, but he said the problem changed for the better since retired Navy Capt. Geno Paluso took charge as commandant of cadets in 2014. Paluso led a high-profile hazing crackdown in 2015 that ended with him recommending 19 cadets for suspension, dismissal or expulsion.
"That's the big difference. You didn't do anything about it when it was discovered 20 years ago, 40 years ago in my case," Walters said. "But now, when it does pop up and people are held to account, that's what changes behavior. Cultural change happens over a generation, and I would say that Capt. Geno Paluso has started that."