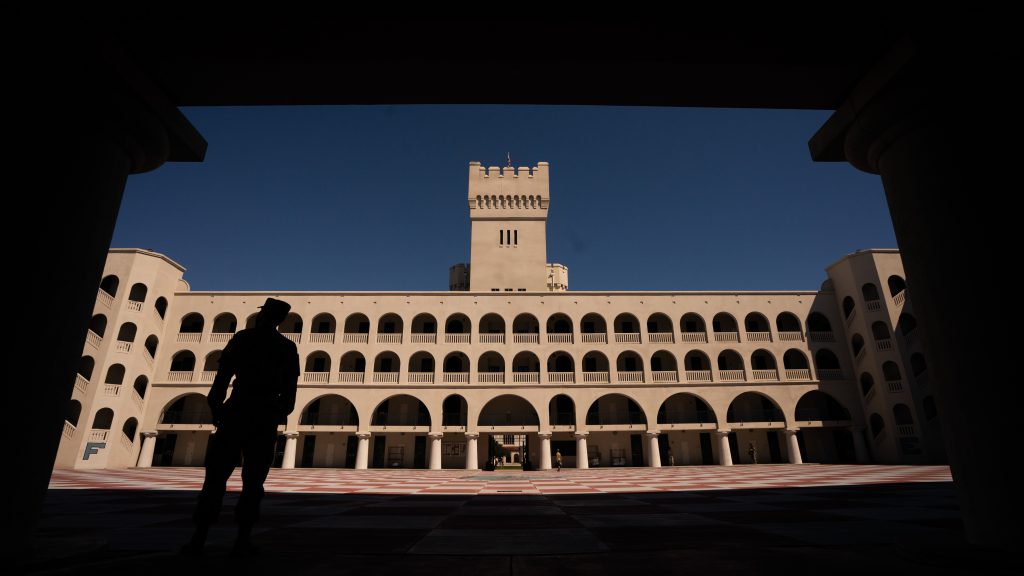 Global Women in Leadership Day
Monday, March 8
9-11 a.m.
Virtual, via WebEx
Free, open to The Citadel community and the public
One of the first major events for Women's History Month on campus involves a high-flying graduate from The Citadel Graduate College.
Alecia Lopez Floyd — who earned a Master's in Business Administration in 2009 and a Master's in Project Management in 2016 — currently works in leadership development for Boeing. Now, she's working with her alma mater to host an event celebrating International Women's Day.
Floyd, along with The Citadel's Diversity, Equity and Inclusion Council and the Diversity Advisory Board, are hosting the event virtually on Monday, March 8 from 9 to 11 a.m.
The event will focus on self-preservation, especially during times of isolation, and will feature speakers cross the world, including:
Alicia Lopez Floyd – United States
Anu Hatti – India
Ilaria Sbrilli – Italy
Samhita Seal – India
Catherine Ahdjila Geffroy – France
Saranya Udayakumar – India
Agnieszka Buczak – Poland
The women specifically address areas such as self-awareness, self-efficacy, self-promotion and self-care. The event will also include a 15-minute breakout session.
To join the session, click here.
Meeting number (access code): 144 762 0621
Meeting password: aDVDmk445DZ
First round on the 2021 Corps-Wide Speaking Competition
Monday, March 22
2-4 p.m.
Patricia McArver Public Speaking Lab
Open to cadets
Every member of the South Carolina Corps of Cadets has a personal story to tell — and one of the annual traditions on campus gives them a chance to win money for speaking up.
Though the pandemic has forced some small changes to the structure, the 11th Annual Henry Dale Smith Corps-Wide Public Speaking Contest will kick off on March 22.
From 2 – 4 p.m., cadets are invited to record a five to seven minute speech in the Patricia McArver Public Speaking Lab, in Bond 367.
Competing cadets can present original speeches on topics such as:
A personal story that shaped their life
History revisited
The benefits of science
How culture has shaped them or society
A hobby or passion
The following round will be held the week after, where cadets will present their speeches, live, to judges. Speeches given in that round will be open for the public.
The first-place winner will earn the title "Best Speaker in the Corps," an award included in the college's annual Commencement Week Awards Convocation, as well as a $500 prize. The second-place cadet will receive $300.
The speaking competition is hosted by The Patricia McArver Public Speaking Lab, where students, faculty and staff can polish their public speaking skills. From timid talkers to confident communicators, The Public Speaking Lab works one-on-one with a variety of individuals to create great presenters.
Presentations on "Climate change and its impact on international and national security"
Tuesday, March 15
6 p.m.
Virtual, via Zoom
Free, open to the public
The threat of climate change brings with it wide-ranging risks. One of those risks is to national security, not just for the United States but for the world as a whole.
That's why The Citadel's Department of Intelligence and Security Studies is focusing on climate change for its upcoming session of Emerging National Security Topics.
The presentation on March 15 will feature:
The lecture series will be streamed online at 6 p.m.
Click here to join the Zoom meeting.
The Emerging Topics Lecture Series is open to the public, and is especially designed for Citadel cadets and students, and others interested in hearing national security issues by Citadel faculty members, alongside other international experts.
The Gold Star Journal Academic Conference
Tuesday, March 30
6-7:30 p.m.
Buyer Auditorium
Free, open to Citadel cadets, students, faculty and staff
The Citadel's premier scholarly publication, The Gold Star Journal, will celebrate its 25th anniversary during an Academic Conference on Tuesday, March 30.
The featured speakers will be the published authors from the 2021 edition of The Gold Star Journal. Authors and papers published in this year's edition include:
Hannah Dion, 2022, Biology Major, "Cleopatra: The Propagated Villain of Rome"
Joseph M. Field, 2021, Political Science Major, "The Importance of Military Discipline in the 17th Century Manchu Army as Seen in Dzengseo's 'Diary of my Service in the Army'"
Nick Fricchione, 2021, History Major, "German War Graves: A Tragic and Somber Reminder of Cost of War"
Frank Hoffman, Graduate Student, International Politics and Military Affairs Major, "Engaged Containment: A Viable Solution to the North Korea Problem"
Thomas Kyte, 2022, Political Science Major, One Belt and One Road Right Through Ethiopia?
Ashley Ruiz, 2022, Political Science and Intelligence Major, "Geopolitical Impacts of Wahhabism in the Middle East"
Jalen Singleton, 2022, Computer Science Major, "Cybersecurity and Cryptography: The Interrelation"
Shiloh Smiles, 2021, Computer Science and Cyber Operations Major, "Implications of Quantum Computing on Computational Complexity Theory"
Dylan R. Wood, 2023, Mechanical Engineering, "Electric Car Battery Development and Analysis"
The conference will include presentations and awards. Free copies of the journal will be available.
This year's edition features nine cross-disciplinary papers written by The Citadel's best and brightest undergraduate and graduate students and many photographs taken by Citadel students.
Social distancing will be enforced, and hand sanitizer will be provided upon entry.
Registration for The Citadel Applied Physics Experience
Faculty and cadets in the department are working with high school students three times a year through The Citadel Applied Physics Experience. It's a virtual, but still hands-on, "class" that teaches high school students about physics and expands their knowledge of the study's practical applications.
The department is currently accepting registrations for both the spring and summer sessions, after having kicked off the program in the fall semester. Faculty and cadets in the Department of Physics will continue to hold events like this three times a year — in both semesters and during the summer.
The experience is not limited to certain high schools. Physics faculty members will send a kit, for the hands-on portion, to registered students — so anyone who can receive mail can participate. Any student can participate regardless of STEM background.
For more information on The Citadel Applied Physics Experience, click here.
To register for the spring session, click here. The deadline for this session is March 12.
To register for the summer session, click here. The deadline for this session is June 15.