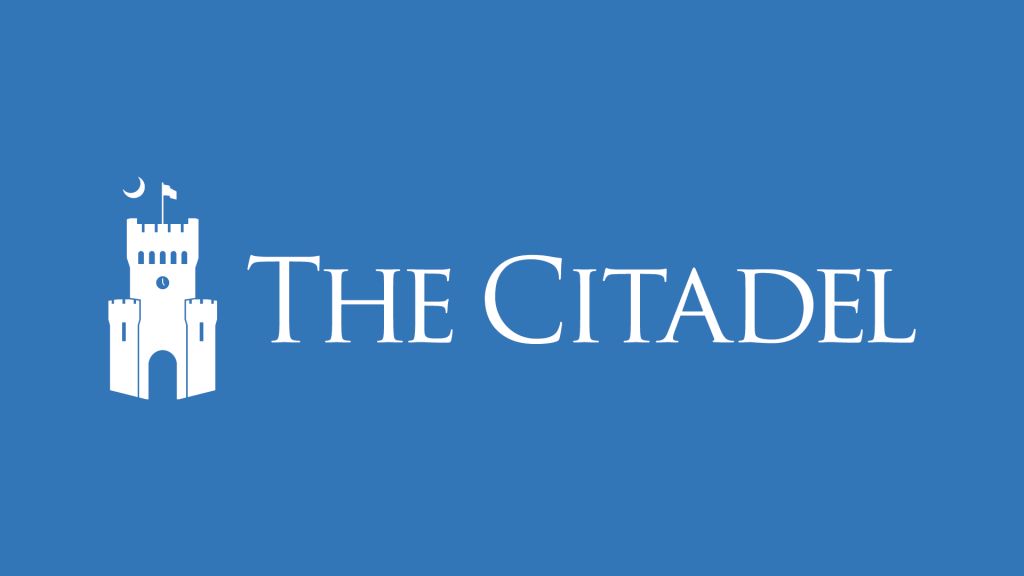 10 a.m. – 4 p.m.
Tuesday, April 3
Mark Clark Hall
Free and open to the public
Every three minutes someone in the United States is diagnosed with a blood cancer like leukemia, and for many, their only hope for a cure is a bone marrow transplant.
On April 13, The Citadel Bulldogs football program is sponsoring a bone marrow registration drive. The drive, which will be held in Mark Clark Hall, is one of many donation events hosted by The Citadel community.
Those interested in registering to become a bone marrow donor can either schedule an appointment or drop in from 10 a.m. – 4 p.m.
Barracks to Broadway
6:30 – 8:30 p.m.
Tuesday, April 10
Mark Clark Hall
$5 general admission; free with Citadel, student, senior or military ID
Citadel cadets will perform their favorite Broadway melodies, old and new, during Barracks to Broadway on April 10.
Nancy Lefter, Citadel music director, and Nakeisha Daniel, the first artist in residence focused on theater for The Citadel School of Humanities and Social Sciences, will co-lead the performances.
Tickets to the event are $5 and can be purchased at the door. Admission is free with a Citadel, student, senior or military ID. Seating will be on a first-come, first-served basis.
To reserve a seat for groups of more than 10, please email silvermant@citadel.edu.
Citadel Department of History to host Utah State University professor
6:45 p.m.
Tuesday, April 10
Duckett Hall Auditorium
Susan Grayzel, professor at Utah State University, will speak about the history of the gas mask during a lecture hosted by The Citadel Department of History on April 10.
The lecture, "Facing the Terrors of Modern Warfare: The Gas Mask and the Aftermath of the First World War," is free and open to the public.
Grayzel is the author of several books on World War I, including At Home and Under Fire: Air Raids & Culture in Britain from the Great War to the Blitz. She is also involved in two research projects – one tracing the civilian gas mask and the efforts to address the consequences of chemical warfare in the British Empire and another on gender, citizenship and civil defense in 20th-century Britain.
Beta Sigma Gamma induction ceremony
5 p.m.
Thursday, April 12
Altman Athletic Center
By invitation only, open to media
The Citadel Baker School of Business will hold its annual induction ceremony for new members of Beta Gamma Sigma, the exclusive international business honor society, on April 12 at the Altman Athletic Center. During the ceremony, top-achieving graduate and undergraduate students, faculty members and business leaders will be recognized for their achievements and inducted into the society.
"The society's membership comprises the brightest and best of the world's business leaders," said Ron Green, interim dean of the Baker School of Business. "Election to lifetime membership in Beta Gamma Sigma is the highest honor a business student anywhere in the world can receive in an undergraduate or master's program at a school accredited by the Association to Advance Collegiate Schools of Business."
Beta Gamma Sigma has recognized scholastic excellence in the world's top business schools since 1913 and has recognized The Baker School of Business as an honor society chapter since 1995. Membership to the honor society provides recognition for a lifetime.
Cyber Defense Team to compete in Palmetto Cyber Defense Competition
7:30 a.m.
Sunday, April 15
Trident Technical College
Free and open to the public
The Citadel Cyber Defense Team will face seven other colleges during the Palmetto Cyber Defense Competition on April 15 at Trident Technical College in North Charleston.
The competition is part of a three-day event that allows high school, college and professional teams a chance to develop their skills and network with others in the computer science and cyber-security fields.
The Palmetto Cyber Defense Competition is hosted by the Space and Naval Warfare Systems Center Atlantic and the South Carolina Lowcountry Chapter of the Armed Forces Communications and Electronics Association.
The competition is free and open to the public. Opening ceremonies begin at 7:30 a.m. with the competition immediately following.
Samurai Slam Jiu-Jitsu Tournament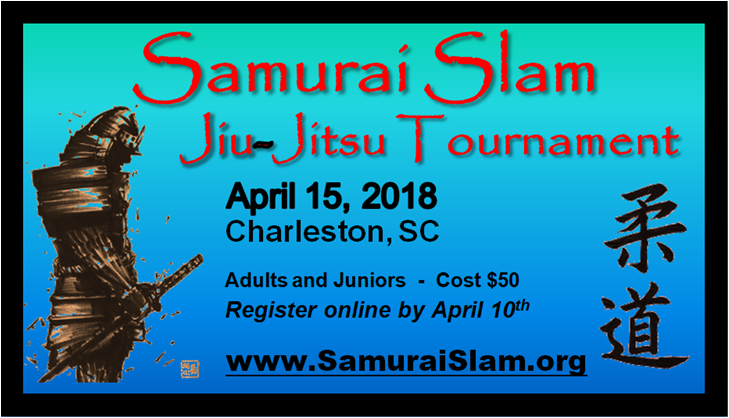 8 a.m. – 4 p.m.
Sunday, April 15
Deas Hall
Free for spectators, $50 for competitors
The Citadel Judo and Jiu-Jitsu team will take on competitors from all over the Carolinas during a Samurai Slam on April 15.
Samurai Slams are large regional-level Judo and Jiu-Jitsu tournaments hosted by the American Judo Foundation, a local non-profit organization dedicated to furthering both sports in the Lowcountry and beyond. All proceeds from the Samurai Slams support equipment, athletes and future events.
The tournament is free and open to the public; however, registration is required to compete. To register for the event, please visit here.
Bulldog Business Bowl finals
8:10 a.m. – 4 p.m.
Thursday, April 19
165 Bond Hall
Free and open to the public
The Citadel Bulldog Business Bowl will hold its third and final round of competition on April 19 in Bond Hall. Five teams were selected for the finals based on business ideas and presentations pitched to a judging committee in the fall 2017 semester. The finalists will present to a panel of judges a fully developed business plan that includes marketing, financial projections and pricing and production strategies. The winning team will receive $10,000 and the second-place team $5,000 to start their businesses.
The five teams competing in the fourth annual event include:
GRASPIT: creates wireless robotic hands that mimic human motion
HD Flight Technologies: develops hybrid drones
Integrated Solutions Technology: develops a sensor system that detects environmental hazards
Safe Flight Suppression Systems: produces fire suppression systems for airplanes
Terch Products: repurposes baseball field rain tarps into merchandise
The Bulldog Business Bowl, hosted by the Tommy and Victoria Baker School of Business, is a competition aimed at budding Citadel entrepreneurs who have an idea for a new product or service and the desire to turn that idea into a business.
The Citadel Career Center to hold Internship Appreciation Reception
2:30 – 4:30 p.m.
Friday, April 20
Johnson Hagood Stadium
By invitation only, open to media
The Citadel Career Center will hold a Spring Internship Appreciation Reception on April 20 to recognize community organizations that provide Citadel students with internships and other hands-on learning experiences.
During the reception, a panel of student interns and site preceptors will provide a brief presentation about their experiences and network with other attendees. Following the presentation, attendees can view a traditional Citadel parade on Summerall Field.
Harlan Greene to discuss Charleston's LGBTQ History
6:30 p.m.
Tuesday, April 10
165 Bond Hall
Free and open to the public
Harlan Greene will discuss the LGBTQ history of Charleston during a presentation on April 10 in Bond Hall.
The presentation, "Tracing Charleston's LGBTQ History: Problems and Opportunities," is free and open to the public.
Greene is the head of special collections at College of Charleston's Addlestone Library. He is also an author of both fiction and non-fiction works, including What the Dead Remember and The German Officer's Boy.
The Citadel Pride Alliance, the Department of History and the Diversity, Equity and Inclusion Council are sponsors of the presentation.
Registration underway for Intelligence and Cyber Security Conference
Registration is now open for the 2018 Intelligence and Cyber Security Conference. The conference, which will take place September 25-26, will feature presentations by academic faculty, students and practicing professionals from a variety of governmental agencies and private security companies. It will be the third conference on the subject of intelligence and cyber security hosted by The Citadel.
Registration to attend the conference is $250. Discounted registration is available for students, law enforcement personnel, active duty or retired military personnel, or current federal, state or local government personnel. Citadel faculty, staff, cadets, graduate students and evening undergraduate students may attend at no cost.
For more information, or to register, please visit here.
April feature from The Citadel Experts Guide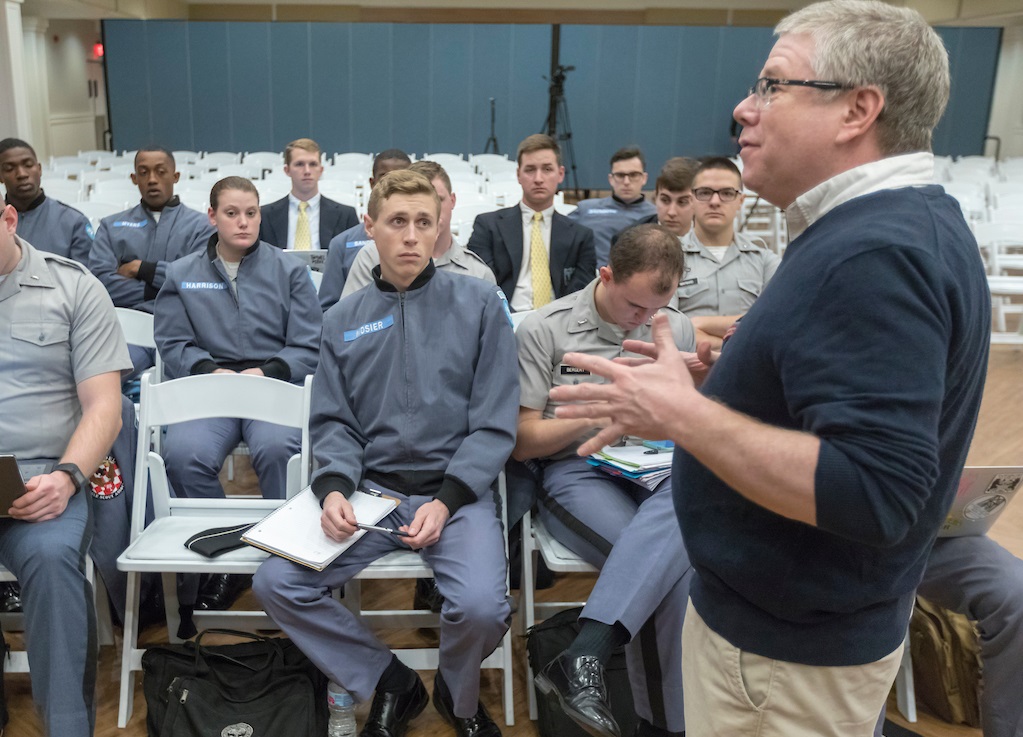 The Citadel Experts Guide is a resource for journalists, researchers, K-12 teachers and community organizations looking for professors and staff who are leading influencers in their fields of interest. An expert will be introduced in each edition of Upcoming News from The Citadel.
Kerry Taylor, Ph.D., is assistant professor in The Citadel Department of History. He is also the coordinator of The Citadel Oral History Initiative.
Taylor is a specialist in 20th century U.S., labor, African American and oral history and has a new book that shares the history of Charleston during the Great Depression. The book, Charleston and the Great Depression: A Documentary History, 1929–1941, is available for purchase beginning April 1.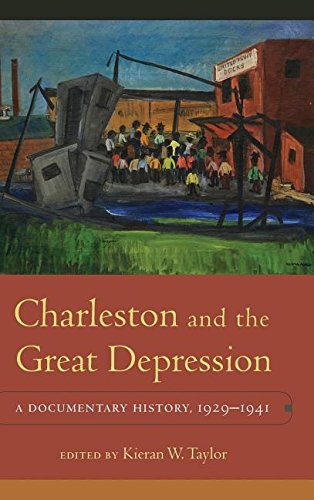 Included in the book are letters, personal accounts, organizational reports, meeting minutes, speeches, photographs, oral history excerpts and trial transcripts. Together they reveal the various ways in which ordinary Lowcountry residents – largely excluded from formal politics – responded to the era's economic and social crises
Taylor has also co-edited Volume 4 and Volume 5 of The Papers of Martin Luther King, Jr. and American Labor and the Cold War and has contributed chapters to Rebel Rank and File: Labor Militancy and Revolt from Below during the Long Seventiesand American Labor Struggles and Law Histories.
His current manuscript project is entitled Turn to the Working Class: The New Left, Black Liberation, and the American Labor Movement, 1967-1981.