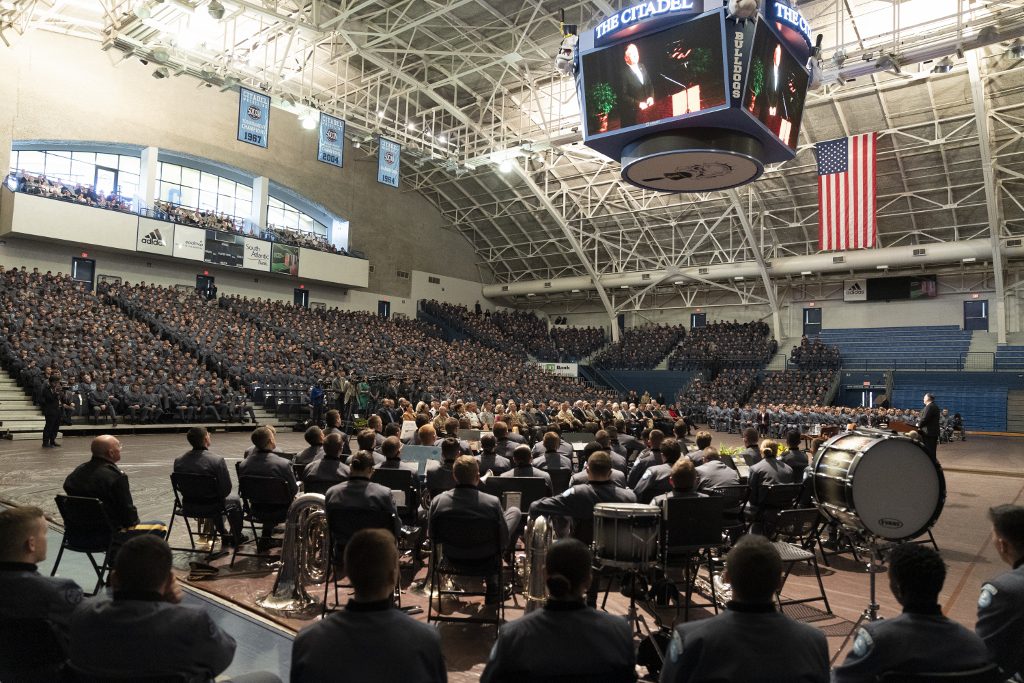 Photo above: U.S. Secretary of State Michael R. Pompeo addressing the South Carolina Corps of Cadets on Veterans Day, 2019, at The Citadel
Part of The Citadel experience includes opportunities for cadets to hear directly from leading public figures through the college's Greater Issues speaking series.
On Veterans Day, it was a former Army Lieutenant who is now the nation's 70th Secretary of State who shared lessons he learned serving America as a soldier and in other roles over his career, including as Director of the Central Intelligence Agency and Secretary of State.
I chose public service one more time out of a responsibility that I feel to the generations that came before me that gave me the incredible privilege to be an American and live in freedom and the responsibility that each of us has to the generations that will follow us. And as we sit here today on November 11, on Veterans Day, it's a reminder of the sacrifices made down through the years.

Michael R. Pompeo, U.S. Secretary of State
Before the address, U.S. Secretary of State Michael Pompeo met privately with cadets from his home state of Kansas at his request.
The Secretary continued the conversation before the entire South Carolina Corps of Cadets:
"Your success as a cadet isn't just about good grades. It's about maintaining discipline in everything that you do. It's about shining your shoes until you can see your reflection. You should have checked mine out this morning. It's about showing up on time, ready to go, even if after three hours you feel like you didn't get enough sleep."
"…whether it's in uniform or in civilian service, your mission will hinge on your capacity to focus and your capacity for personal self-discipline."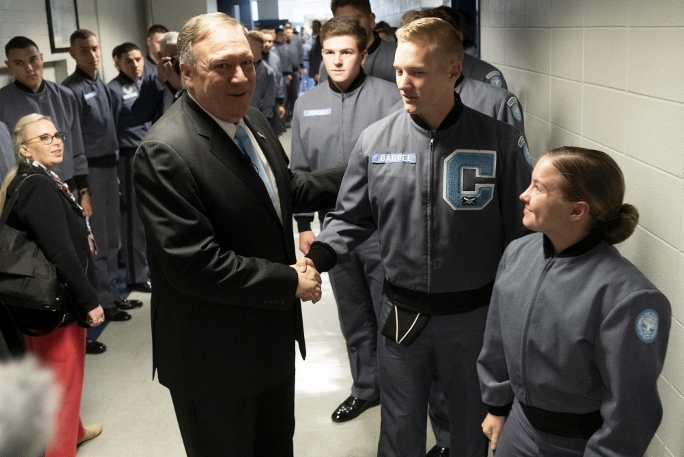 Before leaving McAlister Field House and shaking the hands of numerous cadets along the way, Pompeo added this:
"Should you have the honor of serving, I pray you learn the lessons that I learned and allow them to inform you in your lifetime of giving to America. Because the country will need you, your generation will need you, and the generation that comes after you will need you too."
Watch U.S. Secretary of State, Michael R. Pompeo's address to the South Carolina Corps of Cadets