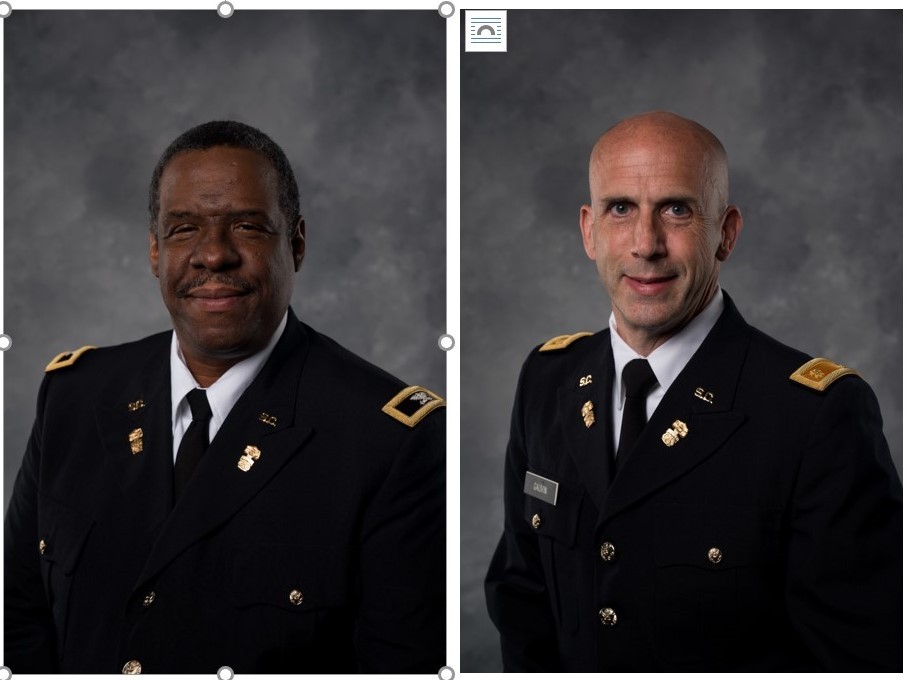 Introducing John Robinson Jr., and Keith Gauvin
Pictured above: On the left, John Robinson Jr., and Keith Gauvin
The Citadel campus community welcomes the college's new Executive Director of Academic Affairs and Academic Services, John Robinson Jr., JD/MBA, and new Registrar, Keith Gauvin, MA.
Robinson joins The Citadel with experience as the Exec. Director, Student Support and Academic Enhancement Services, at Texas Southern University. In that role he managed all day-to-day operations of student support and academic enhancement services, whose primary purpose was developing student support programs that increased student engagement,
inclusion, retention, progression, and graduation rates. At The Citadel Robinson will fulfill a similar function, directing activities related to absences, academic appeals, and support through the Student Success Center and the Citadel Success Institute. He can be reached in Bond Hall, room 370.
Robinson holds a Juris Doctor in Business Law from Tulane Law School, a Master in Business Administration (Management and Organizational Management) from Villanova School of Business, and a Bachelor of Arts in Economics from Columbia University where he also played football.
Gauvin joins The Citadel from Western Connecticut University State University where he was also registrar. Some of those duties included managing the academic functions of the University's inter-relational database, implementing and maintaining the University's online degree auditing system, identified and resolving database technical issues, and supervising ten professional staff members, and several student employees. Prior to that, he was registrar at Post University.
Gauvin holds a Master of Arts in Diplomacy and a Bachelor of Arts in History from Norwich University.
The Citadel Office of the Registrar is located on the first floor of Bond Hall. The office fosters academic progress of cadets and students from first contact and beyond graduation by providing academic support services in furtherance of The Citadel's mission of achieving excellence in the education and development of principled leaders.