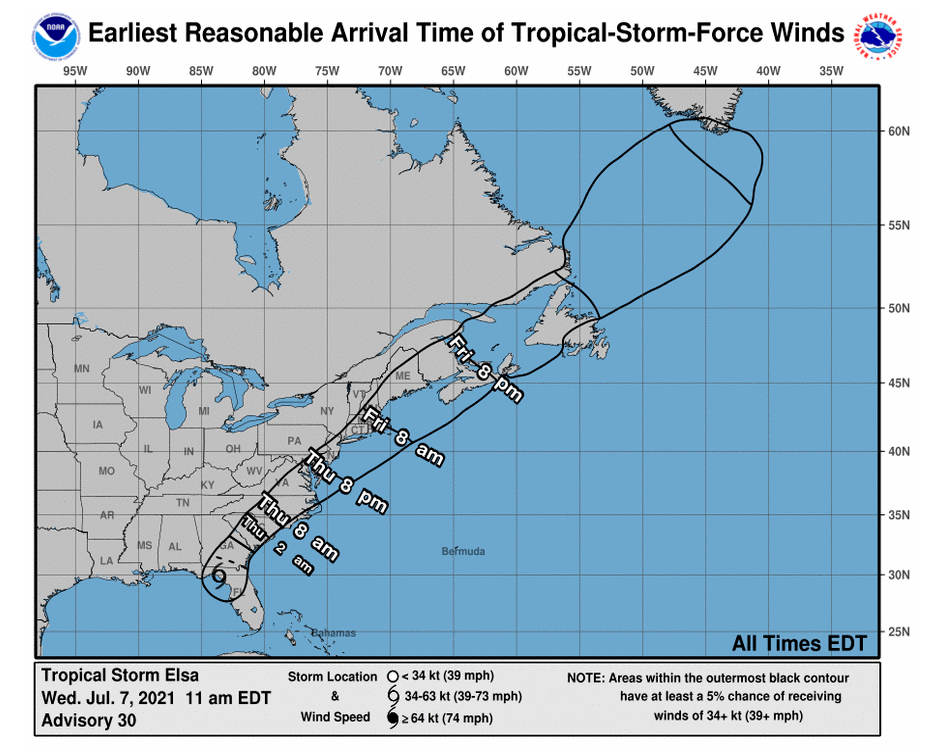 Map above courtesy of the National Hurricane Center
UPDATE 6a.m. Thursday, July 8
The Citadel will continue with normal operations today, Thursday, July 8.
Please use caution and good judgment in traveling to campus for work or classes, as there may be flooded road conditions in some areas. Here is a map of areas prone to flooding near campus.
If there is an issue preventing you from coming to campus for work, please call your supervisor. If you are a student, please contact your professor.
Original message July 7
Campus community,
The Citadel's leadership team is monitoring the movement of Tropical Storm Elsa in concert with Charleston County emergency response officials.
Current storm tracking shows Elsa bringing winds of about 63 mph into Georgia. It is expected to move into the Charleston area after midnight with the possibility of high winds, rain and flooding.
There are roads surrounding campus that are prone to flooding during heavy rain events. You can access that map here.
As required, the college follows the direction of the County of Charleston with regard to any closures or delays. At this time, there are no changes to campus operations, but please stay alert and monitor the college's Today newsroom and the college's Facebook page for updates, should that change.
Col. Tom Philipkosky, Senior Vice President for Operations and Administration, The Citadel