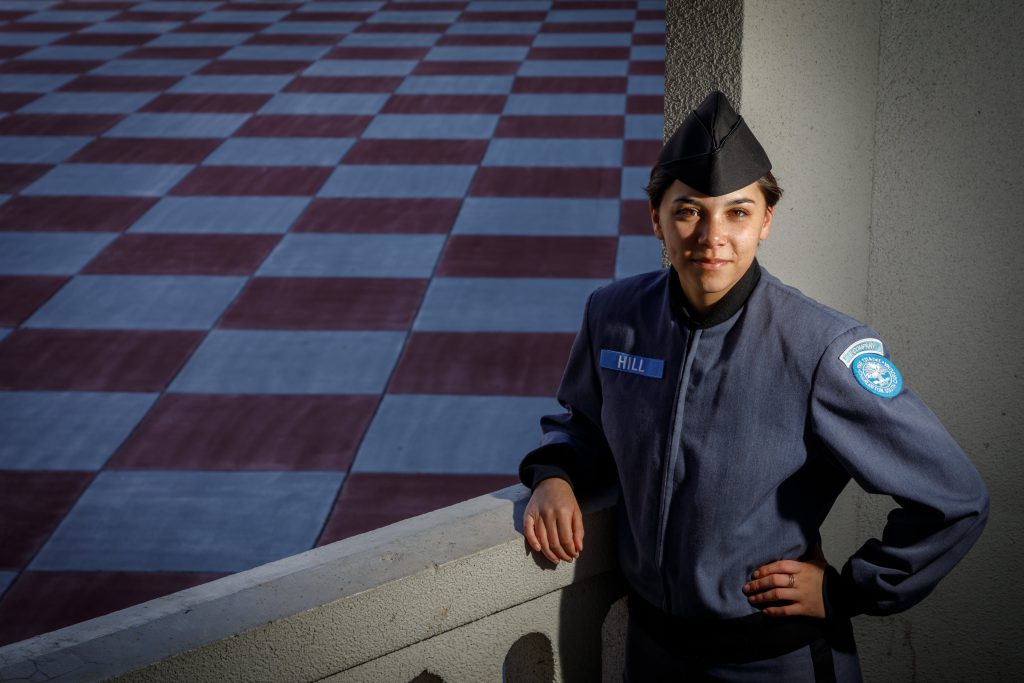 ---
For as long as she can remember, Catherine Hill wanted to be a nurse, just like her mother. And when her dad, Maj. Ruston Hill, '90, an Army chaplain who teaches ethics at the JAG School at the University of Virginia, told her that The Citadel had started a nursing program, she saw an opportunity to follow in both her parents' footsteps—pursuing a nursing career as an Army contract cadet at The Citadel.
The third of six children, Hill was an Army brat who spent her childhood living all over—Tennessee, North Carolina, Pennsylvania, and even Stuttgart, Germany. The only constant was The Citadel, where the family always returned for football weekends, baseball games and Homecoming. But The Citadel she remembered, where she played on the parade ground with her siblings, was not the same Citadel where she learned to march and shine brass.
"It was a hot, humid mess," she said, describing the intense beginning when the freshmen, or fourth-class cadets, start military training. Despite the chaotic introduction, Hill was up for the task.
"Coming here teaches you more about yourself than you could ever find anywhere else."
The restrictions of fourth-class life were challenging. While her friends from high school were off at other colleges enjoying their freedom and following their whims, Hill was on a tight 24-hour schedule that tested her mettle, and there were many times she asked herself why. But one Friday afternoon dress parade turned into another, and all of a sudden it was January, and she was starting a second semester. The classes and the discipline of cadet life became routine. And pretty soon she found that the second semester had reached a crescendo—the day that she and her classmates had waited for all year was finally upon them.
Recognition day. The day of nonstop physical training. Push-ups, sit-ups, drills back and forth across Summerall Field, a spirit run around campus, a class set of 121 pushups acknowledging the Class of 2021, and finally the emotional moment when the regimental commander announces across the loud speaker, "The fourth-class system is no longer in effect."
"The people who had yelled at us the most all year long were the people who helped us out the most. That's something none of us ever saw coming. So even though they were very hard on us, we could tell at the end that they believed in us, and that they were proud of us."
Lying in a heap with her classmates, their hands all holding onto the Echo Company guidon, Hill felt the exhilaration of having completed her knob year.
"That moment was surreal. Something you'll never forget."
Afterward Hill saw her brother, Russ Hill, a sophomore in F Troop, walking towards her. He shook her hand and then he gave her a hug.
"I tried not to cry at first. I tried not to be emotional. But there's so much running through you at that moment—so much emotion. When you're all standing there together bracing for the last time, you're thinking of the moments that were the hardest for you—the ones where you thought you were going to give up. The ones where you thought, 'I can't do this anymore.' And then you realize that you made it and you got here and you did something. This was a really big accomplishment."
To view more student and cadet stories, visit mighty.citadel.edu.