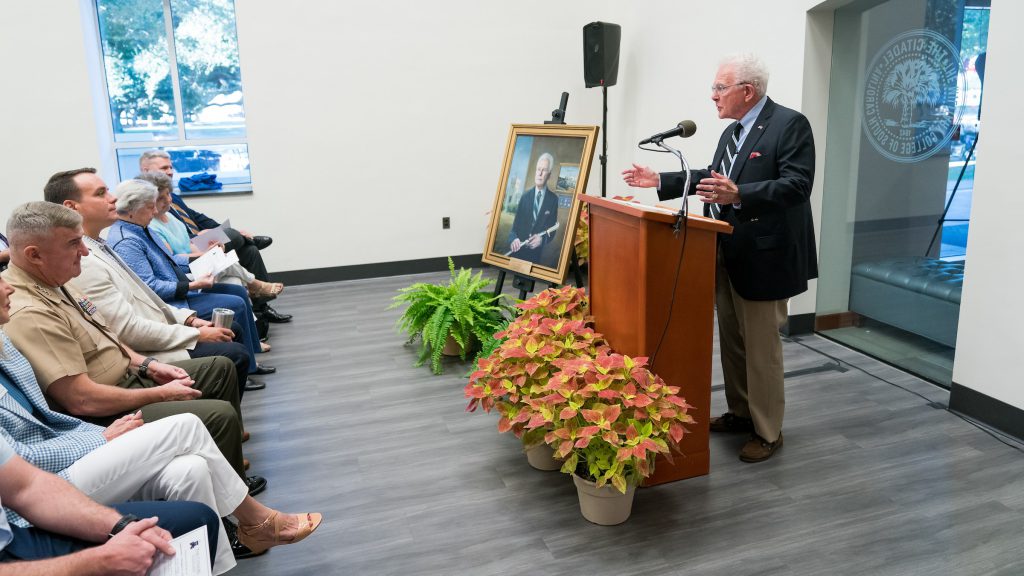 Photo: Col. Myron Harrington Jr., USMC (Ret.), '60, speaking at the unveiling of his portrait
The newest portrait in The Citadel's Distinguished Alumni gallery is now on display in Daniel Library, honoring a lifetime of service to both the nation and the college.
On Saturday, Oct. 23, the portrait of Col. Myron Harrington, USMC (Ret.), '60, was unveiled in front of a crowd which included Harrington and his family, members of the Class of 1960, current and former members of the Board of Visitors (BOV), the college administration, and many others from The Citadel family.
"I am humbled by my inclusion to the portrait collection of Distinguished Alumni and Past Board Chairs," said Harrington. "I thank my fellow Board members and everyone from The Citadel who helped make this happen."
The Distinguished Citadel Alumni List is an extremely prestigious award, reserved for a very select group of alumni who have demonstrated extraordinary achievement as a single act, or the cumulative effect of a series of significant acts over time, or having held a nationally, regionally, or locally recognizable and prominent position of unique and great responsibility
Harrington has served his alma mater in numerous capacities for decades, including on the BOV as secretary, general board member, vice chair and, most recently, chair until his term ended on July 1, 2021.
"It was my honor to accept Col. Harrington's portrait on behalf of the college," said The Citadel President Gen. Glenn Walters, USMC (Ret.), '79. "Future cadets observing his portrait will, I hope, emulate his lifetime of selfless service to his nation, community and The Citadel."
Harrington served as an officer in the U.S. Marine Corps for 30 years. He was awarded the Navy Cross for extraordinary heroism on Feb 23, 1968, while serving as commanding officer for Delta Company, First Battalion, Fifth Marines during the Battle of Hué, as part of the Tet Offensive in the Republic of Vietnam.
After retiring from the Marine Corps, Harrington — who graduated from The Citadel with a degree in History — served in independent school education for which he earned numerous awards.
Col. Harrington's other military commendations include the Silver Star, Legion of Merit with two Gold Stars, Meritorious Service Medal with Gold Star, Navy Commendation Medal with Combat "V" and Gold Star, Vietnamese Cross of Gallantry with Gold Star, Vietnamese Cross of Gallantry and Vietnamese Staff Honor Medal 1st Class. He also holds numerous service and campaign medals as well as unit commendations such as the Combat Action Ribbon, Presidential Unit Citation (two) and Vietnam Service Medal (five campaigns).