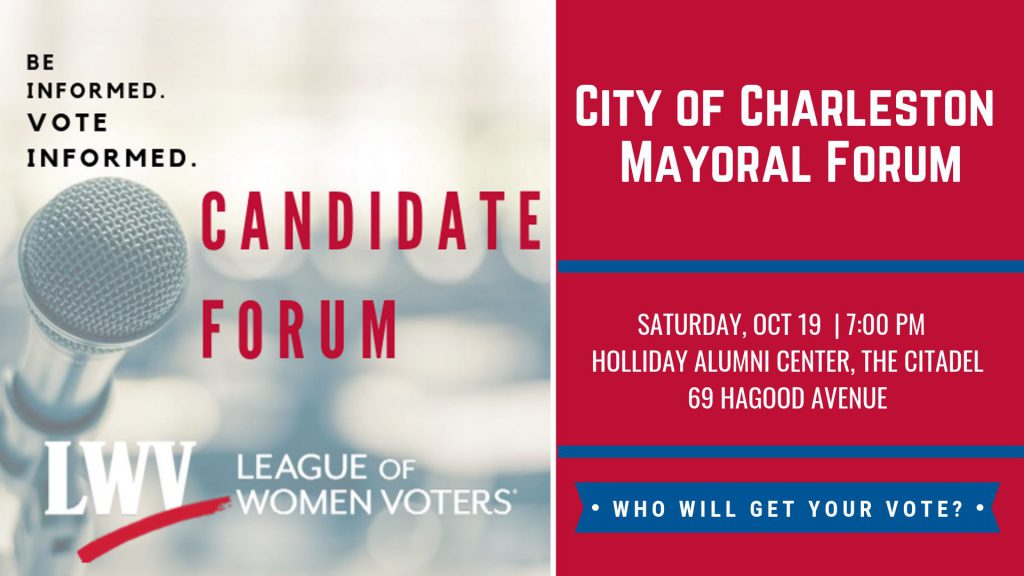 One of Charleston's most infamous spots for tidal flooding, sometimes called "nuisance flooding" or "sunny day flooding," is at the intersection of Fishburne Street and Hagood Avenue. Later this month, not a full block away from that intersection, the six people running for mayor will discuss their ideas on how end Charleston's systemic flooding, as well as the other issues facing the city.
Less than a month before Charleston voters head to the ballot box to choose their mayor, The Citadel, the League of Women Voters of the Charleston Area and WCSC Live 5 News will co-sponsor an open forum for the six candidates.
Voters will have the chance to hear why the candidates believe they're the right choice for the job, discussing topics like flooding, traffic, development and more. The audience will also have an opportunity to ask questions.
The forum is free and open to the public. It will be held at 6:30 p.m. on Saturday, Oct. 19 at the Holliday Alumni Center (69 Hagood Ave., Charleston, SC 29403).
Bill Sharpe and Ann McGill, both of Live 5 News, will moderate.
The candidates running for mayor are:
Sheri Irwin: West Ashley resident; currently works as a meteorologist for Charles Rivers.
Michelle Renée Orth: James Island resident; founded a nonprofit called the Stone Soup Collective to help feed the hungry.
Mike Seekings: served on city council for the last nine years representing most of the historic district; also serves as the chairman of the Charleston Area Regional Transportation Authority and as interim race director of the Cooper River Bridge Run.
Mayor John Tecklenburg: current mayor of Charleston, sworn into office in 2016; he is a commercial realtor and served as the city's director of economic development from 1995 – 1999.
Maurice Washington: a former city councilman who served for eight years; currently the President & CEO of Trust Management, LLC, a financial services and consulting company.
Gary White: served on city council for the last 12 years representing Daniel Island and a portion of the eastern peninsula; also serves as chair of the council's Committee on Ways and Means.