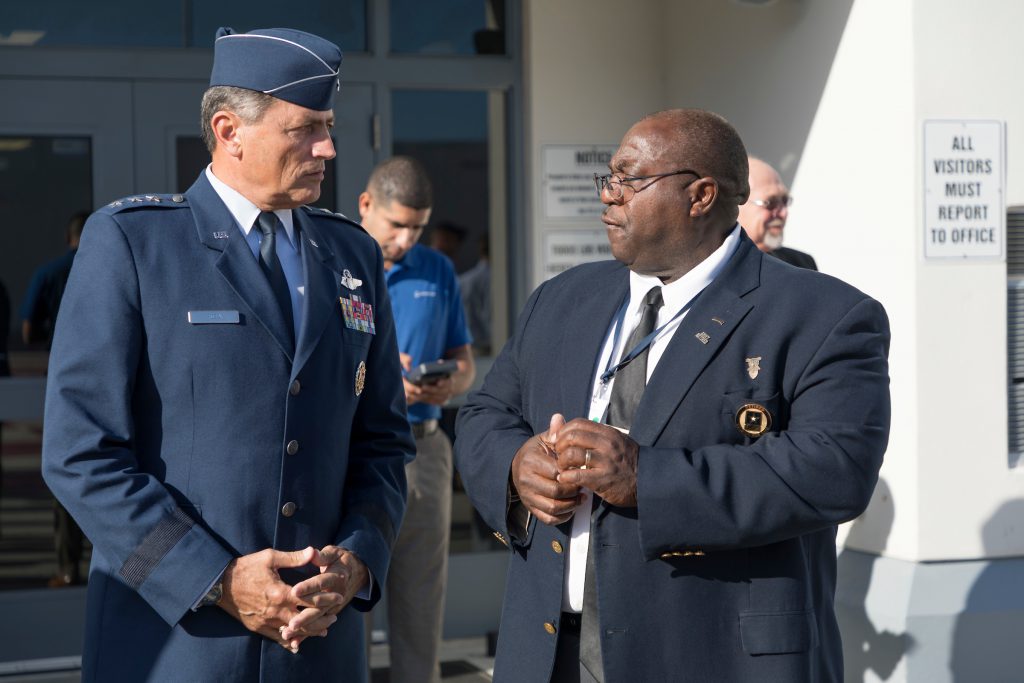 Principled leaders of The Citadel joined 21st century leaders of the Military Magnet Academy on a day devoted to service learning and civic engagement—Leadership Day.
One of The Citadel's longest partnerships to date is with the Military Magnet Academy, a Title I middle-high school located in North Charleston, South Carolina. Ties between Military Magnet and The Citadel were first established in 2005 when the academy became the military college's first mentor school through an outreach initiative of the college's African American Studies program.
Since The Citadel and Military Magnet first started collaborating, there have been mentor luncheons to promote the importance of college-level education. Currently, The Citadel provides Homework Helpers, an after-school tutorial program during the academic year that offers homework assistance in all academic subjects to Military Magnet students. Since its inception, Homework Helpers has expanded into a summer school program that coincides with The Citadel's Summer SUCCEED (Summer Undergraduate Community-based Civic Engagement Experience for Development as Leaders) program. The summer program at Military Magnet targets students based on standardized test scores so that lower-performing students may benefit from extended instruction in the summer months.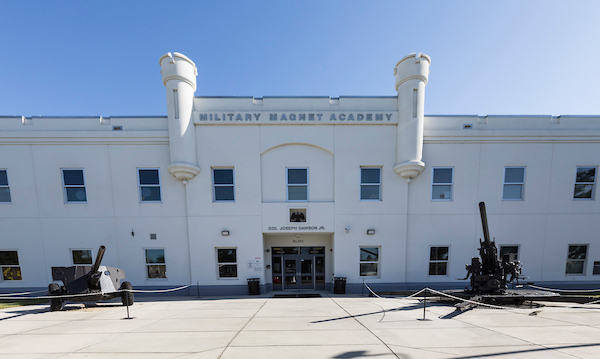 The year-round contact that the schools have with one another has positively affected many students. During the summer of 2016, Citadel cadets and students volunteered a total of 263 service hours at the academy. For the 2016-2017 school year, The Citadel contributed over 300 volunteer hours at the school.
Much of the reason Military Magnet and The Citadel have maintained such a longstanding community partnership is their shared emphasis on academic excellence in a disciplined military environment. The Citadel has greatly influenced Military Magnet Academy, according to Principal Anderson Townsend. In 2009, the Charleston County School District redesigned Military Magnet to look like a miniature replica of The Citadel that includes a red and white checkerboard in its center quadrangle similar to those found in the barracks at the military college.
"What the Military Magnet Academy is really trying to do is achieve what is occurring at The Citadel," explained Townsend. "We are trying to enhance academic student achievement to a higher standard so that our children can reach the highest point possible in their lives. I think for our students to get into a school like The Citadel or like West Point or any of the military academies will do that."
Both schools are celebrating milestones this year. The Citadel is currently celebrating its 175th anniversary and Military Magnet is celebrating its 20th anniversary next month.
On Leadership Day this year, Citadel President Lt. Gen. John W. Rosa and recent Medal of Honor recipient retired Capt. Florent A. Groberg visited the Military Magnet Academy to speak with students and review parade in his honor. India Company, the winner of this year's Presidential Cup, also participated in parade and was led by Cadet Jacquary Bradford of Kilo Company. A North Charleston native, Bradford attended Military Magnet before arriving at The Citadel.
Rosa expressed gratitude to Military Magnet and Citadel cadets at parade. "Thank you for your dedication, for your sacrifice, for your discipline. For getting up every day, putting that uniform on and becoming a better citizen for Charleston, the Lowcountry and this nation," he said.
At the academy, Groberg gave remarks to cadets about serving others. Before closing out his Leadership Day visit, he entered classrooms for a question-and-answer session with students. Citadel cadets also took to the classrooms to lead lessons on heroism.
"Every year, the activities on Leadership Day help the cadets and students develop the tools they need to lead," said Col. Tom Clark, executive director of the Krause Center for Leadership and Ethics. "Whether it is through service projects in Charleston and the Lowcountry, interaction with diverse populations, or ethical leadership training, our students are preparing to be principled leaders in all walks of life."
For more information on The Citadel's annual Leadership Day, please click here.