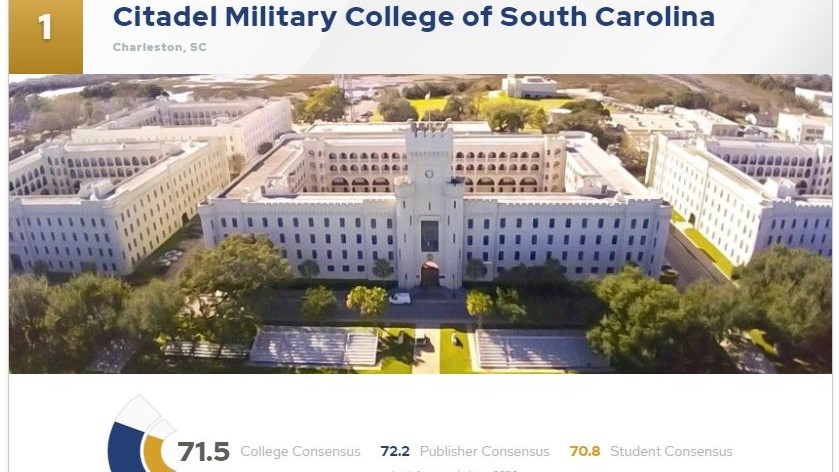 Note: The Citadel is ranked #1 for online colleges in South Carolina, coming in just ahead of Clemson University and the University of South Carolina. To see the colleges' scores, click here.
Online degrees in South Carolina provide an accessible education for residents at multiple levels of education at an affordable cost. From online technical colleges in South Carolina to advanced degrees, these distance learning programs provide a variety of careers to choose from. While anyone seeking higher education in the state can benefit from South Carolina online colleges, working adults, nontraditional students, and rural residents are a perfect fit for one of these programs.
Many online programs are tailored to meet the schedules of working adults, understanding that traditional Monday-Friday class times just aren't a fit with most full-time employment. Non-traditional students such as those pursuing a career change, or parents with young children at home can also benefit from these flexible schedules. Finally, rural residents are able to stay near friends and family while studying online. With few physical colleges in most small-town areas, online schools offer quality education without needing to move.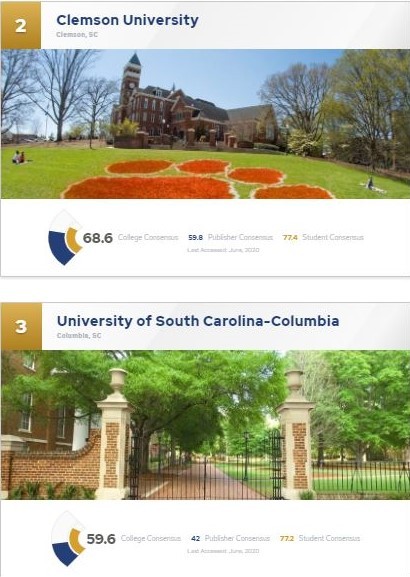 Ranking the Best Online Colleges in South Carolina
How does College Consensus decide the best online colleges in South Carolina? It starts with the Consensus Score, which combines reputable rankings and legitimate student reviews into a single score. We then research Consensus-ranked institutions to find those offering at least 3 online undergraduate programs. Only accredited institutions are considered. Schools are ranked below by their Consensus Score.
If you're interested in traditional campus-based schools, check out our ranking of the Best Colleges in South Carolina. You can also find out more about college financial aid with our list of the Top South Carolina Scholarships.
What Kinds of Degrees are Available Online?
Online degrees in South Carolina come in a wide variety from certificates to Associate's and including South Carolina online Masters programs. The specific type of degree depends on the college offerings as well as the choice of study. Certificate programs may not count as a traditional degree, but many of these programs are short at only a few weeks or a few months and can have a significant return on investment. Associates programs are typically 2-year degrees, while Bachelor's programs offer a 4-year degree. Master's programs are most commonly 2-3 years schooling after a Bachelor's, such as a South Carolina online MBA. A few Ph.D. programs are also available online, although this selection is more limited for your South Carolina online degree.
How Can I Save Money?
Online degree programs in South Carolina can provide a lower cost to students than regional public institutions or community colleges. It would be a poor description to say that the education quality is cheap, but the tuition and schooling costs definitely feel like cheap online colleges in South Carolina when it comes to your budget. Just think of some of the simple ways you save money — like not paying the cost of car and gas for commute, not including dorm living and food costs. Tuition for in-state college is only 40% of the cost of a 4-year degree and only 20% of the total cost of a 2-year degree for traditional attendance. That means online students have the opportunity to gain savings in 60-80% of the costs on-campus students must spend, while still gaining the benefit of online tuition in many places.
Online students are often also working students, hoping to not sacrifice income to further their education. Many jobs will also provide an employer reimbursement program for tuition expenses. This may be especially true if you are considering a program such as those offered at online technical colleges in South Carolina, where your degree may be directly applicable to your current career, for example as a dental assistant, transcriptionist, or electrical apprentice.
Are there Public Online Colleges?
You've probably heard about the dangers of for-profit colleges in the news. While it's true that many for-profit universities offer online degrees with a bad reputation, fortunately, there are also many public online programs. Public programs are often part of not-for-profit school systems and have strong reputations. As technology has evolved, so too has most school offerings so that now many of the brick and mortar schools have additional online programs. U.S. News and World Report list many reputable online programs nationwide. The key is to look for accredited online colleges in South Carolina. Accreditation means that a school has met specific quality criteria including academic standards and adequate training in your field. This guarantee of quality is also a good indicator that employers will value your degree once completed.
Specifically, in South Carolina, there are some great online accredited schools. With many programs geared towards South Carolina tech work like Samsung, many of these online programs can yield a degree in a high-paying career such as software development. Check out programs at the University of South Carolina, where you might major in elementary education or get your online masters in information technology. Consider Charleston Southern University for a certification in supply chain management and enjoy online career counseling services via Skype. While there are many to choose from, another great choice for South Carolina locals in Limestone College. Get an associate's degree in business administration and enjoy a vibrant online job board to help better position you for post-school success.
South Carolina offers a large number of affordable online degree programs for residents. Gain the benefits of your local community with a nationally accredited degree. Continue your career growth no matter what stage of life with one of these quality programs.