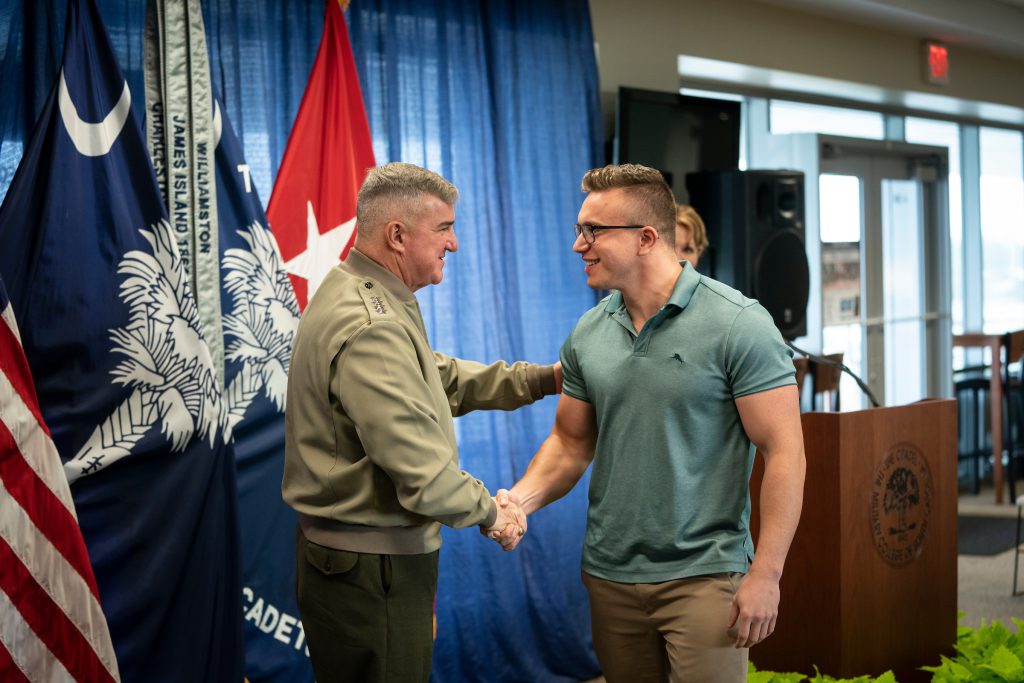 Photo above: The Citadel President, Gen. Glenn M. Walters, USMC (Ret.), congratulating veteran day student, Trevor West, who earned Gold Stars for high academic achievement in January 2020
Many veterans are looking to receive an education and enter the civilian workforce once they have returned home. In most cases, these veterans have families and other obligations, which make them seek out the best online colleges for veterans, who will work with their benefits and their schedule. The flexibility that comes with online degree programs allows these military veterans the ability to work at their own pace and gives them the ability to restructure their life to fit their personal needs.
The lifestyles of veterans are often demanding, even after they have retired from the military. Some of our veterans return home to jobs that require twelve-hour shifts that can be overnight (in public service roles such as nurses, EMTs, and law enforcement), making traditional courses undesirable for their lifestyle. The best online colleges for military veterans give them the ability to work with their instructor and classmates around their schedule while gaining the education necessary to further their degree.
The 2021 top three Best Online Colleges for Veterans are:
The Citadel, the Military College of South Carolina
Rutgers University–New Brunswick
University of Iowa.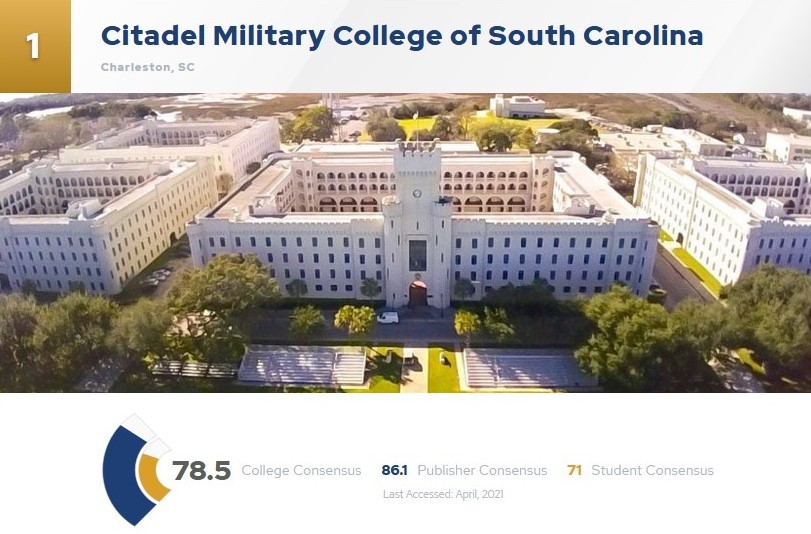 How we chose the best online colleges for veterans
To select institutions to highlight as the best online colleges for military veterans, College Consensus editors had a set of criteria for determining military-friendliness. Institutions must have:
At least 3 online bachelors degree programs to qualify
Servicemember Opportunity Colleges membership
Recognized Student Veteran Organization
Yellow Ribbon Program participation
A staff/faculty support member for veterans and their families
Transfer credits for military service and training
Colleges and universities that met these standards are ranked according to their Consensus Score, using the unique College Consensus methodology. That process should give veteran students confidence that they are choosing a college that not only understands their needs, but have a track record of quality and return on investment. 
Military and veteran students may also be interested in our ranking of the best traditional colleges for veterans.
LEARN MORE ABOUT THE CITADEL VETERANS PROGRAM HERE
Some of The Citadel's other top 25 national rankings by CollegeConcensus.com
#1 College in South Carolina
https://www.collegeconsensus.com/rankings/best-colleges-sc/
#1 Online College in South Carolina
https://www.collegeconsensus.com/rankings/best-online-colleges-south-carolina/
#5 Regional University in the South https://www.collegeconsensus.com/rankings/best-regional-universities-south/
#8 Best Beach Colleges
https://www.collegeconsensus.com/rankings/best-beach-colleges/
#10 Best Colleges for Veterans
https://www.collegeconsensus.com/rankings/best-colleges-veterans/
#21 Best Online Graduate Schools in the nationhttps://www.collegeconsensus.com/rankings/best-online-graduate-schools/
#22 Public College in the Nation https://www.collegeconsensus.com/rankings/best-public-colleges/
#25 Best Small College in the Nation https://www.collegeconsensus.com/rankings/best-small-colleges/