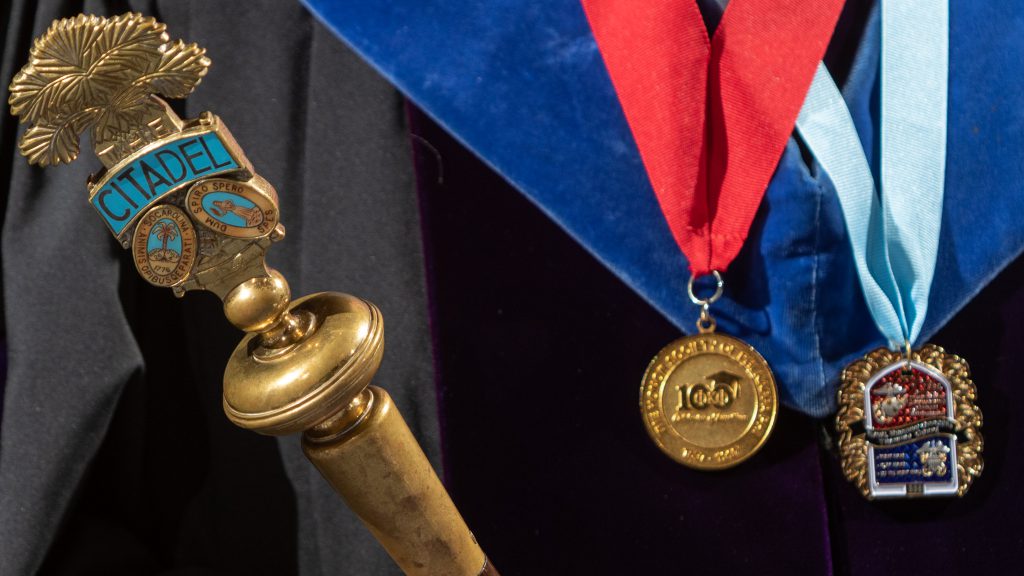 Nearly 400 graduate and evening undergraduate students from The Citadel Graduate College (CGC) accepted degrees during The Citadel's virtual commencement ceremony on Saturday, May 9.
The Citadel Class of 2020 was celebrated for their achievements during two virtual commencement ceremonies, one for the South Carolina Corps of Cadets and one for the CGC. Both can be viewed on the college's Facebook page and on a special commencement website.
Part of the virtual commencement celebrations included creating a webpage for each graduate, where they and their loved ones can share messages. In total, more than 6,000 messages were left on the commencement profile pages.
Included in the ceremony:
307 Master's Degree students
92 College Transfer Students (Undergraduate/evening or online)
The following students were among the graduating class:
| Name | | | | |
| --- | --- | --- | --- | --- |
| Alyssa | Alexander | | | |
| Harold | Thomas | Anderson | | |
| Matthew | Brian | Anderson | | |
| Joseph | Castleman | Annibale | | |
| Christina | Soyden | Arnold | | |
| Richard | Gilbert | Arthur | | |
| Ariel | Ayala | | | |
| Rose | Marie | Bailey | | |
| Grace | Elizabeth | Barry | | |
| Deborah | Anne | Barton | | |
| Zoe | Grace | Bateman | | |
| Timothy | Bryan | Beckham | | |
| Leilany | Kristyn | Benejam | | |
| Sandra | Dannette | Bloom | | |
| Michael | Bordner | | | |
| Nicole | Marie | Bossak | | |
| Michael | Taylor | Brand | | |
| Matthew | Brizzee | | | |
| Arthur | Bradley | Brown | | |
| Cherylena | Lasttes | Brown | | |
| Drew | Michael | Bryan | | |
| Taylor | Buckley | | | |
| Ashley | Buckner | | | |
| Steven | Cole | Buffington | | |
| Remus | Bulmer | | | |
| Adrienne | Eubanks | Bundrick | | |
| John | Zachary | Burchfield | | |
| Kim | Elizabeth | Burton-Goides | | |
| Jordan | Taylor | Buster | | |
| Ryan | Michael | Butler | | |
| Jay | Baxter | Caldwell | III | |
| Curtis | Jerome | Capers | Jr. | |
| Lisa | Ann | Capriotti | | |
| Victoria | Carle | | | |
| Mary | Catherine | Carmody | | |
| Ross | Ian | Caterino | | |
| Maelda | Miranda | Chalk | | |
| Megan | Suzanne | Champion | | |
| David | Francis | Chang | | |
| Mackenzie | Chasteen | | | |
| Ashlyn | Noelle | Chism | | |
| Joseph | Keith | Clark | | |
| Taylor | Dawn | Cleeve | | |
| Timothy | John | Cockrell | Jr. | |
| Thomas | James | Coger | | |
| William | Hunter | Cole | III | |
| Joseph | Arthur | Collier | II | |
| Marie | LaVigne | Connelly | | |
| Bryant | McLendon | Conyers | | |
| Kenzie | Joshua | Cook | | |
| Tyler | Dean | Covington | | |
| Ezra | Courtenay | Cowan | Jr. | |
| Taylor | James | Cox | | |
| Richard | Badham | Coxe | Jr. | |
| Shaniqua | Latoya | Crews | | |
| Daniel | Alexander | Curlee | | |
| Brendan | Davis | Darby | | |
| Christina | Marie | Darby | | |
| Derek | Devera | | | |
| Sarah | Jane | Devins | | |
| Rochelle | Domingue | | | |
| Victoria | Joy | Douglass | | |
| Cassandra | Lashae | Dowdy | | |
| Ellen | Ashley | Duffy | | |
| William | Watson | Duke | II | |
| David | Brandon | Dunevant | | |
| Daniel | Arthur | Duran | | |
| Steven | Christopher | Dwiggins | | |
| Kayce | Thaddeus | Elgin | | |
| Jennifer | Lattanzio | Elkins | | |
| Catherine | Elliott | | | |
| Britney | Preciliana | Ellison | | |
| Alexandria | Marie | English | | |
| Zachary | Orion | Evans | | |
| Allison | Catherine | Fabick | | |
| Emily | Synge | Fanguy | | |
| Aaron | Zand | Farzam | | |
| William | Alexander | Faulconer | | |
| Lucy | Kaitlyn | Faulkner | | |
| Megan | Federline | | | |
| Catherine | Grace | Fehrmann | | |
| Madeline | Alexandra | Fellabom | | |
| Adriene | Jamal | Fennell | | |
| Stephen | Pablo | Fernandez | de | Bobadilla |
| Courtney | Fetchen | | | |
| Jacqueline | MacKenzie | Fischer | | |
| Amy | Sue | Fleury | | |
| Andrew | Walker | Floyd | | |
| Martin | James | Fosberry | III | |
| Leah | Khinde | Frazier | | |
| Nicholas | Edward | Frye | | |
| Rico | Gabriel | | | |
| Shannel | Gaillard | | | |
| Julia | Louise | Gamarra | Mendoza | |
| Luis | Gamarra | Mendoza | | |
| Oadiah | Yvonne | Megan | Gassett | |
| Marisa | Gerena-Valentin | | | |
| Caroline | Rose | Gilbert | | |
| Jennifer | Beth | Gnann | | |
| Natalya | Goldschmidt | | | |
| Robert | Edwin | Gordon | | |
| Jillian | Rose | Gouin | | |
| Jonetta | Gregory | | | |
| Carlene | Marie | Griffin | | |
| Laura | Jane | Guillen | | |
| Carolyn | Claire | Gutshall | | |
| Jeanne | Morrell | Harrell | | |
| William | Bennett | Hartley | | |
| Michael | A. | Hassan | | |
| Connor | Miles | Haugen | | |
| Sarah | Parker | Hearn | | |
| Geraldine | Christian | Henderson | | |
| James | Rodney | Hendrickson | | |
| Matthew | Jonathan | Myron | Hershman | |
| Mary-Margaret | Hewitt | | | |
| Sierra | Leone | Heyward | | |
| James | Austin | Higginbotham | | |
| Audrey | Mae | Higgins | | |
| Kristen | Anne | Higgins | | |
| Lindsay | Anderson | Hill | | |
| James | Ryan | Holbrook | | |
| Tenise | LeChelle | Holloway | | |
| Sarah | Elisabeth | Hooper | | |
| Austin | Hopcia | | | |
| Donald | Kelly | Howard | | |
| Wanda | Hughes | | | |
| Zachary | Roy | Huskins | | |
| Gary | Scott | Ice | | |
| Mark | Allen | Isaak | | |
| Kimberly | Islas | | | |
| Marjorie | Corley | Isley | | |
| James | Leo | Jacko | | |
| Hope | Schrader | Johnston | | |
| Katherine | Elizabeth | Jordan | | |
| Zachary | Thomas | Jordan | | |
| Danielle | Simone | Joseph | | |
| James | Bevan | Joseph | | |
| John | Paul | Karabees | | |
| Nicholas | Lee | Karekel | | |
| Patrick | Phillip | Keefe | | |
| Connor | Jay | Kern | | |
| Reggie | Kern | | | |
| Marcus | Aaron | Kiriluk | | |
| Kara | Marie | Klein | | |
| Kendrea | Danielle | Knight | | |
| Michael | Kramer | | | |
| Mary | Elizabeth | Kroeger | | |
| Ryan | Kunitzer | | | |
| Taylor | Cole | Lafever | | |
| Brittany | Boswell | Lane | | |
| Amy | Elizabeth | Langdon | | |
| Daniel | Robert | Lawrence | | |
| Robin | Elizabeth | Lawson | | |
| Leeanne | Jolene | Leary | | |
| Nicholas | Abram | Lee | | |
| Patrice | Anne | Leko | | |
| Conor | Seamus | Lenahan | | |
| Peter | Jordan | Locher | | |
| Victoria | Nicole | Lockridge | | |
| Scott | James | Lusby | | |
| Sarah | Elizabeth | Lynch | | |
| Mary | Frances | Mace | | |
| Jeremy | Stephen | Mackey | | |
| Toshawnka | Mahone | | | |
| Patrick | Dennis | Mangum | Jr. | |
| Sara | Brittany | Mangum | | |
| Jake | Patrick | Mansfield | | |
| Berkeley | Marie | Martin | | |
| Colin | Thomas | Martin | | |
| Graham | J. | Martin | | |
| Sara | Moeller | Massey | | |
| Kelsey | Lynn | Mazzocco | | |
| Erin | Claire | McCarthy | | |
| Robert | James | McCarthy | | |
| Taylor | Ann | Prater | McCormick | |
| Joel | Calvin | McCullough | | |
| John | Richard | McEvoy | Jr. | |
| Lauren | Ashley | McManus | | |
| Hilary | Garvin | McWhorter | Jr. | |
| Thomas | David | Melvin | | |
| Valerie | Kay | Meshell | | |
| Sean | Christopher | Michael | | |
| Amelia | Malloy | Middleton | | |
| Latoshia | Evodney | Middleton | | |
| Lyndsey | Elizabeth | Milburn | | |
| Benjamin | Hardy | Miller | II | |
| Jason | Robert | Miller | | |
| Edward | Victor | Mirmow | IV | |
| Jessica | Paige | Moeller | | |
| Toni | Renee | Moore | | |
| Matthew | Edward | Morgan | | |
| Kyle | Joseph | Morris | | |
| Kerry | Aya | Morrissey | | |
| Richard | Mark | Morvin | Jr. | |
| Quentin | Anthony | Mullen | | |
| Anna | Bagwell | Mullins | | |
| Elinor | Prater | Murray | | |
| Melissa | Reeves | Myrick | | |
| Frances | Elizabeth | Neal | | |
| Erin | Alanna | Neil | | |
| Drew | Thomas | Nickels | | |
| Jennifer | Priscilla | Brieke | Norred | |
| Austin | Timothy | O'Donoghue | | |
| Carly | Osborn | | | |
| Scott | Owens | | | |
| Matthew | Kellard | Paiva | | |
| Carrie | Elizabeth | Papa | | |
| Brian | Benjamin | Parker | | |
| Catherine | Elizabeth | Parker | | |
| Benjamin | Franklin | Parmenter | II | |
| Matthew | Milburn | Patterson | | |
| Laura | Butler | Peirano | | |
| Tiana | Janae' | Peoples | | |
| John | William | Perry | | |
| Shawn | Steven | Pfeffer | | |
| Scott | Pierson | | | |
| Jorge | Fernando | Pinillos | Jr. | |
| Nathan | Christopher | Platt | | |
| Michael | Jacob | Popovich | | |
| Rachel | Lynn | Powers | | |
| Ashley | Elizabeth | Prentice | | |
| James | Weston | Quintrell | | |
| Gabriel | Omar | Ramos | | |
| Nicholas | Lewis | Ranko | | |
| Danielle | Ashley | Rappel | | |
| Kristin | Anne | Rebholz | | |
| Rebecca | Nicole | Redman | | |
| William | Wade | Reid | | |
| John | Fletcher | Rickard | Jr. | |
| Marinelle | Riley | | | |
| Michelle | Sue | Roberts | | |
| Alexandra | Conway | Rodis | | |
| Keeana | Janai | Ross | | |
| Kenndal | Rote | | | |
| Alicia | H. | Rouse | | |
| Ashley | Camille | Russell | | |
| Cassandra | Leigh | Ryman | | |
| Christopher | Saddlemire | | | |
| Kathryn | Ann | Sanders | | |
| Joshua | Pearre | Sansbury | | |
| David | Thomas | Santo | | |
| Michael | James | Sarkkinen | | |
| Tabitha | Dawn | Saunders | | |
| Caroline | Belle | Sawyer | | |
| Kenneth | John | Scarlett | | |
| Rachel | Victoria | Schaefer | | |
| Thomas | Adam | Schaefer | | |
| Katherine | McDaniel | Schilling | | |
| Alexis | Scott | | | |
| Justin | Scott | Seagle | | |
| Rebecca | Lynn | Seley | | |
| John | Lucas | Semsar | | |
| James | Louis | Sharp | II | |
| Arnedra | Darcelle | Simpson | | |
| Scheherazade | W. | Smalls | | |
| Asia | Nicole | Smith | | |
| Kevin | Laron | Clarence | Smith | |
| Victoria | Shea | Smith | | |
| Arielle | Larisa | Snyder | | |
| Morgan | Spencer | | | |
| Joseph | Chandler | Sprinkles | | |
| Rachael | Staats | | | |
| Anna | Elisabeth | Stillinger | | |
| Olivia | Danai | Stine | | |
| Raven | Renee | Stone | | |
| John | Neely | Sweatt | | |
| Abigail | Briar | Swenson | | |
| Samantha | Louise | Szwak | | |
| Emma | Lois | Tartt | | |
| Erin | Whitney | LaMarche | Thomas | |
| Ronald | Timothy | Thompson | | |
| William | Russell | Tindal | II | |
| Lena | Rhee | Travers | | |
| Anna | Todd | George | Traynham | |
| Grant | Tucker | | | |
| Kaley | Brook | Tucker | | |
| Annie | Brooks | Vangilder | | |
| William | Luke | Voris | | |
| Sean | Richard | Walgrave | | |
| Devon | Lambert | Wall | | |
| Timothy | Justin | Walter | | |
| Ayriel | Williams | Washington | | |
| Marvette | Maria | Washington | | |
| Kimberly | Ellis | Waters | | |
| Mark | Christopher | Watson | | |
| Samantha | Watson | | | |
| Taylor | Logan | Watson | | |
| Brandee | Branch | Wethington | | |
| William | Whaley | | | |
| Margaret | Sikes | White | | |
| Rebecca | Rose | White | | |
| Steven | Nathaniel | Whitener | | |
| Bailee | Williams | | | |
| Amber | Nicole | Williamson | | |
| Dannie | Jo | Wilson | | |
| Karley | Elizabeth | Wilson | | |
| Matthew | Warren | Wilson | | |
| Michelle | Lee | Wilson | | |
| Jessica | Medlin | Wise | | |
| Thomas | Dewey | Wise | | |
| Nicole | Muckenfuss | Wren | | |
| Kenneth | Abram | Wright | Jr. | |
| Jessica | McKenzie | Yarborough | | |
| Aaron | Michael | Young | | |
| Marley | Bray | Young | | |
| Jeffrey | Ray | Zeigler | | |
| Hannah | Karras | Dunbar | Zervos | |
| Alexis | Noel | Ayoub | | |
| Shanna | Michelle | Bacon | Lynn | |
| William | Barr | Bailey | | |
| Jason | Daniel | Baker | | |
| Michael | Barrineau | | | |
| Stacey | Ann | Barrington | | |
| Maelyn | Belmondo | | | |
| LaTisha | Janay | Bowman | | |
| Gilbert | Bowman | Bradham | Jr. | |
| Robert | Neal | Bradley | | |
| Cory | Evan | Brashear | | |
| Crystyn | Neely | Brown | | |
| Jonathan | Earl | Brown | | |
| Lacurtia | Dijohnnaise | Chapre | Brown | |
| Matthew | Dale | Burton | | |
| Corey | Matthew | Byrd | | |
| Robert | Taylor | Carsten | | |
| Tabatha | Anne | Carter | | |
| Charles | Robert | Clinemyer | Jr. | |
| Matthew | Stephen | Coleman | | |
| Joshua | William | Cooper | | |
| Jason | Raymond | Corbin | | |
| Bradley | Diggins | Costello | | |
| Kristi | L. | Cowart | | |
| Kyle | Brabham | Creech | | |
| John | Joo | Hwan | Cruz | |
| Elizabeth | Garrett | Davis | | |
| Sydney | Bryce | De | Nett | |
| Rutledge | Anthony | Detyens | Jr. | |
| Joshua | Bailey | Evans | | |
| Ross | Kirkwood | Evans | Jr. | |
| Nicole | Marie | Flexner | | |
| Kelly | Rene | Franceschi | | |
| Canzetta | Mardrice | Gailliard | | |
| Justin | Blake | Geisler | | |
| Harley | George | | | |
| Thomas | Connor | Guess | | |
| Sara | Margaret | Gulia | | |
| Nathan | Jamar | Haggwood | | |
| William | Paul | Herring | | |
| John | Willliam | Hopkins | III | |
| Serena | Alicia | Johnston | | |
| Michael | James | Kahly | | |
| Leona | Washington | King | | |
| Nathan | Thomas | Kovacs | | |
| William | Kovalczyk | III | | |
| William | Edward | Kroeger | | |
| Alexis | Ellen | Lehman | | |
| Alexander | Warren | Lester | | |
| George | Andrew | Leventis | Jr. | |
| Ariel | Lindsay | Linder | | |
| Blake | Allen | Lipscomb | | |
| Mallory | Sandra | Lipton | | |
| Diego | Alberto | Lopez | | |
| Thomas | P. | Lorge | | |
| Isaiah | Joshua | Lowman | V | |
| Thomas | Albert | Madden | | |
| Ricky | Linn | Marchant | Jr. | |
| Nathan | Michael | Marshall | | |
| Andre | Evrol | Mckenzie | | |
| David | Chester | McLawhorn | IV | |
| Dallas | Charles | McNamara | | |
| Samantha | Janette | Metts | | |
| Alexander | Max | Meyers | | |
| Hannah | Gislina | Mackenzie | Morris | |
| Karina | Naumenko | | | |
| Alan | Bazel | Newsome | | |
| Joseph | Albert | Ortega | | |
| Karla | Nabila | Pazmino | | |
| Justin | Michael | Peek | | |
| Shane | Anson | Petry | | |
| Charity | Lynn | Pippin | | |
| Chloe | Michelle | Pittman | | |
| Calvin | Pitts | | | |
| Donald | Larry | Price | | |
| Jacob | Joseph | Pytlik | | |
| Maria | Zeranne | Sabater | Reveral | |
| Christian | Revollo | | | |
| Joe | Robinson | | | |
| Michael | Tyler | Rudd | | |
| Michael | Alan | Schmieder | | |
| Logan | Reid | Schulken | | |
| Jackson | Grant | Shugart | | |
| Gregory | Smith | | | |
| Mark | Andrew | Szlachetka | | |
| Homer | Tipton | III | | |
| Jessica | Ashlee | Tucker | | |
| Roger | Alfredo | Valenzuela | | |
| Brandi | Renee | Vanover | | |
| Erica | S. | Watts | | |
| Dawn | Wells | | | |
| Shawn | Ryan | Whetstone | | |
| Alexander | James | White | | |