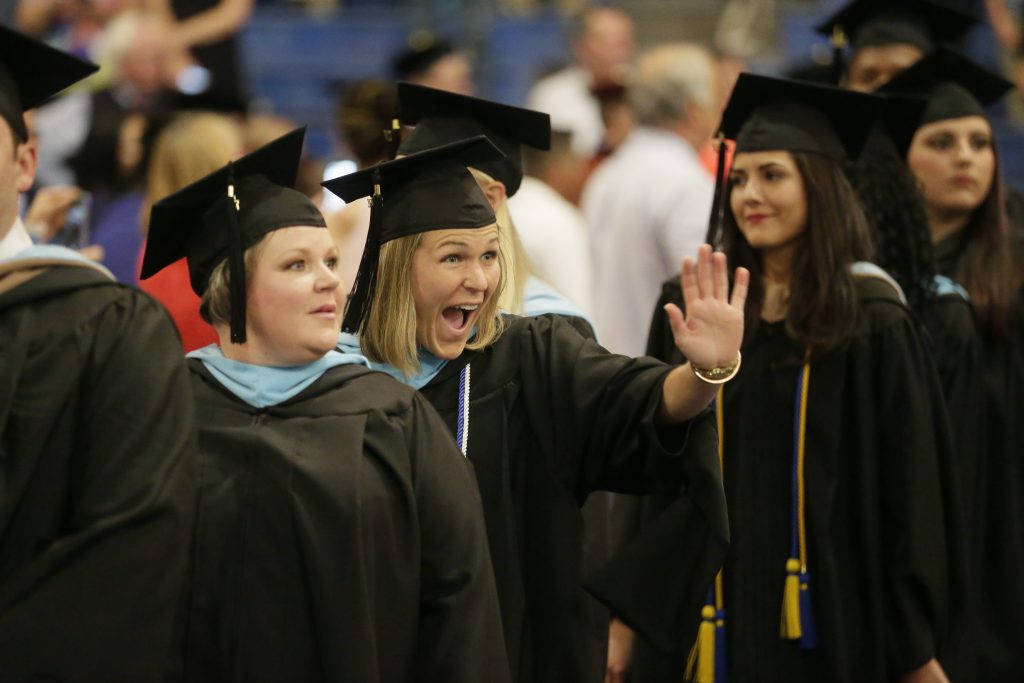 The Citadel Graduate College conferred degrees to graduate, evening undergraduate and veteran students on Saturday, May 6, 2017 in McAlister Field House.
The following is the roll of the graduating class:
Master's degree candidates
Specialist in Education, Educational Leadership
Andrew Scott Brandt
Kellie Elizabeth Gebhardt
Natasha Yvette Harvin-Wright
Tracy Elmore Jackson
Kimberly Renee Platt
Specialist in Education, School Psychology
Sena Clair Couch
Liseth Cristina Elliott
Aubrie Lanette Frye
Lindsey M. N. Gollach
Olivia April McPherson
Karen Elizabeth Stockbridge
Chelsea Brook Taylor
Kristin Elyse Terzo
Allison Leigh Ulm
Master of Arts in Biology
Colton Garrett Berger
Molly May Hopkins
Paula Renee McCarthy
William Duncan Rhoad V
Brogin R. Van Skoik
Master of Arts in English
Anna Elizabeth Zoeller
Master of Arts in History
David Sean Baluha
Master of Arts in Intelligence and Security Studies
Michael Patrick Hendrix
Michael Stefan Smith II
Master of Arts in International Politics and Military Affairs
John Andrew Kispert
Kyle Russell Lovell
Robert Wells Lowman III
Tucker McLean Strom
Master of Arts in Psychology
Tiffiny Nicole Alexander
Katherine Nicole Azzarita
Laura Sharon Barton
Jennifer Grace Bastedo
Erin McPherson Bisca
Christina Lynn Bost
Hillary Elyse Boyd
Robert Thomas Bullard
Alyson Laurel Burns
Mary Lee Carver
Liseth Cristina Raykes
Emillie McKenzie Engram
Elena Boyd Flowers
Sharon Monique Gadsden
Kimberly Morgan Gray
Whitney Elizabeth Griffin
Holli Sconyers Herr
Heather Elyse Hubbard
Daleigh Huggins
Casy Michelle Johnson
Sara Mae Lovelace
Morgan Brittany Madsen
Jenna Marie McCallon
Olivia April McPherson
Justin Michael Messinger
Kimberly Paige Mixson
Nina Elizabeth Moe
Tessa Jane Murray
Justine Falkowski Park
Mary Catherine Patton
Amanda Arlean Pennington
Rachel Ann Pritts
Elizabeth Anne Randall
Christine L. Rassa
Emily Anne Rooney
Karen Elizabeth Stockbridge
Chelsea B. Taylor
Capricia Wigfall
Laura Margaret Willhoft
Stuart Elizabeth Worley
Master of Arts in Social Science
Emily Christa Harmon
John Andrew Kispert
Anna Marie Lawson
Aaron Francis McGrath Jr.
Reginald Mitchell Sr.
Master of Arts in Sport Management
Chris J. Baretta
Anika Shlee Bell
Jonathan David Gatlin
Jessica Michie Harris
Robert Brady Hegwood
Taylor Martin Wall
Capers Brooks Williamson
Master of Arts in Education, Mathematics
Lindsay Elizabeth Boyd
Master of Arts in Teaching, Middle Grades
Lincoln Alexander DeMoura
Master of Arts in Teaching, Physical Education
Amanda Victoria Holcomb
Corwin Jonathan Jones
Catheryne Jeanne Porter
Bethany Laura Smith
Master of Arts in Teaching, Biology
Tiffany Miche Ancrum
Shauna Monique Mitchell
Master of Arts in Teaching, English
Megan Elizabeth Barbee
Megan Elizabeth Campbell
Lindsey Allaire Jensen
Megan Elizabeth Lucas
Alexis Victoria McGee
Emily Rose Paul
Master of Arts in Teaching, Social Studies
Jennifer Anne Brannen
George William Coleman
Kelley Rose Dillon
Benjamin Edwin Harvin Edwards
Benjamin James Plants
Edward Von Scott
Paul Garland Standard III
Master of Business Administration
Gordon Chick Achu
Ryan Michael Arrowsmith
Warren Ross Barrett
Amy Elizabeth Bates
Alexander Ward Blandin
Dana Sheree Bolin
Christopher Donald Bray Jr.
Timothy David Brooks
Laura Marie Casassa
Matthew Ward Coleman
Elizabeth Wilson Cook
Joseph Edward Crochet
Laura Lynn Dooley
Jonathan Charles Edwards
Rontesha Denise Eurie
Caleb Alan Fackler
Christopher R. Gillispie
Zachary Preston Harpe
Derrick Stefan Henry
Randall Scott Hodges
Kristen Lee Holden
Douglas Brett Hoover
Stephanie Michelle Hudson
Olivia Jean Jobes
James Robert Jones
Lee Ann Jones
Daniel Soubeyroux Kennedy
Richard DuRant Kirkpatrick II
Catherine T. Kovacs
Matthew Louis Levin
Michael Ross Matthews
Alexander Brewer May
Nicole E. McGougan
Mallory Elizabeth Moore
Susan Hall Norton
Kenneth John Nutter
Joseph Michael Oddis II
Sean Anthony Oddis
Jonathan Samuel Oliver
Eric James Olivier
Brendan Rene Paquin
Rebekah Nale Pieper
Frances Michelle Ravan
Eric Raymond Rigel
Caleb Paul Rodgers
Johnathan Ray Roesch
Katelyn Elizabeth Shatz
Michael Clayton Stafford
Brian Joseph Stevick
Amanda Joyce Stewart
Tamra Lynn Stich
William Henry Stovall III
Collin Robert Styron
David Michael Tabaka
Tiffany Renee Taylor
Zachary Justin Temple
Marina Slavcheva Terzieva
Steven Jackson Timmons Jr.
Hannah Gabrielle Vining
Brian Christopher Vogel
Corey Thomas Wade
Woodrow Wilson Watford III
Katie Lynn Watson
Kyle Douglas Weaver
Nicholas Alexander Webb
Joshua Pierce Welch
Charity Elizabeth Wilson
William Gallivan Youngk
David Ryan Zeiler
Edward Stephen Zur
Master of Education, Counselor Education
Jean-Yves Bazile
Michael Evan Becker
Wanda S. Brown
Tonisia Lynette Brown-Cotten
Crystal Ann Butler
Kelsey Jo Cahill
Jason David Cook
Kaitlin Elizabeth Haughey
Amanda Faulkner Hiouel
Nicole Jordan Johnson
Katherine Jahnke Jones
Gionna Leigh Lesky
Katelyn Anne McDonnell
Amanda Noreen Mercer
Ameerah Nataé Mills
Caroline Elizabeth Moore
Miranda Sue Nelson
Melinda Sian Norris
Caroline Turner Oncken
Holly Ann Oppel
Carly Elizabeth Passante
Kelly Suzanne Rhodes
Anita DeVonne Robinson
Michelle Nicole Sanford
Mara Anne Schwelke
Molly J. Street
Lora Coleman Thomas
Kevin Pearson Wier
Kaytie Lynne Wilson
Master of Education, Educational Leadership
Charles Lee Atkins III
Katherine Ann Bates
Daniel Crawford Batkins
Jessica Elizabeth Benton
Sarah Lawrence Jones Cox
Lacrisa Danielle Darby
Katrina Hehmann Durstock
David Alan Frazier
Shorace L. Guider
Domenica Louise Hallett
Jordan Addison Hudson
Christian Patton Huggins
Gina Wood Maxie
Christin Leann Morris
Sylvester Rolack II
Valerie Antoinette Rose
Jennifer Marie Seals
Samantha Lynn Spencer
Rachel Lynn Spitulski
Kristy Lynn Varvaro
Patricia Ann Weeg
Master of Education, Interdisciplinary STEM Education
Courtney Brown Cook
Nicholas Robert Holmes
Master of Education, Literacy Education
Meredith Bradford Allyn
Stephanie Claire Becks
Jacqulyn S. Bracey
Esaunta Shelay Buncomb
Apryl Collins
Dronica Chanel DeBerry
Casey Ray Engleking
Gabrielle Gaillard Gregorie
Heather Lynn Hall
Lydia Lee Miller
Laura Winslow Parks
Louise Potter Ray
Kerry Lynn Sanders
Britney Leigh Smith
Danielle Kathleen Smith
Neeley Rexroad Taylor
Maria Tucker
Shakita Chanel Walker
Master of Science in Civil Engineering
Brittany Monique Singleton
Master of Science in Computer Science
Anna V. Sandifer
Phillip Joseph Straney
Master of Science in Electrical Engineering
Matthew Ryan Fann
Master of Science in Health, Exercise, & Sport Science
Jenna Elizabeth Byrd
Matthew Christopher Carroll
Michelle Christina Cooper
Dorothy Sue Davis
Katharine Grace Fisenne
Laura Kathleen Fogle
Craig Thomas Jones
Zachary Andrew Player
Brendan Michael Reilly
Brooke Leighann Spradlin
Bryan Merritt Terlizzi
Summer Anne Warren
Master of Science in Leadership
Lindsay Elizabeth Boyd
Marshall Ryan Haas
Karl Kenneth Nell Jr.
Meagan Eileen Orton
Joseph Robert Owens
Ariel Ivory Washington
Master of Science in Project Management
Lide R. Bailey
Sandra Marie Batt
William Frederick Brown
Ardean Antonio Buggs
Norden Wayne Davis, Jr.
Benedito Roberto De Camargo Jr.
Matthew Ryan Fann
Ignacio Manzano Florendo
Amy Elaine George
Lisa K. Hoover
Carl Albert Jewell
Travis Lyles Junkins
Christopher Michael Lam
Garrett Patrick McCorkle
Sally Atwater McLeod
Henry Lawrence Medlin
Christopher Ross Merrick
Brittany Adams Morrow
Charles Howard Mulligan IV
Carrie Rae Papke
Camille Anna Petersen
Karen Elizabeth Race
Megan Joy Tuell
Michael Jared White
David Ryan Zeiler
Bachelor's degree candidates 
Bachelor of Arts in Criminal Justice
Rose Marie Bailey
Benjamin John Beresky
Lucas Werner Dean
Zachary Dean Felkel
Rachel Ellyn Head
Kevin Daniel Herbst
Rochelle Denise Jenkins
Joseph John Kinney
Rebecca Leah Marazita
Ryan Robert North
Cassie Theodore Watson Jr.
Bachelor of Science in Business Administration
Jack Dean Bailey
Luis Daniel Boria
James Allen Browning Jr.
Jared Lawrence Cochell
Jason Michael Davis
Patricia Lamoree FitzGerald
Gabrielle Gretchen Lentz
Caleb Jordan Lowder
Carlyle Michael Mark
Daniel Robert May Jr.
Madison Leigh McCoy
LaKeisha McCrea
Drayton Hunter McDonald
Stephen Tyler Mears
Lauren Sherry Merriken
Michael Aaron Meuli
George Aquila Mickle
Matthew Edward Simonson Morgan
Javonna Michelle Moultrie
Elizabeth Ann Rhodes
Joseph Douglas Rhodes
William Taylor Rivard
Darryl Lynn Segars II
Arnetta Nichole Smith
Ashton Leigh Stover
Adam R Taylor
Tyler Brandon Thomas
Tammy Lynne Thompson
Jennifer Anne Veyera
Nathaniel John Viall
Jacob Nathaniel Walker
Ashton DuBois Wilcox
Christopher Stanley Wilkins
Tracy RaeLynn Womble
Bachelor of Science in Civil Engineering
Keith Marshall Brittain
Jaclyn Suzanne Bushing
Brandon Michael Coakley
Matthew B. Cox
Bryan R Duff
Richard Blake Fowler
Keith L. Grabowski
Jeremy Jaron Mungin
Alex Cornelius Overeem
Christopher Michael Shirley
Evins Snipes Jr.
Bachelor of Science in Electrical Engineering
Esubalew Melisew Adal
Richard Jay Adams
Leonard David Blado III
Brian Francis Christie
Jonathan Morgan Clark
Dallin John Cook
Marcus Anthony Cox
William Travis Dorsey
Earl Stanley Fitts III
Olga Gorkovenko
Tyler Frank Hall
Colin Paul Jones
Nancy Elizabeth LaFlair
William Travis McMaster
Daniel Joseph Monahan
Richard Edward Owings Jr.
Charles David Pittman
Preston Martin Rogers
Michael David Shaughnessy
William Clinton Snider III
Mark Wade Taylor
Jason Alexander Thompson
Bachelor of Science in Mechanical Engineering
Christopher Michael Ackerman
Nicholas Ryan Argabrite
Nicholas William Bostic
Justin Farrell Carter
Corey Samuel DeChant
Elizabeth Farris Dettrey
Matthew Franklin Hovey
Santhosh Moorthy
Erbert Sacundo Moralde
Nicholas Leigh Sullivan