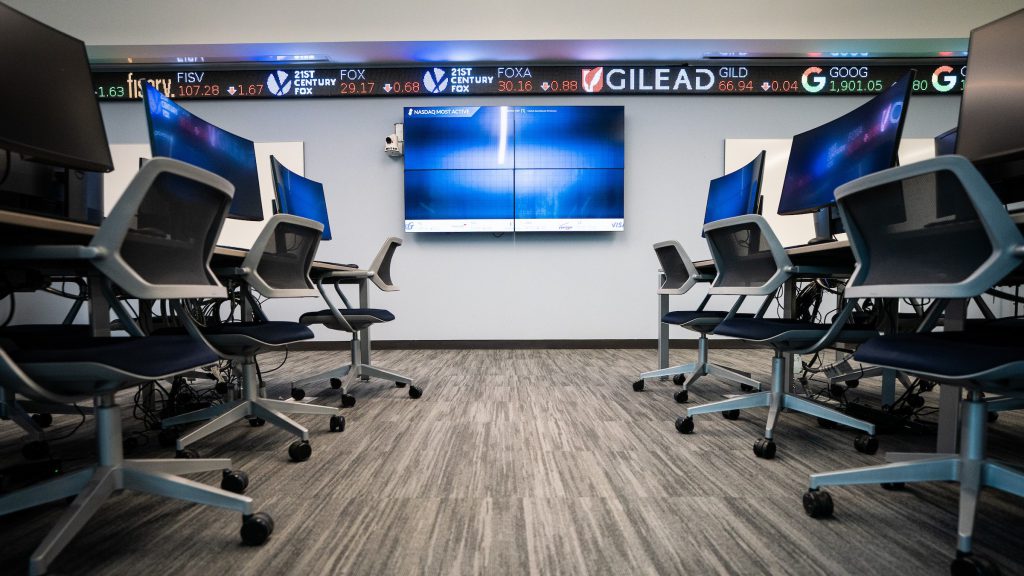 Photo: The Mary Lee and Rick Bastin, '65, Financial Trading Lab, which is located inside Bastin Hall.
By Maria Aselage, Director of Communications and Marketing for the Tommy and Victoria Baker School of Business
The president and chief executive officer of the Federal Reserve Bank of Richmond, Tom Barkin, is set to be the keynote speaker when The Citadel Directors' Institute (CDI) returns in March after taking a two year break due to the COVID-19 pandemic.
CDI is an intense, one-day program designed for directors of corporate boards, and their senior executives, to engage in an active dialogue focused on strategic planning, risk and board governance. The goal is to provide attendees with the knowledge and information necessary to be a board or corporate leader and to help their respective companies succeed.
Sam Glasscock III, vice chancellor of the Delaware Court of Chancery, is the opening speaker for CDI 2022.
Renowned Faculty and Breakout Panels
In addition to hearing from two distinguished speakers, attendees will participate in small breakout sessions led by a notable faculty from across the country, which will cover various topics including:
Diversity and inclusion
Data privacy and cybersecurity
Banking partnerships
Succession planning
Risk governance
Networking Opportunities
CDI is different from other programs, in that it provides an intimate setting where participants can interact with nationally recognized experts throughout the day.
"The pandemic has played an enormous role in the ever-changing business environment. CDI will allow corporate directors and senior executives to learn about the latest market trends," said Michael R. Weeks, Ph.D., dean of the Tommy and Victoria Baker School of Business. "Additionally, participants will have the opportunity to build relationships that would otherwise not be possible."
CDI 2022 begins on Thursday, March 24 with an opening reception. The full program will begin at 8 a.m. on Friday, March 25 and conclude at 4:15 p.m. with a closing reception. It is being held at the Francis Marion Hotel, on Calhoun Street in downtown Charleston.
Directors of public or private companies, as well as board members of regional and community banks, are encouraged to attend. The early registration for CDI 2022 is $495. Beginning on Feb. 25, the cost increases to $595. You can learn more about the program and speakers here. You can register here.
Prospective or registered attendees with questions can contact Vanya Perez at vperez@citadel.edu or at (843) 953-5056.
To learn more about the academic programs offered by the Baker School of Business, click here.