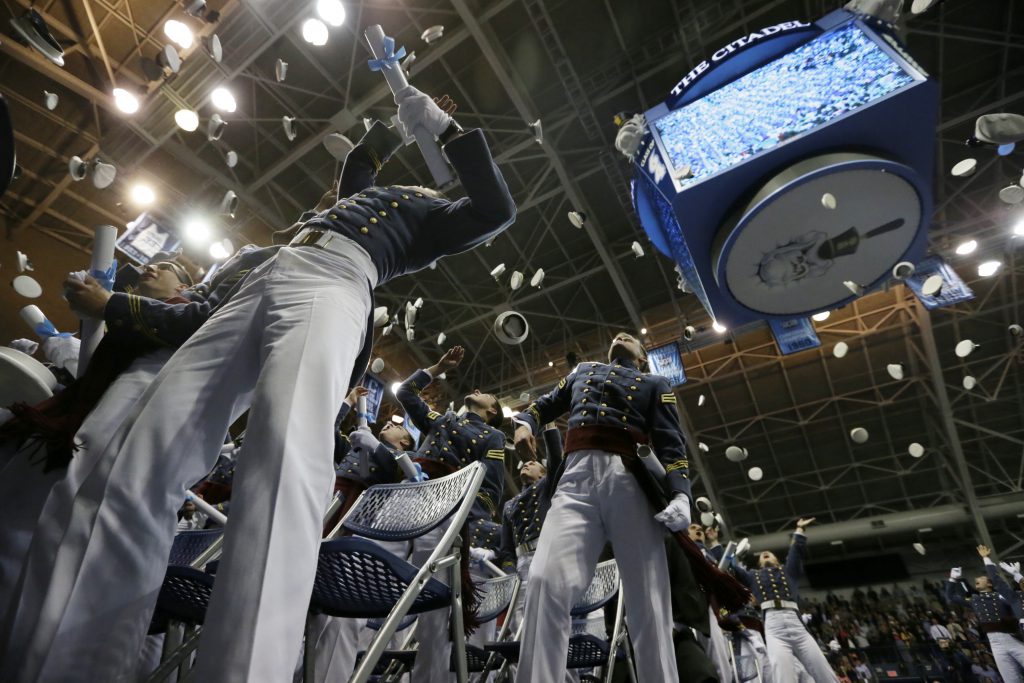 More than 900 cadets, officers, undergraduate, graduate and veteran students will receive diplomas
Approximately 500 members of the South Carolina Corps of Cadets will walk across the stage to accept their diplomas and be congratulated by Citadel President Lt. Gen. John W. Rosa in McAlister Field House Saturday, May 5. The commencement ceremony will begin at 9 a.m. Rosa will also be the keynote speaker for the ceremony. His speech will be one of his final public acts in his role as president after joining his alma mater in 2006; he retires at the end of May.
The ceremony follows three days of the Corps' commencement-related actives, which include an awards convocation, commissioning ceremonies for cadets becoming military officers and the iconic Long Gray Line parade. Full details of the week's events can be found on the South Carolina Corps of Cadets Commencement page.
The Citadel Graduate College (CGC) commencement ceremony will take place at 3:30 p.m. on May 5 in McAlister Field House. Approximately 280 master's level graduates, 95 evening undergraduate studies students and 59 veteran students at the graduate and undergraduate levels will receive their diplomas. Additionally, 52 people will earn their graduate certificates through the CGC. Stacy L. Pearsall, award-winning photographer and decorated combat veteran, will be the CGC commencement speaker.
The CGC will also have commencement-related activities prior to the ceremony, including an awards ceremony. Full details of the week's events can be found on the CGC Commencement page.
Livestreams
Both the South Carolina Corps of Cadets and the CGC ceremonies will be livestreamed by the college. To view the livestream, please visit The Citadel's ICB Live page.
Security
No boxes, alcohol, weapons, firecrackers, noisemakers, umbrellas, beverage containers of any sort, backpacks, large handbags, coolers, thermoses or similar items are allowed in McAlister Field House. Food and drink are prohibited. Cameras and video cameras are permitted, but guests cannot be on the floor of the field house during commencement exercises. Leaving McAlister Field House during the ceremony is highly discouraged, and those who must leave will get a wristband and must go back through security screening prior to re-entry.
Commencement guests for the South Carolina Corps of Cadets can enter McAlister Field House between 7:30 a.m. and 8:55 a.m. General admission tickets are required for each guest and are provided by cadets prior to the commencement ceremony. A livestream broadcast location will be available in Grimsley Hall Auditorium for guest overflow and attendees who do not have tickets.
A heavy traffic warning will be in effect on May 5 as there are several large public events in the area including the Charleston Dragon Boat Festival. To view an interactive campus map and find parking information and directions to campus, please visit the Maps and Directions page.
Media guidelines
Members of the media are encouraged to cover both ceremonies and the South Carolina Corps of Cadets events leading up to graduation held earlier in the week. Professional photographs and uncut b-roll are available upon request by emailing The Citadel Director of Media Relations, Kim Keelor, at kkeelor@citadel.edu.
Media parking for the South Carolina Corps of Cadets commencement ceremony is located in the lot behind McAlister Field House. A media ID must be shown at the back entrance of the field house near the parking lot. Media will be escorted to the defined media section on the floor of the field house, or above in the scoreboard area as desired. No movement by media is permitted on the floor during the ceremonies. Media attending the CGC ceremony may enter through the main doors by showing an ID and are asked to stay in the media floor area.
Fast facts about the South Carolina Corps of Cadets Class of 2018
Total: 516
Men: 90 percent
Women: 10 percent
Legacy graduates (parent or grandparent in the CGC or South Carolina Corps of Cadets)
Military commissions
Total: 163 (33 percent)
Army: 100
Air Force: 30
Marines: 20
Navy: 13
Active duty graduates
Ethnicity
American Indian or Alaskan Native: 29
Asian or Pacific Islander: 22
Black or African American: 46
Hispanic: 36
White: 389
Unknown: 4
Top states
South Carolina: 291
North Carolina: 40
Georgia: 35
Florida: 25
Virginia: 21
Other countries: 6
View all South Carolina Corps of Cadets Class of 2018 fast facts »
Fast facts about The Citadel Graduate College Class of 2018
Master's students: 281
Evening undergraduates: 114
Veteran students at the graduate and undergraduate levels: 59
Education specialists: 15
Graduate certificates: 52
Legacy graduates (parent or grandparent in CGC or South Carolina Corps of Cadets): 14
The CGC is celebrating 50 years of serving as an educational resource to the Lowcountry and the state of South Carolina. The CGC offers 26 graduate degree programs with 41 concentration options, 25 graduate certificate programs and 10 evening undergraduate programs. Because the classes are offered in the evenings and online, the CGC excels in providing a quality education tailored around the students' professions, families and lifestyles. On campus, classes typically meet once per week in a civilian atmosphere. Some programs also offer the option to complete coursework and requirements 100 percent online for people living around the nation and the world. The CGC also oversees veteran and active duty students. For more information, please visit the CGC website or email cgc@citadel.edu.
View all Citadel Graduate College Class of 2018 fast facts »