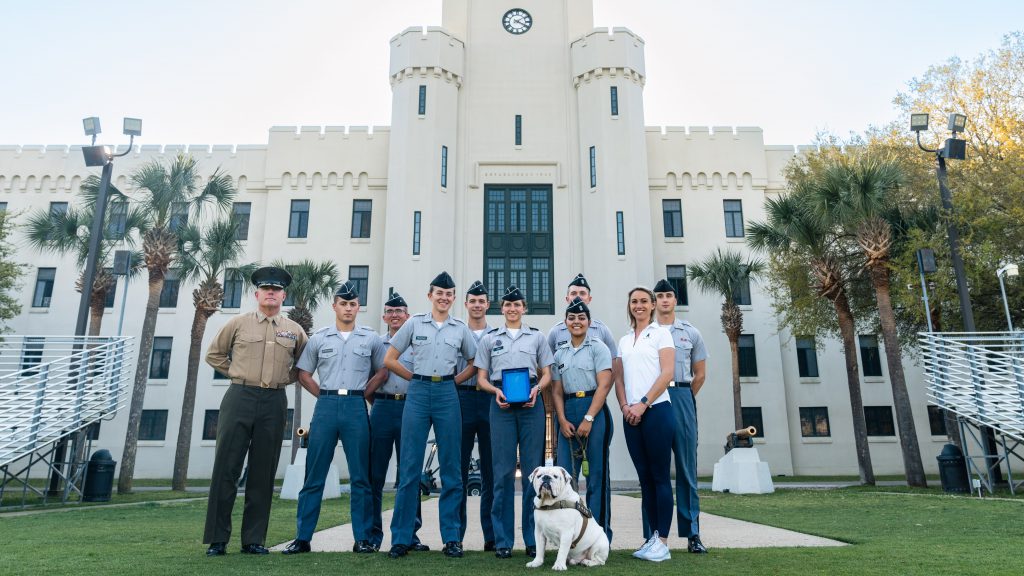 Citadel cadets took first place in the 2022 Association of Military Colleges and Schools of the U.S., or AMCSUS, physical training challenge, representing The Citadel's dedication to fitness in the Corps of Cadets. The awards were announced during the AMSCUS's annual conference on Feb. 26-28. In addition to the physical training award, Cadet Jake McPherson won first place in the college writing competition.
"There's a saying in Latin that perfectly describes the kind of education we offer at The Citadel: 'Mens sana in corpore sano,' which means 'A sound mind in a sound body,'" said The Citadel Commandant of Cadets Col. Tom Gordon, USMC (Ret.), '91. "Physically and academically, I would stack our cadets up against any of the senior military colleges or academies. These awards affirm what we already knew – that we have some remarkably talented and competitive leaders in our ranks."
The physical training, or PT, challenge had three contests — number of qualified push-ups in one minute, number of qualified sit-ups in one minute and a timed mile and a half run. The cadets who participated in the PT challenge were:
Thomas Fitzpatrick
Ashley James
Lucy McArthur
Peter Monaco
Kyle Samida
William Templeton
Sam Wilson
Kimberly Winkler
While only the top five scores were submitted, all eight of the cadets preformed exceptionally well, proving the true strength of a Citadel cadet.
"I would like to commend these eight cadets for stepping up to the challenge when we needed our top physical performers to represent The Citadel in this year's AMCSUS PT challenge. We were competing against more than 10 other military colleges in the country and knew the competition would be tough," said Kasee Haugen, director of the physical readiness program at The Citadel. "But these cadets, from all four classes, came out during their free time, brought their 'A-game' and all of them maxed every single event in the PT challenge. I was extremely impressed with their effort and determination to perform their best —that's why we took first place."
The writing competition was established to encourage academic writing skills and encourage cadets to collect and share their unique insights and research related to military school education. Cadets are asked to provide a single page paper on any aspect of military education — such as benefits, challenges and experiences.
The AMCSUS is an organization of schools with military programs approved by the Department of Defense, and which maintain good standing in their regional accrediting organizations. They were founded in 1914 and its membership is made up of more than 30 fully accredited military colleges, junior colleges and college preparatory schools.