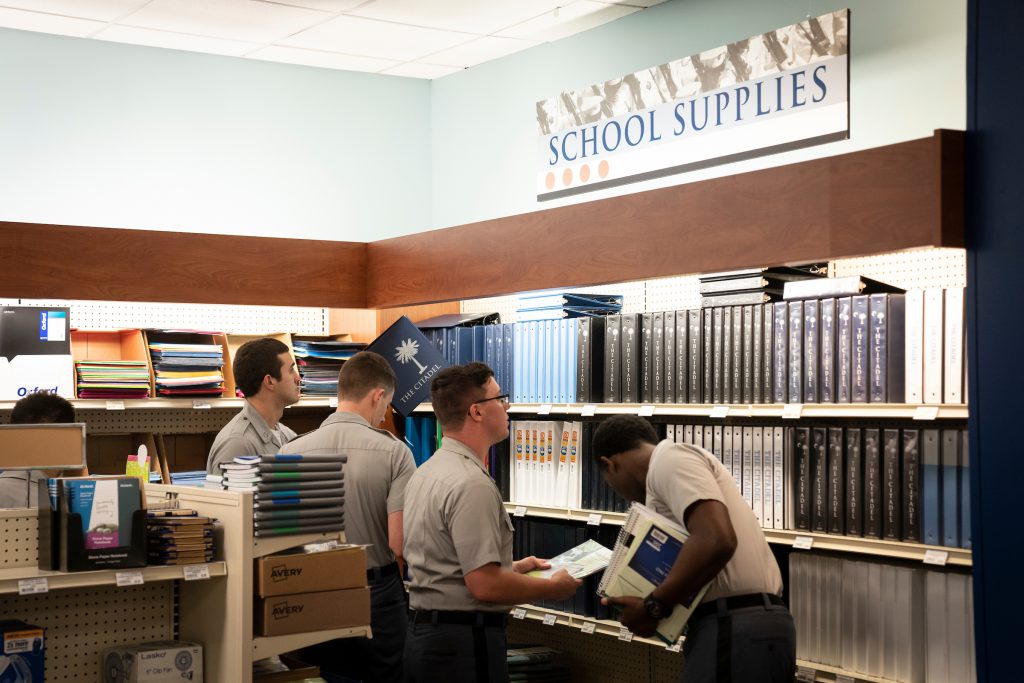 The Citadel Bookstore in Mark Clark Hall on campus as well as online will now be managed and operated by the Follett Higher Education Group. The contracted agreement becomes effective November 4, 2020.
"Follett was chosen as the vendor that would offer the best programs and opportunities for cadets and students to save on the overall costs of course materials," said Kevin Reid, assistant vice president for Auxiliary Enterprises at The Citadel. "Additionally, through Follett's retail innovation strategies, The Citadel community can look forward to a campus store environment fostering collaboration, fun events and community initiatives."
Cost-saving options include a textbook rental program that can save cadets and students up to 80% compared to buying new books. A varied selection of ebooks and other digital learning technologies that help promote anywhere/anytime access to required materials will also be available. Additionally, Follett will offer affordable open educational resources content and courseware by Lumen Learning.
Beyond course materials, and a new product assortment of officially licensed Citadel merchandise, Follett will refresh the store's general merchandise offerings making it a one-stop shop for class and campus life essentials. According to the vendor, Citadel customers can expect a custom product assortment that reflects local interests as well as national trends in supplies, technology, clothing, gifts and more. Brands carried will include Apple®, 47® Brand apparel, Columbia® Sportswear, Under Armour®, NIKE®, Moleskin®, Hydro Flask ® and socially conscious brands including Alta Gracia.
The full breadth of Follett's products and services can be explored both in-store and online here, with The Citadel products to be added soon.
"The Citadel's cadets and students will be able to quickly search, browse and shop for all their campus essentials whether they're on a computer, tablet or phone and conveniently choose in-store pickup if needed," said Clay Wahl, chief operating officer for Follett. "Follett's historic $50M investment in our ecommerce sites and digital applications underscores our commitment to better serve our customers by enriching their shopping experience with us."
The bookstore will be closed Oct. 31 – Nov. 8th for the transition, reopening under Follett's management on Nov. 9.  The Marketplace, the small convenience store near the bookstore, will reopen on November 5. 
Follett is a $3.4 billion privately held company headquartered in Westchester, Illinois. As a leading provider of education technology, services and physical and digital content, Follett works with 70,000 schools and operates more than 1,200 local campus stores and 1,600 virtual stores. With the 2016 acquisition of Baker & Taylor, LLC, Follett's reach also extends into the public library and global retail markets.