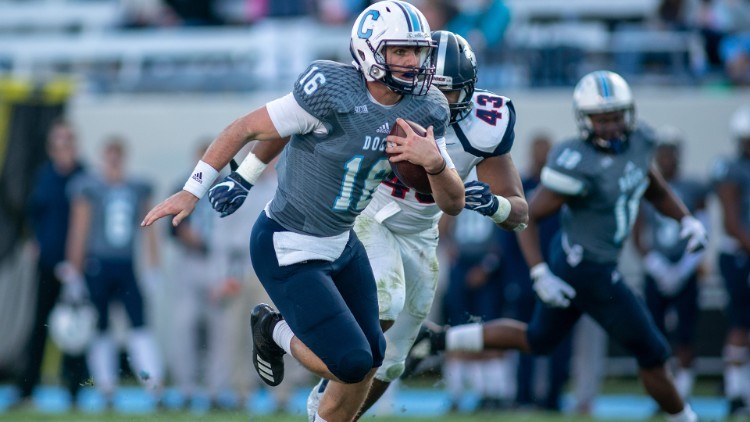 Welcome to the 2020 FCS Jersey Countdown.
Throughout the May-August months, HERO Sports is going to name the best returning FCS player by jersey number, 99-1. Due to rosters being updated at different times for teams across the country and to keep things consistent, jersey numbers are based on the 2019 season.
The full 99-1 countdown/schedule can be found here.
16: Brandon Rainey, QB (Sr.) — The Citadel
A dual-threat QB, Rainey runs The Citadel's option offense to perfection.
The 2020 HERO Sports preseason All-American First Team "athlete" is coming off of a season where he rushed for 900 yards and 17 touchdowns off of 240 attempts. He also went 62-for-122 passing for 1,114 yards and 13 touchdowns with four interceptions.
Rainey was named on our 2019 postseason All-American Third Team.
At 6-foot and 205 pounds, Rainey runs like a RB when he's carrying the ball. In fact, he converted from QB to FB as a redshirt freshman in 2017 due to injuries, rushing for 505 yards and two touchdowns while being named to the All-SoCon Freshman Team.
In 2018, Rainey resumed his backup QB roles. With the Bulldogs sitting with a 2-5 record, Rainey was inserted as the starting QB. The Citadel won three of its final four games as Rainey ran for more than 400 yards combined in his first two starts.
That finish to the 2018 season led to a standout year in 2019.