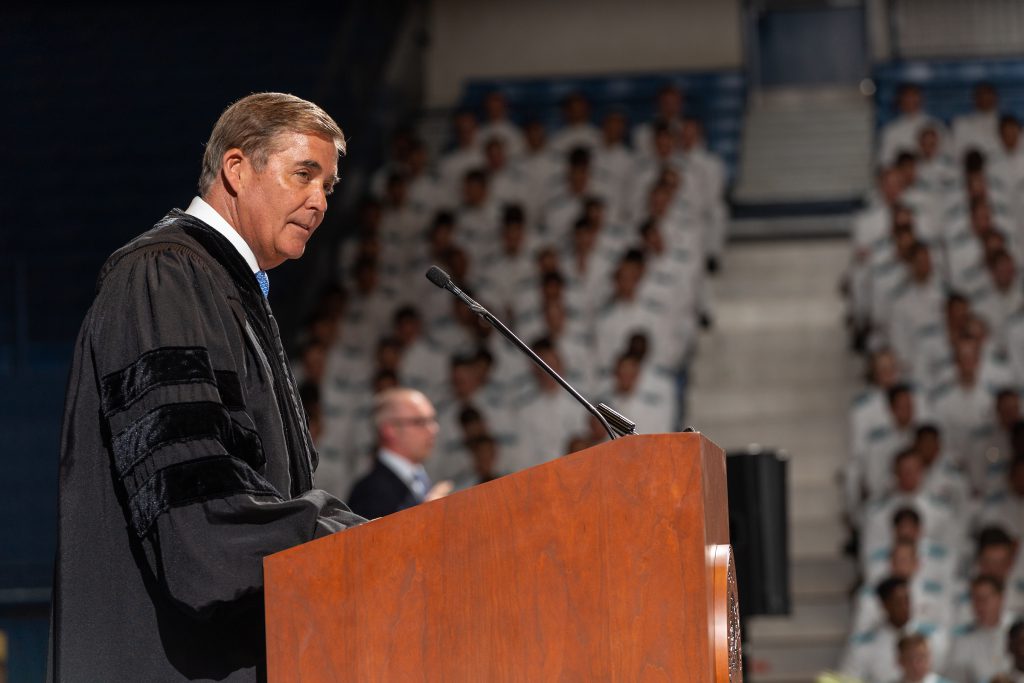 Photo above: Col. Fred L. Price, Jr., Citadel Board of Visitors Chair speaking during presidential inauguration ceremony for Gen. Glenn Walters on April 5, 2019
Today I reluctantly withdrew my name for consideration to serve another term on The Citadel's Board of Visitors from the College and University Trustee Screening Commission. I also resigned immediately as Board Chair and will step down as a member of the Board December 31, 2020. The Board's outstanding Vice Chair, Colonel Myron Harrington, U.S. Marine Corps (retired), will step into the Board Chair position, where he will continue to serve our college with honor and distinction. I can think of no better leader to continue the college's mission to educate and develop principled leaders for all walks of life.
I want to thank every member of our Board and our greater Citadel family who supported and contributed to our college's superb record of success for the past 12 years. Some of the highlights of those years include:
⦁ Last September, The Citadel was recognized by U.S. News & World Report as the #1 public college in the South for the 9th consecutive year. I am confident that we will again achieve this honor, which recognizes the splendid student outcomes we achieve for our cadets.
⦁ The Citadel was also recognized by U.S. News & World Report as the #1 Best College for Veterans in the South, and we take great pride in serving those who have served and sacrificed to defend our nation.
⦁ The Citadel provides the highest return on investment of any four-year institution in the state of South Carolina according to a recent study by Georgetown University. This distinction recognizes that Citadel graduates earn the highest salaries after graduation and some of the highest employment rates of any comprehensive institution in the state.
⦁ At nearly 66%, The Citadel's four-year graduation rate is the highest in the state of South Carolina; the national four-year graduation-rate average for public institutions is 37%.
⦁ We have maintained a conservative fiscal posture. As a result, The Citadel's debt balance decreased from more than $77 million in 2006 to only $16.9 million in 2020.
⦁ Minority cadet enrollments increased 87% from 2006-2020 (286 minority cadets in 2006 grew to 536 minority cadets in 2020).
I have served our college as a volunteer for over four decades in various capacities, and many of my proudest and happiest moments have been those shared with classmates and other passionate supporters of our Citadel family. Serving as Board Chair for The Citadel, The Military College of South Carolina, has been one of the great privileges of my life, and I will continue to support our college as we all move forward together. Go Dogs!