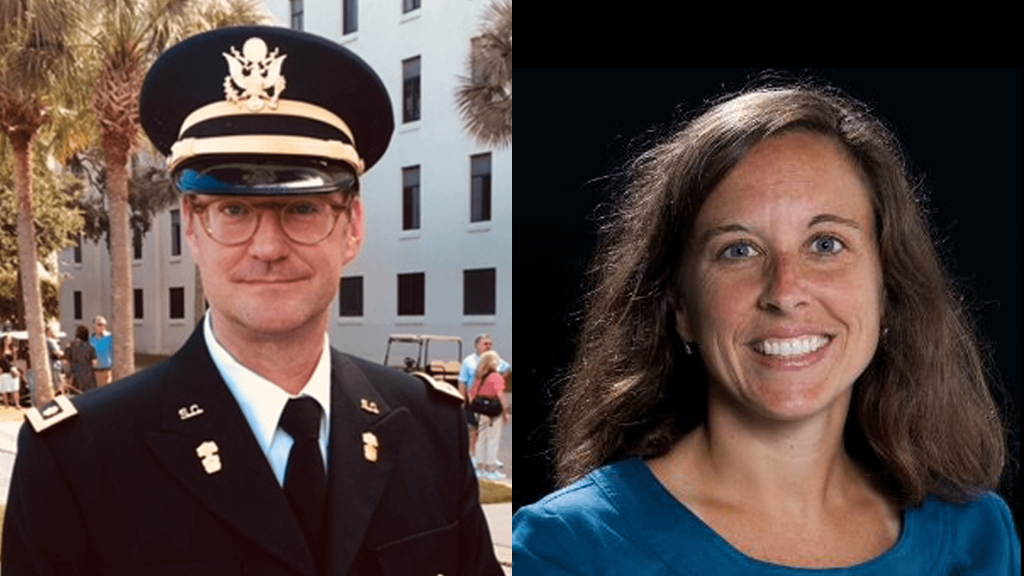 From SoConsports.com 
SPARTANBURG, S.C. – The Southern Conference named its All-Southern Conference Faculty and Staff Team on Wednesday, with two representatives each from all 10 member schools being recognized by the league.
While the selections were left up to each institution's discretion, the recipients all shared the common characteristics of demonstrated service to the institution and contributions to campus life and the local community. Faculty members selected have demonstrated strong contributions to teaching, research and/or service, while staff members are being recognized for bringing out the best in others and creating conditions for success.
The faculty and staff recipients include: The Citadel's Dr. Matthew Zommer and Lori Hedstrom; ETSU's Dr. Amy Greene and Ronda Gross; Furman's Dr. William Pierce and Vince Moore; Mercer's Dr. R. Scott Nash and Jim Tessmer; UNCG's Dr. Gabriela Stein and Melanie Carter; Samford's Dr. Mark S. Gignilliat and Ginger Robertson; Chattanooga's Dr. Jamie Harvey and Melanie Ribaric; VMI's Col. Tom Baur, who is being honored posthumously, and Col. Vern Beitzel; Western Carolina's Dr. Yue Cai Hillon and Mark Haskett; and Wofford's Dr. William Eddie Richardson and Elizabeth Dashiell Wallace.
Each member of the All-SoCon Faculty and Staff Team will be presented a plaque and honored at a home basketball game at his or her institution.
Dr. Matthew Zommer, The Citadel
A faculty member in The Citadel's Department of Criminal Justice, Dr. Matthew Zommer earned his doctorate in criminal justice from the City University of New York Graduate Center. His areas of specialization include comparative and international criminal justice, law of armed conflict/laws of war, and international relations theory. Zommer's dissertation, "Reciprocity and the Laws of War: An Historical Analysis of U.S. State Practice", argues that reciprocity is an instrumental variable in the creation, application and adherence to the laws of war in post-World War II 20th century armed conflict. Zommer utilizes an interdisciplinary approach that includes perspectives found in the fields of international criminal justice, international law and international relations to explore the role that reciprocity has played, and continues to play, in United States government decision-making and military training as they relate to the laws of war.
Lori Hedstrom, The Citadel
Lori Hedstrom joined The Citadel as director of Executive Events in 2013. The task of Executive Events is planning and executing events in support of the president. Hedstrom is directly responsible for their outcomes and her success means she navigates tasks involving every facet of the college and thousands of people each year. The 2018 Citadel Employee of the Year, Hedstrom also assists other departments with their events and often becomes more than a consultant for these, coordinating things not in her purview. She helps coordinate nearly every large campus event, regardless of who is hosting. "No matter how long the day, unpalatable the task, or number of challenges she must overcome, Lori is unflappable. Her sunny disposition improves the day for our guests as well as fellow staff members. In one of the most forward-facing jobs on campus, Lori's winning attitude is an absolute blessing," said her supervisor, Cmdr. William Lind, USN (Ret.).
Dr. Amy Greene, ETSU
Dr. Amy Greene is a three-time ETSU graduate, as she earned undergraduate and master's degrees in sport management and her doctoral degree in educational leadership and policy analysis. She started her career with ETSU as the Fit Kids Program Coordinator in what is now the Department of Sport, Exercise, Recreation, & Kinesiology and is now a tenured associate professor. She loves diving into the lives of her students and navigating the college journey with them and says that one of the greatest rewards in her career is hearing the words "I am hired!" Greene's research interests involve consumer behavior and marketing of sport and she has worked alongside the ETSU athletic department to conduct research that focuses on its fan experiences and marketing efforts. Greene is also passionate about helping those in need through a children's feeding program established in 2016, Feeding5000.
Ronda Gross, ETSU
Ronda Gross began her career at ETSU in 1990 as an admissions counselor. In 2010, Gross moved to the ETSU Scholarship Office and now serves as assistant director. She oversees five major scholarship programs: Carter, Carter Plus, Gilbreath, Dual Enrollment and Creative Arts Scholarships. She works with the Office of Graduate Studies to award the graduate level Carter, Carter Plus, Gilbreath and International Merit Scholarships. She represents ETSU and the Scholarship Office at nearly all on campus and off campus events. Gross has the inherent ability to make every person feel like he is speaking with a valued, supportive friend. Alumni often stop by to catch up with her when visiting ETSU.
Dr. William Pierce, Furman
Furman's Dr. William "Bill" Pierce, professor of the health sciences and lead author of Runner's World Run Less Run Faster and Runner's World Train Smart Run Forever, joined the Furman faculty in 1983 and chaired the department for three decades. During his tenure as chair, the health sciences major grew into one of the most popular on campus. Pierce led the department through curricular changes to its present emphasis on wellness and health sciences. Pierce is co-founder of the Furman Institute of Running and Scientific Training (FIRST). He was listed as one of 10 marathon "supercoaches" by Runner's World magazine and has made hundreds of presentations on fitness, wellness and running. Pierce has been actively involved in promoting wellness in Greenville as a co-founder of community-wide health promotion programs Greenville Walks, Get Fit Greenville and Activate Greenville, year-round healthy living awareness programs that preceded the present coalition, Live Well Greenville. Pierce serves as Furman's faculty athletics representative and is a past president of the Southern Conference.
Vince Moore, Furman
Vince Moore has been a member of the University Communications office since 1982. As Director of News and Media Relations, he is responsible for communicating with the local, regional and national media and overseeing the Furman News page. He is also a regular contributor to the Furman Magazine. Before coming to Furman, he was a sportswriter for the Greenville Piedmont and Anderson Independent-Mail, where he was the golf writer and covered teams in the ACC, SEC and Southern Conference. He is a graduate of Georgetown College in Kentucky and received a master's in mass communication from the University of South Carolina.
Dr. R. Scott Nash, Mercer
Dr. R. Scott Nash is the Columbus Roberts Professor of New Testament in Mercer's Roberts Department of Religion. After earning his undergraduate degree in religion and political science from Centre College, he earned master's and doctoral degrees from The Southern Baptist Theological Seminary. Nash, who has done additional study at the University of Kentucky, Brown University, Harvard Divinity School, and the American School of Classical Studies in Athens, Greece, received the Spencer B. King Jr. Distinguished Professor Award in 2002. Since 1991, he has participated in The Ohio State University Excavations at Isthmia, Greece, and is responsible for the publication of the pottery from the Roman Bath. A member of the Australian Institute of Archaeology, Nash has been the senior editor of Perspectives in Religious Studies, a publication of the National Association of Baptist Professors of Religion, for 20 years. He is also the project editor for the Smyth & Helwys Bible Commentary series. Nash is also chairman of the board of directors for Heritage Investment Group.
Jim Tessmer, Mercer
Jim Tessmer joined the Mercer University athletics staff in 2006 and currently serves as the department's event coordinator. His work contributes to developing a positive experience for Mercer student-athletes in their athletics competitions. Messmer has served as a front office staffer for minor league baseball team affiliates of the Reds, Red Sox, Pirates, Yankees and the Braves. Outside of athletics, he works as a radio station on-air personality and overnight engineer for WPEZ in Macon, Georgia. He is also a longtime member of the Kiwanis Club, taking on several leadership roles. An ardent supporter of Mercer student-athletes, Tessmer, who along with his wife, Melissa, has adopted five children, was selected by the school's Student Athlete Advisory Committee as Mercer's staff representative on the All-SoCon Faculty and Staff Team.
Dr. Gabriela Stein, UNCG
Dr. Gabriela Livas Stein is a licensed psychologist and associate professor of clinical psychology within the Department of Psychology at UNCG. Stein received her doctoral degree in clinical psychology with a specialization in child and family psychology from UNC Chapel Hill. Broadly, her research uses developmental psychopathology and cultural-ecological frameworks to investigate the impact of culturally relevant factors on the development of psychopathology for ethnic minority samples. She is currently the vice president of programming for the Society of Research on Adolescence and an associate editor for Journal of Research on Adolescence. Clinically, she specializes in the provision of therapeutic services to Latinx families and provides training to providers working with Latinx communities.
Melanie Carter, UNCG
Melanie Carter started her career in the School of Education at UNCG in 1993 and is currently working as a business officer and office staff manager in the Psychology Department, where she's worked for the past 13 years. She leads a team that provides administrative support, including processing incoming hires, event planning and managing the administrative needs of over 850 undergraduate students, 45 graduate students and 28 faculty. Carter has also volunteered with Greensboro Urban Ministries, specifically on their "Project Independence," which sought to help the homeless they shelter in moving back to permanent housing. She has also served food in the Potter's House Community Kitchen, which provides lunch for free to anyone who is hungry. She describes her approach to work by saying, "I've met so many memorable psychology students who stopped by the department to talk to me, and I listened."
Dr. Mark S. Gignilliat, Samford
Dr. Mark Gignilliat is professor of divinity at Samford University's Beeson Divinity School, where he has taught courses in Hebrew, Old Testament and biblical theology since 2005. Prior to his appointment at Beeson, Gignilliat served as a lecturer at Wycliffe Hall at the University of Oxford. He has authored three theological books since 2007 and has two more forthcoming in 2019: Reading Scripture Canonically: Theological Instincts for Old Testament Interpretation and Micah: An International Theological Commentary. Gignilliat also has published a number of scholarly articles and essays and has contributed chapters to more than 10 books. In addition to his role at Beeson, Gignilliat serves as the Canon Theologian at the Cathedral Church of the Advent in Birmingham, Alabama, where he regularly preaches and teaches. He also is a member of the Society of Biblical Literature, the Evangelical Theological Society, Tyndale Fellowship, the Institute for Biblical Research, and the Karl Barth Society. Gignilliat holds a doctorate from the University of St. Andrews in Scotland, a Master of Divinity from Reformed Theological Seminary and a bachelor's degree from Bob Jones University.
Ginger Robertson, Samford
An administrative assistant in the Department of Entrepreneurship, Marketing and Management and Executive Education in the Brock School of Business, Ginger Robertson joined the Samford University staff in April 2005. She served as a temporary secretary for Charles DeBow in Cumberland School of Law before transferring to Brock School of Business in 2006 as administrative assistant for the Department of Entrepreneurship, Management and Marketing and the Executive Education program. Prior to coming to Samford, Robertson worked for nearly 10 years at Media Services, a subsidiary of Southern Progress Corporation, as a customer service representative in both the magazine and book divisions. Robertson also served as a secretary in Southern Research Institute's maintenance department for more than 10 years. Robertson majored in accounting while attending Bessemer State Technical College.
Dr. Jamie Harvey, Chattanooga
Dr. Jamie Harvey's history with Chattanooga began in 1975 as an undergraduate student in health and physical education and has spanned nearly 34 years. After earning a master's at Eastern Kentucky, she returned to UTC as an adjunct in 1982. After completing her doctorate in education, she transitioned into a tenure-track faculty role and earned tenure and the rank of associate professor. Harvey organizes the Health and Human Performance (HHP) mentoring program with new faculty and coordinates the Health and Physical Education (HPE) K-12 program for students planning to become physical educators. Through experiential learning in HHP courses, Harvey has been involved with students volunteering with Susan Komen Race for the Cure, Making Strides against Cancer, Chickamauga Chase, Jump Rope for heart, Senior Olympics, Safe Routes to School, Head of the Hooch and Bloodanooga. Her research interests span the areas of childhood obesity, Safe Routes to School, Head Start Body Start and Football officials. In addition, she is active in the Tennessee Association of Health, Physical Education, Recreation and Dance (TAHPERD), the Society for Health and Physical Education (SHAPE), Gold Key and Alpha Delta Kappa teachers' sorority. From 2015-18, she served on the Chancellor's Athletic Board and chaired the Academic Integrity Committee. Most recently, she was elected Faculty Senate President-elect for 2018-2019.
Melanie Ribaric, Chattanooga
Melanie Ribaric served as a College Access Advisor for the Educational Opportunity Center at Chattanooga helping adults enroll in a postsecondary institution. The Educational Opportunity Center serves over 1,000 participants annually targeting low income, first-generation adults, veterans, youth in foster care, homeless youth, and other disadvantaged groups within Hamilton, Marion, Sequatchie, Bledsoe and Grundy Counties. Ribaric earned her Master of Arts degree in educational psychology from West Virginia University and has been teaching online courses in Native American Studies, Child Development and Family Studies for 10 years at WVU. She was previously the Associate Director of Academic Affairs for the University of Phoenix Nashville Campus and Chattanooga Learning Center. Her research interests include resilience and positive psychology.
Col. Tom Baur, VMI
Colonel Thomas Baur, a 1975 graduate of VMI, served the Institute's faculty for 25 years before retiring in 2013. He died as a result of a traffic accident on Aug. 21, 2018, at the age of 64. A native of Huntington, West Virginia, he served on active duty and in the Army Reserve for a total of eight years. He earned a master's degree from West Virginia University and a doctorate from Purdue University, both in exercise physiology. Baur joined the VMI Department of Biology in 1988, teaching a myriad of courses and developed an honors symposium. He was a recipient of VMI's Thomas Jefferson Teaching Award, the Institute's Distinguished Teaching Award, was named to Who's Who Among America's Teachers, and was awarded the VMI Meritorious Service Medal. He continued to serve the Institute after he retired from full-time teaching in 2013. In addition to his teaching duties, Baur served the Institute on numerous faculty and Institute committees, serving at times as officer-in-charge of the barracks, as director of the Summer Tutorial Program, and as head of the Department of Biology. He directed the Summer Transition Program, was adviser to the Class of 2005, was the faculty athletics representative, and served twice as the Superintendent's Representative to the Honor Court. He was also involved in numerous community activities.
Col. Vern Beitzel, VMI
Colonel Vernon Beitzel has been VMI's Director of Admissions since 1994. He entered the Institute as a student-athlete with the Class of 1972, and he continues to support the NCAA athletic program. A native of Grantham, Pennsylvania, Beitzel was awarded a football scholarship and he played both football and baseball, earning All-Southern Conference honors in baseball as a freshman. As a member of the VMI staff, he volunteers as a member of the football chain gang and is a basketball scorer's table official. As Director of Admissions, he works with the Athletic Department concerning athletes who are being recruiting, giving an extra level of evaluation of the compatibility of the prospects to the unique VMI environment. Upon his graduation from VMI, Beitzel worked in the VMI Admission Office for two years, earned a master's degree in counselor education from James Madison University and then worked at several other colleges in admissions. He returned to VMI in 1994, first working as the financial aid director then as Director of Admissions.
Dr. Yue Cai Hillon, Western Carolina
Dr. Yue Cai Hillon of Western Carolina's College of Business holds a doctorate in strategy from New Mexico State University and has advanced training in management consulting and critical management studies, theoretical and practical experience that helps her students learn strategic decision-making as a skill-based process. All of her courses are built around projects with regional businesses and non-profit organizations that could not have otherwise afforded professional consulting services. This shared learning experience contributes to economic and community development in Western North Carolina and offers students highly relevant and effective career preparation. Hillon also coaches student entrepreneurs to develop new business ventures and mentors students in a WCU doctoral prep program. In 2018, Hillon was recognized with the WCU Paul A. Reid Distinguished Service Award, the WCU Center for Service Learning Outstanding Service in Teaching Award, the WCU College of Business Engagement Award, and an Emerald Publishing Literati Award. Beyond teaching, Hillon is actively engaged in the community, serving on a non-profit board and assisting organizations with strategic planning and management consulting.
Mark Haskett, Western Carolina
Mark Haskett graduated from Western Carolina on a Friday afternoon in 1987 then started work at WCU on the following Monday morning, leading to a 31-plus-year career as university photographer. In that time, he has chronicled WCU student-athletes in competition and the classroom and campus life, capturing achievements and milestones and casual moments alike. It was a role he knew even before he started the job, having been a photographer for the WCU Public Information Office and Athletics Department as a student worker. Haskett has been director of WCU Photography and Videography Services since 2014.
Dr. William Eddie Richardson, Wofford
After having spent over 10 years in business in finance and accounting roles, Dr. William Eddie Richardson came to Wofford in 1992 as Director of Institutional Research and an assistant professor. As Director of Institutional Research, Richardson coordinated the 10-year re-evaluation for accreditation with the Southern Association of Colleges and Schools, the NCAA, and the United Methodist Church. Having successfully completed this assignment, in 1997 Richardson accepted a full-time appointment in the Department of Accounting and Finance, where he currently holds the position of professor. Richardson has served as chairperson for the Department of Accounting and Finance, as well as chairperson on numerous committees, including IES Curriculum Committee (study abroad organization), and was appointed faculty representative to the Board Finance Committee. He has presented papers, served as panelist, and conducted workshops for organizations such as National Associated CPA Firms in Atlanta, Georgia, Association for Institutional Research in Chicago, Illinois, Milliken and Company, Spartanburg Chapter of the Institute of Management Accountants, and has served as a mentor for Spartanburg Habitat for Humanity. In 2009, Richardson was elected to the Spartanburg School District 7 Board of Trustees for a four-year term.
Elizabeth Dashiell Wallace, Wofford
A 1982 Wofford College graduate, Dean Elizabeth (Beth) Wallace has served in the Department of Student Affairs for 28 years. Her role as the Associate Vice President for Student Affairs has created many opportunities beyond her first job. Wallace, who holds a Bachelor of Science in Nursing from Emory University, returned to her alma mater as the college nurse in 1991. Living in the historic Hugh R. Black Building for 12 years with her family, she began to develop the current Wellness Center that serves the Wofford community today, which includes a medical clinic, counseling and accessibility services and wellness programming. After a few years, she returned to school and earned a master's in higher education with an emphasis on counseling. Returning to her love for psychology she discovered as an undergraduate, she became a licensed professional counselor in 2005. Along the way, Wallace added other responsibilities such as first-year programming that has grown over the last two decades to include a robust summer and fall orientation, a first-year seminar course and Student Success Teams. Wallace has served and chaired college committees such as the Behavioral Intervention Team throughout the years.