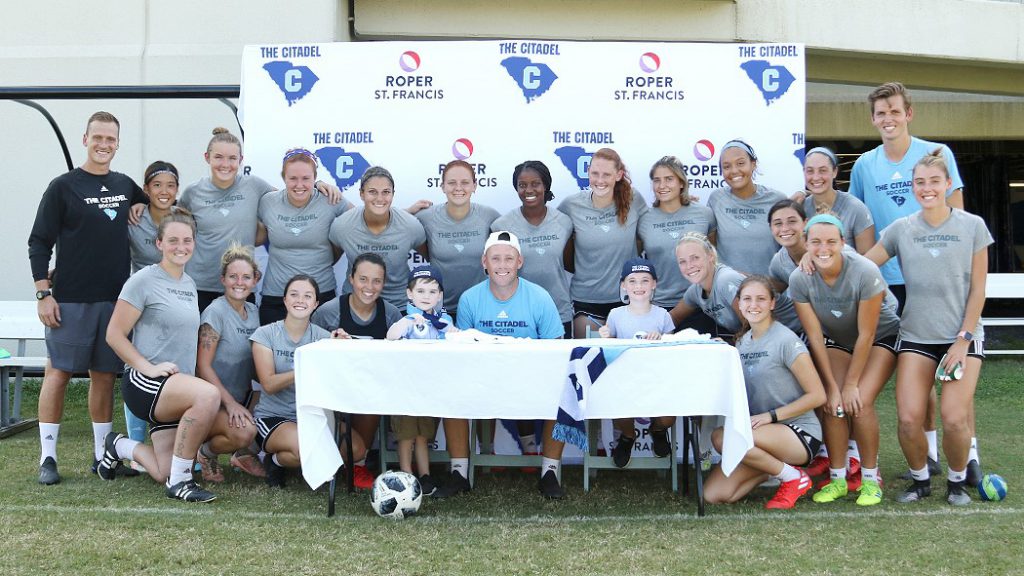 The Citadel women's soccer team added a pair of super talented new members to the program on Tuesday afternoon as four-year-old Milo Sligh and his six-year-old sister, Annie Sligh were introduced during a signing ceremony at Washington Light Infantry Field.
The Slighs and the Bulldogs were brought together by the Friends of Jaclyn Foundation's "Adopt-A-Child Program."
"We are fortunate and blessed to have been presented with this opportunity," said head coach Ciaran Traquair. "I am delighted to add Milo and Annie to our program. Our group will support their family as teammates do and we look forward to having the kids out at our games in the future. Once you are a part of the Bulldog family, we support each other in every step of our journeys. This is a great relationship for everyone and I look forward to growing it."
Through the Friends of Jaclyn Foundation, Milo and Annie are now official members of the women's soccer program. As official members, they will be able to attend practices, games, team dinners, events, and more.
Tuesday, the brother-sister duo from Bonneau, S.C. signed letters stating that they are excited to be Bulldogs! The team presented them with matching Citadel shirts, hats and scarves. Once both had signed to join the program, junior Kate Manzione and the rest of the team presented Milo and Annie with game-used soccer balls and posters that were signed by every member of their new team.
Milo and Annie were joined at the ceremony by their father and mother, Justin and Marisa Sligh. Justin is a 2018 graduate of The Citadel through the Office of Military and Veterans Affairs' Evening Undergraduate program, earning a degree in electrical engineering. He served for several years in the United State Air Force and remains a member of the Air Force Reserves.
Milo was diagnosed with acute lymphoblastic leukemia (ALL) at the age of two, and has battled the disease ever since, but on Tuesday, he was energetic and excited to join the team. He and Annie raced around the pitch, kicking soccer balls and even scored a couple of goals on the likes of assistant coach Ryan McLaughlin and juniors Logan Dix and Ellie Burgess.
Annie, currently six, started playing soccer earlier this year and has developed a true love for the sport.
Milo with signed soccer ball

Annie playing with members of her new team

Milo on Washington Light Infantry Field
About the Friends of Jaclyn Foundation
The Friends of Jaclyn Foundation's mission is to improve the quality of life for children battling pediatric brain tumors and other childhood cancers and to raise awareness through their Adopt-A-Child, Safe on the Sidelines and Guardian Angel Programs. They do this by pairing the afflicted child and their siblings with local high school and college sports teams, campus clubs, and arts programs in their community. You can learn more or request more information HERE.