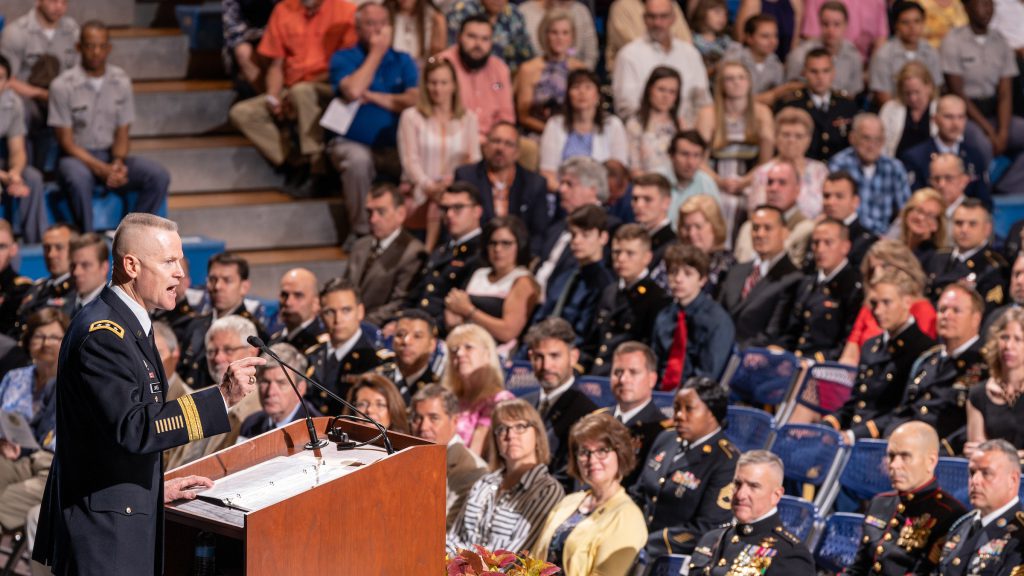 Much of a cadet's life at a military service academy is predictable, repetitive and steeped in decades of tradition.
"The traditions, you either look forward to them or you fear what's around the corner," said retired Lt. Gen. Mike Gould, Air Force Academy class of 1976, who later served as the academy's superintendent from 2009 to 2013, when he retired. "The regimented lifestyle … even if you don't like it, is predictable."
With the coronavirus pandemic taking hold of the United States last month, the final semester for the class of 2020 has become anything but predictable. The U.S. Military Academy and the Naval Academy sent more than 4,000 cadets off to spring break, then asked them not to return. Instead, their education continued online.
At Gould's alma mater, only graduating seniors remain on the Air Force campus in Colorado Springs, Colo., where they take classes online in their dorm rooms.
"They are so impressive in the way they've handled this adversity and each of them in their own ways," said Gould, who has spoken with a handful of cadets. "The toughest challenges for them were the unknowns of the past four to five weeks."
While the other academies have yet to announce how they will celebrate commencement, the Air Force has chosen to graduate students a month early and commission them as officers on Saturday.
The academy "accelerated finishing cadet requirements, including finals and calculating cadet final grades without sacrificing academic quality," said Mike Slater, spokesman for the Air Force Academy.
On Friday, cadets will have commissioning ceremonies in their squadrons, then during the commencement ceremony, they will be sworn into their respective services during graduation by Air Force Chief of Staff Gen. David Goldfein, and Chief of Space Operations Gen. John Raymond.
Cadets will gather 8 feet apart from one another at The Terrazzo pavilion in Falcon Stadium with no family, no faculty beyond what's required and little of the traditional celebratory ritual, said Gould, who will become the CEO of the Air Force Academy Foundation and Association of Graduates next month.
Vice President Mike Pence announced this week that he still intends to travel to Colorado to deliver the commencement address. He will deliver is comments live from the event, distanced from where the cadets will be seated, Slater said.
Also lost is the week of festivities that build up to the final commencement ceremony – an awards ceremony in Clune Arena, the graduation parade at Stillman Field — where seniors separate from their squadrons to form a "V" for victory — and gatherings all over campus the night before graduation.
Instead, more than 30,000 proud parents, family members and friends of the 1,000 cadets will have to watch through a screen as the academy livestreams the event.
One tradition expected to remain: the celebratory hat toss perfectly timed to a Thunderbird flyover. The hugs, high-fives and chest bumps after cadets get their diplomas and after the ceremony are all things that aren't going to be allowed this year, Slater said.
Following graduation, cadets can make one move and then must stay in place until the Defense Department's travel restrictions lift or it's time to report to follow-on training, he said. They can remain at the academy, if needed.
Outside of the service academies, military Reserve Officers' Training Corps programs are also scrambling to make decisions about how to recognize their graduating seniors. At The Citadel in Charleston, S.C., Army Col. John Cyrulik has announced a virtual commissioning ceremony May 9 for more than 100 Army ROTC students. In total, about 180 cadets from all services are expected to graduate from the college.
Unlike West Point, where cadets commission in groups across campus after the commencement ceremony, The Citadel has its Army cadets take the oath of office together, going down the line one-by-one to state their name, then repeating the rest of the oath in unison.
"It takes about a minute or two," Cyrulik said. "Parents are weeping and everybody gets emotional."
This year, with cadets studying at home in almost every state, he said they are "striving to replicate this as best we can online."
In Army tradition, once a new officer has gold bars pinned to his or her shoulders, the next symbolic moment is the first salute. Most students select a noncommissioned officer who has had an impact on their life or served as a mentor.
Because that person is often an older veteran who's a relative, Cyrulik has chosen to defer this first salute until cadets can gather safely with the person of their choice.
"This is one thing we are going to do different," he said. "We don't want anybody to gather in groups, particularly with aged veterans."
The University of North Georgia, one of the smaller senior military colleges in the country, has deemed a virtual ceremony as its backup plan to honor the 74 cadets set to graduate May 7 and 8, said Army Col. Joshua Wright, a military science professor at the university.
UNG's tradition for commissioning involves small, individual ceremonies, generally administered by a senior officer of the cadet's choosing. These ceremonies are held on campus and primarily in the Pennington Military Leadership Center, Memorial Wall or Purcell Plaza.
"Our primary option is to conduct small, individual ceremonies separated by time, space and size to maintain current [coronavirus] guidance, limiting total number of people involved to fewer than 10," Wright said. They also are weighing postponing to a later date in May, depending on the duration of shelter-in-place directives.
West Point in New York and the Naval Academy in Annapolis, Md., seem to be weighing similar options, though neither have made formal announcements.
Army leaders are working through a plan "for the safe return of the Corps of Cadets at the right time," according to a statement from West Point. "The academy senior leaders are determining the return of the Class of 2020 for graduation and commissioning to meet the needs of the Army during this national crisis as well as when summer training activities will commence for all others. A decision on the timing and scope of these events (will be) based on the safety of our cadets, their families and the West Point community."
Navy announced April 10 that all Commissioning Week public events are canceled, but Superintendent Vice Adm. Sean Buck said in a statement that his team is "diligently planning on how, when and where this special event will virtually occur. It won't, unfortunately, be the traditional event we've all grown accustomed to witness. The Class of 2020 has worked tirelessly for nearly four years for this milestone — I believe we owe it to them to exhaust all efforts in our decision-making and planning process to make this special for them, within the guidelines we're operating under."
Navy Lt. John-Rex Spivey, president of the Naval Academy class of 2013, said when he sat in Navy-Marine Corps Memorial Stadium for his own graduation, he looked around at the walls listing the battles and places where academy graduates served as leaders.
"You sit there, and you're humbled," Spivey said. "While it's a celebration of your accomplishments, you say, 'Wow, those are big shoes to fill.' You realize that you are part of something special. You are entering the profession of naval service that has dignity, purpose and respect."
Spivey, now a helicopter pilot, recently returned to campus in an academic support role for midshipmen. He's spoken to many of the students and other people who "feel sorry" for the loss of traditions and festivities.
But he'd rather people know the students are ready for their future, not dwelling on the obstacles of graduating with fanfare.
"They want to graduate, go to the fleet and make a difference," Spivey said.
Retired Cmdr. Skid Heyworth III, Naval Academy class of 1970, said he, too, sees the drive in these students. Similar to West Point, the Naval Academy has alumni from the class 50 years earlier serve as mentors to the midshipmen. He and his classmates have supported the class of 2020 since they arrived on campus.
At each year's graduation ceremony, he said he feels "a great deal of pride in what these young men and women are doing," and knows "they are going to make a positive impact on this country."
"The class of 2020 will do the same thing, and they'll be more resilient because they've gone through this challenging time. I feel good about that," Heyworth said.
More than anything, service academies prepare their students for these exact challenges in life, Air Force alumnus Gould said. The training from day one is based on putting pressure on cadets and demanding that they perform.
"We teach them to make logical decisions under great pressures with the upmost integrity and morals in mind," Gould said. "The academies, they're all good at this."