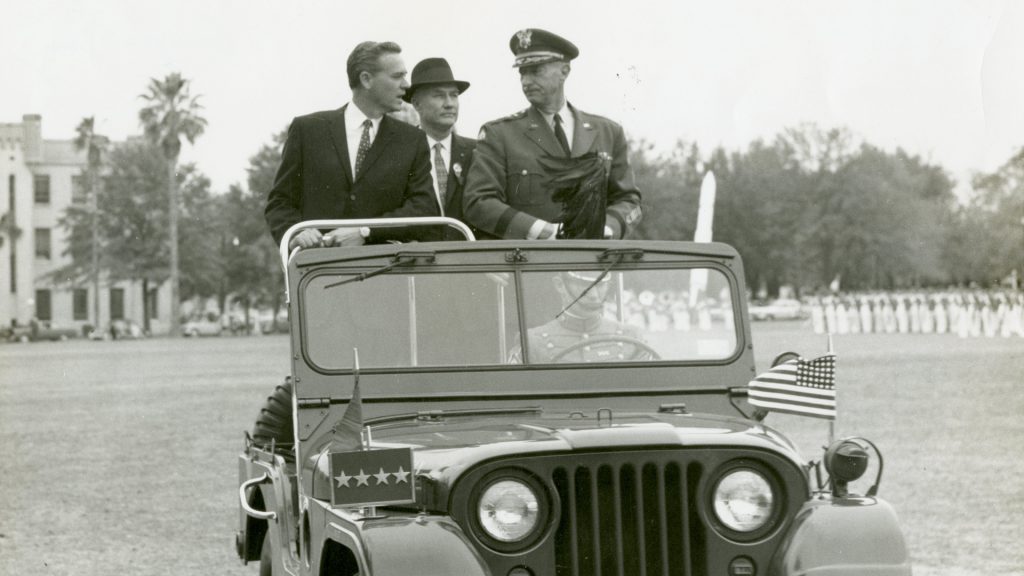 South Carolina Governor Fritz Hollings (front, left) taking review of The Citadel's Corps Day military parade with the college's president, Gen. Mark Clark (front, right), and Sen. Strom Thurmond (middle) in 1959
A statement from Gen. Glenn M. Walters, USMC (Ret), President of The Citadel:
With the passing of Sen. Ernest Frederick "Fritz" Hollings, our nation, our state and The Citadel family lost a patriot who devoted his life to serving others. He lived an incredible life, graduating from The Citadel in 1942, serving in the European Theater during World War II, and then using his drive and energy over decades to solve problems for our state and our nation.
As a cadet, soldier, governor, senator and citizen, Fritz Hollings cared deeply about those who were less fortunate. He focused on the importance of keeping our nation strong and secure. He believed deeply in The Citadel's mission to educate principled leaders, and returned to campus often to participate in projects that made a tremendously positive impact on his alma mater.
Our thoughts, prayers and gratitude are with the Hollings family as we all reflect on a life well-lived.