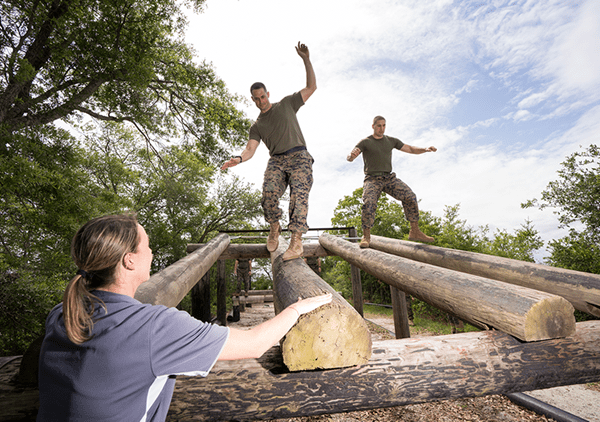 Many U.S citizens who want to join the military are turned away because they're not physically fit. Others are turned away because they're not mentally fit. The two go hand in hand, according to Dr. Dan Bornstein, a professor of exercise science in the Department of Health and Human Performance. Bornstein, who launched the Center for Performance, Readiness, Resiliency and Recovery (CPR3) at The Citadel, states "we are at a crisis in this country where nearly seventy-five percent of Americans of military age are ineligible to serve in the military, and the largest reason is that they're either too fat, too unfit or both." 
In addition, the U.S. Army is preparing to ramp up its physical fitness standards with its new Army Combat Fitness test, which may make it even harder to find qualified recruits. According to a study led by Bornstein in collaboration with the U.S. Army Public Health Center and the American Heart Association, this will become exponentially hard in the south which delivers the highest number of recruits to the military yet has a higher percentage of obesity and is collectively more unfit than the rest of the country.
Dr. Bornstein has strong convictions regarding physical and mental fitness and the dual role they play in our national security. "Part of the reason I came to The Citadel is that it's a military college. I felt that by being here, where leadership is central to the mission of the college, I would have the opportunity to collaborate with others in demonstrating the importance of physical, mental and psychological fitness. These issues are critical not only for the health of our population, but also for the safety and security of our state and nation."
Bornstein has had his own personal experiences early in life to draw upon and has since conducted an abundance of research over the years to get him where he is today, which is the authority for addressing fitness-related problems at each phase of the military pipeline from recruitment to basic training to active duty to veteran status. Bornstein has worked with the U.S. Army Public Health Center to help identify the problems of low fitness on military readiness, but he has also worked to help solve the problem by working with commandant's office at The Citadel, as well as the department of athletics to create a physical readiness officer program that enables cadets to assist other cadets in improving the physical training program. He's also conducted several research studies in collaboration with the psychology department regarding the linkage between mental and psychological fitness and physiology.
"We have an obligation to graduate men and women who have the drive to maintain not only their own fitness and health, but that of their families, co-workers and communities. We are poised to help lead the way in solving some of the most pressing fitness, health and security issues of our time. If The Citadel's not going to lead the way in improving the fitness of tomorrow's leaders as well as today's military personnel, veterans and first responders, then who will?"
Bornstein is committed to helping The Citadel become the solution to the problem.  One way he is doing this is by developing academic programs that prepare individuals to become leaders in ensuring the fitness of tactical athletes. Tactical athletes include first responders, such as firefighters and police officers, as well as military personnel. Fitness for tactical athletes is a lot more than physical fitness, it's also psychological. And unlike sport athletes who train for wins and losses on the field or court, tactical athletes train for life or death.
These academic programs were developed in response to the public and private sectors experiencing a rapidly growing demand for properly-educated tactical fitness professionals–from military service members, as well as first responders who've had a taste of military culture–to train other military service members, firefighters, law enforcement officers and veterans on how to become and stay ready to serve their communities and nation.
One of these programs is a Master of Science in Health, Exercise and Sport Science with a concentration in Tactical Performance and Resiliency. This on campus program is conferred by the Department of Health and Human Performance and delivers the ideal educational platform for qualified candidates looking to gain hands-on experience training a tactical unit. Students will learn advanced methods for developing and delivering holistic fitness programs to improve the performance and resiliency of warfighters, firefighters, and crime fighters, while understanding the physical and psychological underpinnings of performance.
Students in this program will complete over 300 hours of hands-on, face-to-face coaching of tactical teams under the guidance of faculty and staff. And they will receive critical feedback on their abilities to develop, execute, and evaluate programs for tactical athletes. Though graduate students are not cadets and do not live a military lifestyle, they get a chance to immerse themselves in a military culture that will translate into working more effectively in other military or paramilitary settings.
Students will learn from the best and complete their education with a preparedness to apply, design and deliver optimum tactical training programs while gaining a competitive edge in advancing their careers.
Full and partial scholarships are now available to support graduate students wishing to earn their degree in tactical performance and resiliency. Scholarship applications are due no later than July 31, 2020.