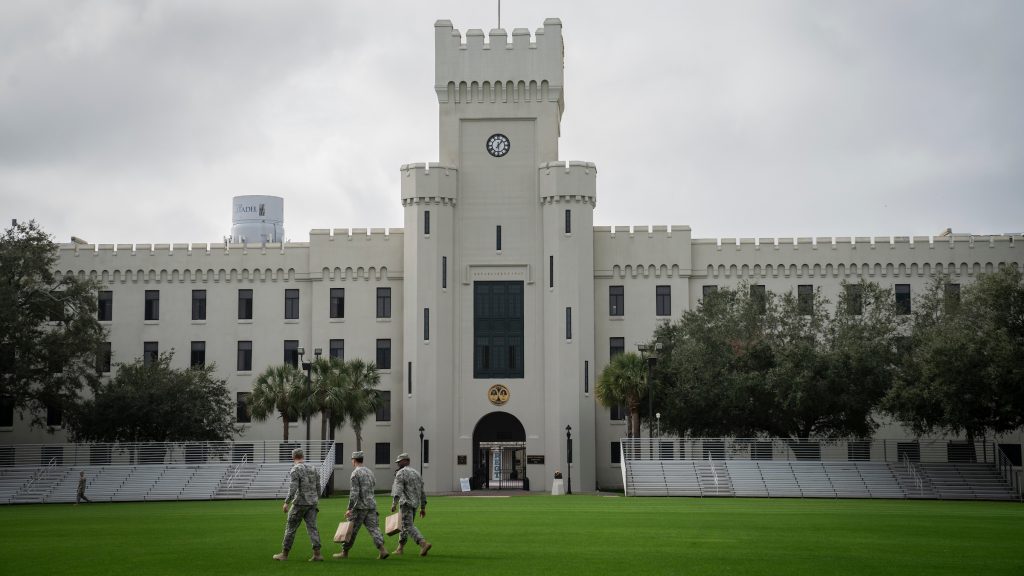 All efforts at The Citadel are focused on Operation Fall Return 2020: setting conditions for cadets and students to return to an adapted face-to-face instruction and training model for the fall semester. This includes expansive and ongoing sanitation of campus facilities by an expert contractor, restructuring instructional settings for social distancing, and changing the flow of seating in the mess hall, to name a few examples.
"Having discussed our plans with many cadets, students, parents and alumni, I understand our community wants to return to campus and partake in the transformational academic and leadership development experience for which we are renowned. The time-tested value of The Citadel experience pays tremendous dividends, and we are committed to delivering it in as close to our traditional way as possible," said The Citadel President Gen. Glenn M. Walters, USMC (Ret.), in an email to campus constituents.
Save the date for your Town Hall to learn more about Operation Fall Return 2020
Walters, with other campus leadership, will provide detailed information about Operation Fall Return 2020 during the following remote Town Hall meetings. Please only join the specific meeting that pertains to you, due to the limited Zoom capacity (750 slots per event).
Citadel Alumni Fall Return Town Hall
Monday, July 6 at 7 p.m.
https://citadelonline.zoom.us/j/92337008067?pwd=Y01yYmVndTFoR1BXUHI2THArR2RPQT09
Citadel Parents and Students Fall Return Town Hall
Wednesday, July 8 at 7 p.m.
https://citadelonline.zoom.us/j/95197797125?pwd=YTVnQWNoaktwSFpNbEJadjY5enNjdz09
Citadel Class of 2024 Fall Return Town Hall
Tuesday, July 21 at 7 p.m.
https://citadelonline.zoom.us/j/98449029652?pwd=TU4wb0FZUTVEMEFNZzBmQ3JnZUxxQT09
"Operating in a COVID-19 environment requires commitment by every member of our community to many new health protection measures. Your well-being is, and will remain, our primary consideration," said Walters. "I believe The Citadel's distinctive environment will help us stand out from other institutions in combatting this virus and maintaining our unique methods of education and leadership development. It will take sustained commitment from us all to make it work, and I have high confidence we can overcome the challenge."
Information supporting Operation Fall Return, can be found on this webpage. Check the website regularly for updates, to provide feedback, or to ask questions. 
Three lines of effort
The mission encompasses three lines of effort:
Return to work and set conditions for the return of cadets and students.
Enables detailed plans for our employees to return to work and for the implementation of thorough cleaning and personal hygiene protocols. We have invested in masks, COVID-19 testing capability, sanitization supplies and equipment to facilitate these efforts.
Prepare for academic instruction and cadet training.
The Citadel shall employ technology to reduce student density in classrooms by splitting class sections. This also enables cadets or students who test positive, but are asymptomatic or have mild symptoms, to continue coursework remotely. The Citadel's experience hosting Marine Corps recruits over the summer guided the Commandant's plans for cadet and knob training. Some activities will be canceled, some modified to maintain social distancing, and some will continue as normal or with adjustments.
Keep stakeholders informed and engaged.
In addition to the Operation Fall Return 2020 website, the college will provide news updates and engagement opportunities via teleconference technology and social media, such as the Town Hall meetings listed above.
"We are excited about the return of our cadets and students," Walters continued. "Our success relies on you. Every member of our Citadel family must do their part. Please let us know how we are doing in getting you the information you need."