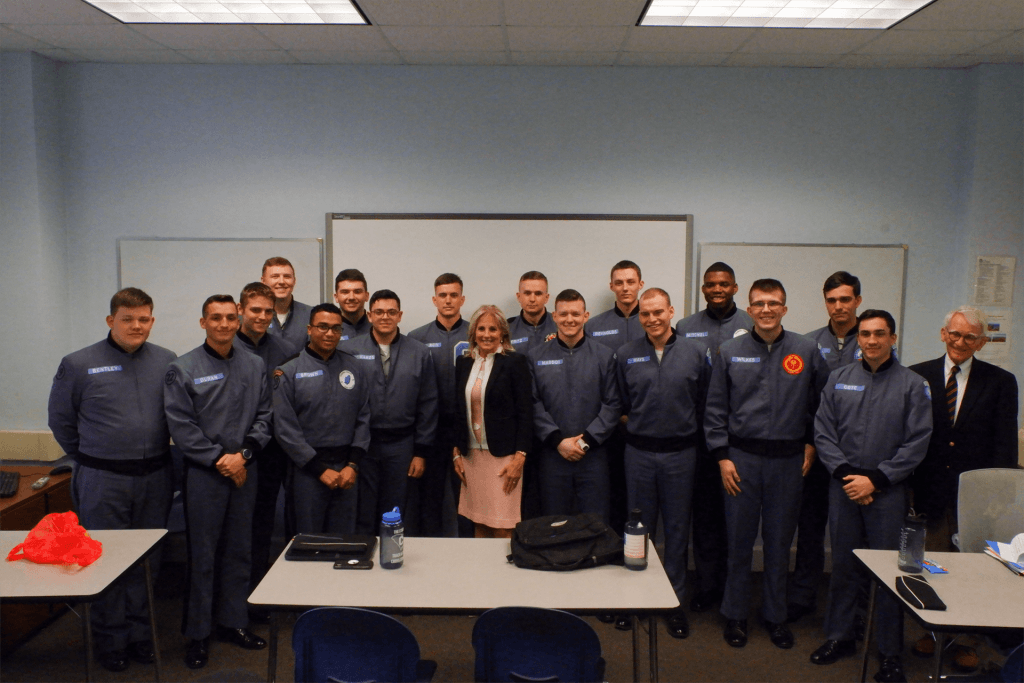 Remarking on a cadet's Citadel Gospel Choir patch, Dr. Jill Biden, wife of presidential candidate and former Vice President, Joe Biden, asked the cadet if he would sing. Encouraged by his classmates during Biden's visit to their political science class, Cadet Tyler Mitchell, also a member of the Citadel College Democrats, asked them all to stand up to sing The Citadel alma mater which they did with enthusiasm.
That was one highlight from Biden's visit to the class taught by Prof. Joe P. Riley, Jr., Citadel alumnus, former Charleston major of 40 years and lifelong civil rights activist.
Biden spoke to cadets about her work as Second Lady with then First Lady, Michele Obama, to support military families. Biden also talked about her ongoing work to support service men and women when they return home from deployment, especially wounded warriors. The lifelong educator also addressed how she helps her community college students with food insecurity issues and prepares them to react in the case of an active shoot.
On a less serious note, when asked about the Democratic debate to be held in Charleston that night, Biden said, "You'll see me during the debate tonight and remember, for two hours the families of all of the candidates all sitting together cannot do anything wrong like say a swear word or shout 'are you kidding me?' or the camera is sure to catch it. So you'll see all of us and we'll be thinking…remain calm and keep that little smile on and just think oh yes, this is democracy at work."
Riley's class, Charleston, South Carolina and National Politics, also included a visit by Bakari Sellers. Sellers is a CNN political analyst, a lawyer and a former state representative, the youngest ever elected to the South Carolina House of Representatives. Bakari Sellers is also the son of well-known civil rights activist, Dr. Cleveland Sellers, a longtime associate of Riley's, who worked closely with Martin Luther King, Jr.
The 35-year-old Sellers talked about his family, his father's life changing experience as an unjustly jailed survivor of the Orangeburg Massacre, his own experiences working as a 22-year-old in the State House, and his predictions for the South Carolina Democratic Primary scheduled for
Feb. 29. Sellers predicted Joe Biden would come out on top, followed by Bernie Sanders, Elizabeth Warren and Pete Buttigeig.
Also this week, the Pete for America campaign is holding an event on campus from 10 a.m. – Noon on Friday, Feb. 28, at the Holliday Alumni Center.
The Town Hall with Pete Buttigieg is open to the cadets, students, facuty, staff and the general public, but the organizers require advanced registration via this event link.