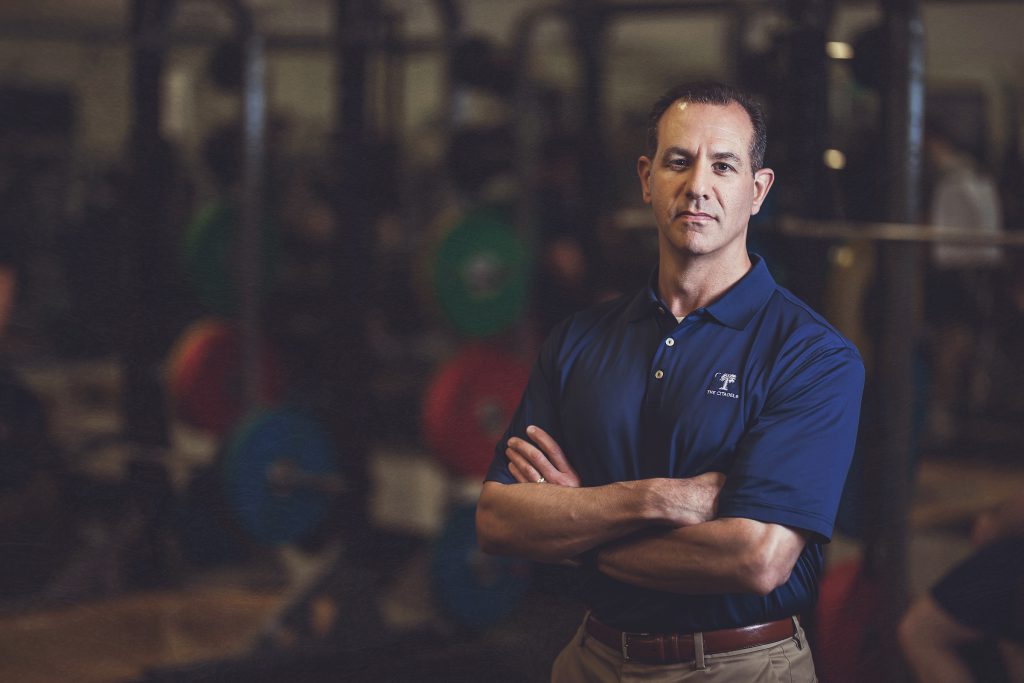 CPR3 director, Dan Bornstein, Ph.D., continues work to improve fitness for national security
The Citadel offers one of the only graduate degrees in America designed to meet the growing demand for exercise science, specifically ones trained to work with military personnel and first responders – those considered tactical athletes by occupation. It's one of the academic programs offered through the college's Center for Performance, Readiness, Resiliency and Recovery (CPR3).
But the Master of Science in Health, Exercise and Sport Science: Concentration in Tactical Performance and Resiliency is only one component of CPR3. There are two other tactical academic programs, also in-person training events for first responders and veterans, plus numerous supporting research efforts underway.
The exercise scientist behind CPR3, and national news-making researcher into America's declining physical fitness, Dan Bornstein, Ph.D., now has another role to contribute to his goal to build a more fit America for the sake of military readiness.
In November, the Steering Committee for the National Physical Activity Plan approved adding a tenth sector, Military Settings, to the plan. Bornstein, who has served in numerous roles supporting the plan, was named to head the new sector.
"The National Physical Activity Plan supports promotion of physical activity in all segments of the U.S. population. The addition of content that is specific to promotion of physical activity in military settings extends the reach of the National Plan to critical elements of the population including active duty personnel, veterans, families of military personnel and civilian employees of the military branches," said Russell Pate, Ph.D., one of the founders of the plan, and an exercise scientist with University of South Carolina. "Dan Bornstein is the ideal person to lead this effort because he combines a long association with the National Physical Activity Plan with his ongoing professional leadership in promoting physical activity and fitness in military groups."
The National Physical Activity Plan is a comprehensive set of policies, programs, and initiatives designed to increase physical activity in all segments of the U.S. population. The plan aims to foster a national culture that supports physically active lifestyles. Its ultimate purpose is to improve health, prevent disease and disability, and enhance quality of life. Bornstein is assembling a team to begin the work of developing the Military Settings portion of the plan beginning in early 2021.
Additionally, Bornstein has served in roles for the Physical Activity Alliance since its inception and he is past chair of the American Public Health Association's Physical Activity Section. Locally he volunteers as part of the Mayor's Wellness Council among other projects. In 2018, Bornstein led a group to Capitol Hill, providing a briefing for The National Coalition for Promoting Physical Activity to call attention to how Congress, the Administration, industry, nonprofits and others within both the public and private sectors can work together to create a national way of life that supports and inspires physical activity—a linchpin for a physically, economically, and militarily stronger America.
Bornstein's work has garnered national interest, with the impacts of first-of- its-kind research with U.S. Army data on impacts to national security because of a decline in the physical readiness of recruits. Other research by Bornstein and the CPR3 team includes:
Study with U.S. Army investigating economic impact to training-related injuries during basic combat training.
Upcoming study with Army ROTC investigating impact of professional Tactical Performance and Readiness training on Army Combat Fitness Test Performance.
Upcoming study on perceived benefits of professional tactical performance and readiness training among law enforcement SWAT team members.
From a community engagement perspective CPR3 is:
Providing professional psychological resiliency and recovery training to Citadel cadets
Engaging with Joint Base Charleston to provide professional tactical performance and readiness training on base.
Engaging with South Carolina National Guard to provide professional tactical performance and readiness training to Guard members
Read more about Bornstein and watch videos about related programs at The Citadel here.