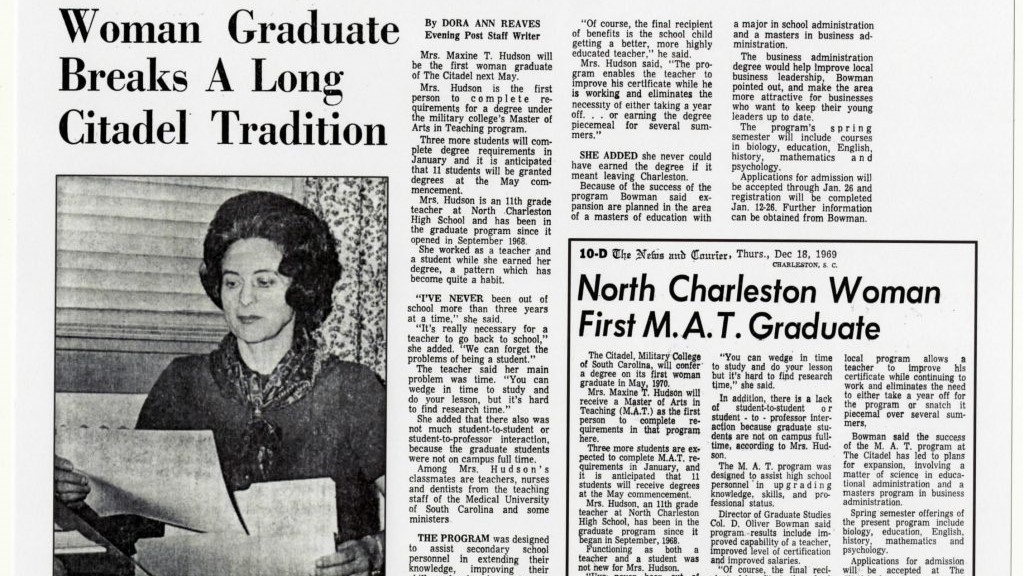 The Citadel is mourning the loss of the first woman to earn a degree from The Citadel Graduate College.
Maxine Hudson passed away on November 18, 2022.
She became the first woman to graduate from The Citadel after completing the degree requirements for a Master of Art in Teaching in Dec. 1969. Hudson and six other women formally accepted their diplomas during a commencement ceremony on May 30, 1970.
Hudson, who taught history for years at North Charleston High School, first started taking undergraduate courses on The Citadel campus during summers in the 1950s when cadets were not present, through a University of South Carolina extension program for teachers. She joined The Citadel's graduate program when it was founded in Sept. 1968.
In 2020, Hudson marked the 50th anniversary of her commencement and spoke with Tessa Updike, director of The Citadel Archives, about her time at The Citadel.
Maxine Taylor Hudson, dedicated and loving wife of the late Dr. Herschel C. Hudson of Charleston and wonderful mother to Shera Lynn Hudson of Stone Mountain, Georgia was lost to us all at the age of 94 on November 18, 2022. Her contributions to the community and state were enumerable. For thirty-eight years, she taught U.S. History, Government, and Economics to North Charleston High School students whom she loved and wanted to know what they should do to become good citizens and successful in life. She was their Junior Class sponsor for many years and served as Social Studies Chairperson and on the Superintendent's Advisory Board. She was chosen as Star Teacher and three times as a national Taft Fellow. She wrote the first integrated history of the state of South Carolina and was the first woman to complete a degree from The Citadel (December 1969.) She was honored during Women's History Month in 2014. Her sharp quick mind, great sense of humor, and the wavy raven hair and green eyes of her youth will be remembered by many.
She is survived by her daughter and nieces Paula Taylor Seiling of Perrysburg, OH, Pam Taylor Walczak of Maumee, OH and Jennifer Taylor of Columbia, SC.
The family will receive friends from 11:00 until 12:00 p.m., Tuesday, November 22, 2022 at Meares Funeral Home in Mullins. Her final resting place will be with her family at Riverside Cemetery in Nichols, SC, her childhood hometown.
Maxine requested that in lieu of flowers, contributions be made to her GoFundMe page or to East Cooper Meals on Wheels, P.O. Box 583, Mt. Pleasant, South Carolina 29465.
An online guestbook is available at www.mearesfh.com.