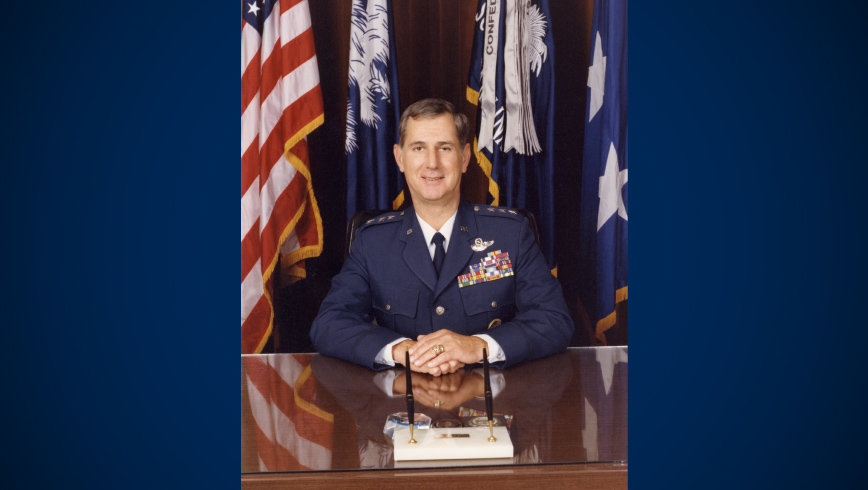 Citadel Family:
I write to you this morning to inform you of the passing of a great leader of our Citadel Family.
Lt. Gen. Claudius "Bud" Watts III, '58, the 17th President of The Citadel, passed away Sunday morning. A native of Cheraw, Bud served and led with distinction in the military, academia, finance, and public service. Throughout his life, Bud was a proud alumni and supporter of The Citadel.
He attended The Citadel on a full ROTC scholarship. Later, as an Air Force officer, Bud amassed 7,000 flight hours as a Command Pilot. This included 276 missions in Vietnam, where he was awarded the Distinguished Flying Cross three times, among other gallantry and combat awards. He was also awarded the nation's highest non-combat award, the Defense Distinguished Service medal.
He was a lifelong learner, with additional degrees from the London School of Economics and Political Science, Stanford Business School, Army Command and General Staff College, and the National War College, as well as completing a leadership program with the Harvard Kennedy School.
In 1989, after decades of military service, Bud retired from the Air Force to become the 17th President of his alma mater. His leadership was immediately tested with Hurricane Hugo, which severely damaged key structures across campus, and forced the college to close for more than three weeks. His seven-year tenure was also marked by improvements to our programs and facilities, a once-in-a-decade academic reaccreditation, and recertification of individual areas of scholarship. After leaving The Citadel in 1996, Lieutenant General Watts pursued a third career in banking with the Carolina Financial Corporation, where he served as Founding Director and, ultimately, Chairman of the Board of Directors.
Bud leaves behind his wife, Jane, their two children, Claudius "Bud" Watts IV (Lesa) and Patricia Heck (Timothy), and several grandchildren. We will pass along the plans for Bud's memorial service as soon as we have it. Until then, please join Gail and me in thinking of those who knew him best as they mourn this significant loss.
This has been a difficult week for our institution, with momentous loses both preceding and following our Parents' Weekend celebrations. At an institution that has stood resolutely for over 180 years we could easily forget that it is only because of the efforts of Citadel family members like Lt. Gen. Watts who, through sustained hard work and dedication to The Citadel, have ensured that this institution not only survives but thrives as we teach discipline, leadership and academics to new cadets and students. May his example – and those who have gone before him – guide us all.
I hope you will join me in remembering Bud's legacy and his lasting impact on our college. The Citadel is a better place, thanks to his dedicated service.
Semper Fi
General Glenn M. Walters, USMC (Retired) '79
President