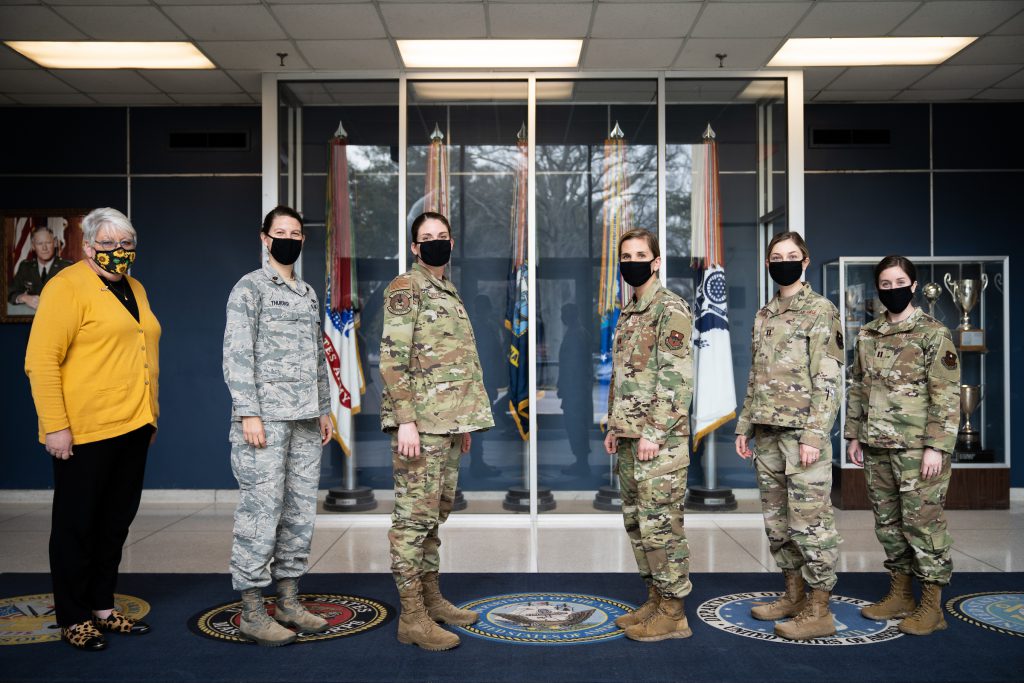 Women's History Month is March 1 – 31, 2021
The 40th anniversary of the formal celebration of women in the United States is March 7, 2021. According to WomensHistoryMonth.gov, Women's History Month had its origins as a national celebration in 1981 when Congress passed Pub. L. 97-28, which authorized and requested the President to proclaim the week beginning March 7, 1982 as "Women's History Week."
At The Citadel, approximately 200 graduates accept commissions every year in all branches of the U.S. Armed Forces to become officers. Women are — and for decades have been — an integral part of the team that helps the Military College of South Carolina produce so many future leaders.
U.S. Air Force/Space Force Detachment 765
The Air Force/Space Force ROTC Detachment at The Citadel is one of the largest in the nation with more than 500 cadets. The department supports The Citadel's mission of educating and developing principled leaders, providing select cadets with the opportunity to earn a commission in the U.S. Air Force upon graduation.
There are six women in the detachment that work as professors of military science or staff. They include:
U.S. Army ROTC Palmetto Battalion
The Citadel's Army ROTC detachment, known as Palmetto Battalion, is the second largest of the 275 detachments across the United States Army Cadet Command.
It is comprised of cadets from The Citadel, as well as the College of Charleston, Charleston Southern University, and the Medical University of South Carolina.
The detachment supports the U.S. Army, the Army National Guard, and the Army Reserves. There are five women in the detachment working as professors of military science or staff. They include:
Cpt. Laura Alvarez, professor of Military Science
Michelle Brown, administrative assistant
Sgt. Quamar Crapps
1st Lt. Natalie Thompson, recruiting operations officer
The Citadel would like to thank all of the women working in ROTC detachments at the college for their dedication and leadership.
Women's History Month events and resources
APPLE
Feature stories and highlights honor powerful female voices in the App Store and Apple TV app, on Apple Music and Apple Arcade, and in curated collections for Apple News, Apple Podcasts, and Apple Books. Learn more here.
Classrooms without borders: Film and Discussion about Ruth Bader Ginsburg
Free public event, with preregistration required. March 7, 2021 Film and Discussion "RBG" with Pennsylvania Supreme Court Justice David Wecht, litigator Ann-Marie Ahern, and Prof. Jonathan Entin- moderated by attorney Courtney Cardin. Sign up here: https://classroomswithoutborders.org/events/rsvp.php?365
Grammy.com on Spotify
Women's History Month playlist featuring the nominees from the 2020 Grammy Awards Show. The link to the playlist is here.
Military.com
Every March Military.com marks women's history month by recognizing the contributions made and the glass ceilings broken each day by women in the U.S. Army, Navy, Air Force, Marine Corps and Coast Guard. Read a selection of featured stories here.
NASA
During the month of March, NASA celebrates and pays tribute to the many women who have played an essential role in shaping the history of the Agency. From astronauts to specialists in the fields of science, technology, engineering, and mathematics (STEM), as well as professionals in communications, human resources, and more, women are helping NASA fulfill its mission to explore our universe for the benefit of all. Learn more here.
Naval History and Heritage Command
On 7 March 1994, the Navy issued the first orders for women to be assigned aboard a combatant ship, USS Dwight D. Eisenhower (CVN-69). Today, women serve in every rank from seaman to admiral and in every job from naval aviator to deep-sea diver. Read more here.
PBS.org
A collection of stories by and about women for March 2021. See the list here.

Smithsonian and National Portrait Gallery
What does a leader do? Together with educators from the National Air and Space Museum and the National Women's History Museum, we will explore this key question in relationship to portraits of activists Sojourner Truth and Sylvia Rivera, and pilot Bessie Coleman. Register for this free event here.
Society of Women Engineers
SWE celebrates some historical figures in the field of engineering who "built American, fought for civil rights, and who were pioneers in their field." Learn more here.