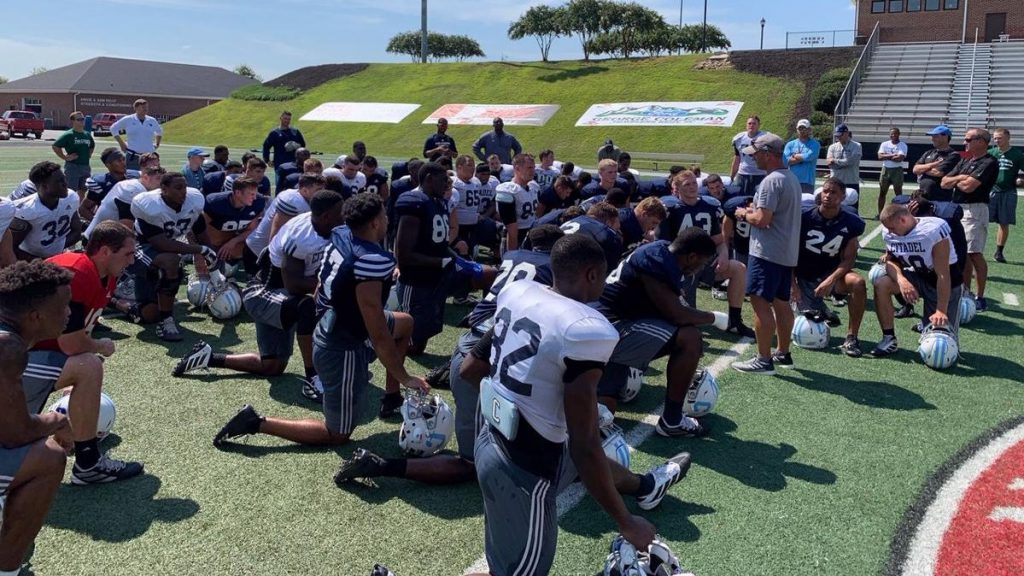 Photo: Hurricane Dorian forced The Citadel football team to practice at North Greenville University on Sept. 4, 2019. Both schools benefited from the philanthropy of prominent developer Walt Brashier, who died March 24, 2021.
Note: Walt Brashier's donation to The Citadel Foundation established the T. Walter Brashier Family Scholarship. Though he himself was not a graduate of The Citadel, his son and two grandsons are.
Walt Brashier, for decades one of South Carolina's most-prominent developers, has died and leaves behind a legacy of evangelism and donorship to higher education.
The Fork Shoals native was 86.
On March 27, North Greenville University flew flags at half-staff to honor the school alum who became its most-generous benefactor. The school announced his March 24 death, citing lengthy health issues.
T. Walter Brashier Sr.'s influence on higher education stretched beyond North Greenville and the Upstate.
In addition to his nearly $10 million in donations to the school over the years, Brashier funded initiatives at Greenville Technical College, whose campus in Simpsonville bears his name, and scholarship funds and land donations for Bob Jones University, Anderson University, The Citadel and Charleston Southern University.
First a Baptist minister, Brashier entered the business world and maintained his evangelical roots while stretching his development work across the nation.
In 1972, Brashier made his first donation to North Greenville to fund the construction of on-campus apartments on the Tigerville campus.
He became a friend and prayer partner, North Greenville President C. Fant Jr. said.
"Dr. Brashier asked me to come see him the first week of my presidency, and I will never forget that meeting," Fant said in the school's announcement. "When he came into the room and greeted me in that sonorous voice, quickly moving to encourage me and share his passion for students, I knew he would be a friend unlike any other."
At Bob Jones, Brashier set up a scholarship endowment aimed toward students who studied for church-specific majors, BJU president Steve Pettit said in a web post following Brashier's death.
"Walt was an incredibly generous man who used the talents God gave him to give God the glory," Pettit said. "Throughout his life, he was a faithful servant of Jesus Christ who served his local church and people around the Upstate. Walt's influence will continue to be felt across the Upstate because of his selfless philanthropic efforts at numerous Christian colleges."
In 2003, Brashier donated land in Columbia worth nearly $2.5 million to The Citadel to establish a scholarship fund that gave first preference to students from the Greenville area.
In response at the time to his interest in advancing students in higher education, Brashier said. "I am just sold on school," according to a university announcement of the gift.
At North Greenville, Brashier donated to the school as recently as December.
The graduate school in Greer is named after his late son, Tim, and a street that connects it bears Walt Brashier's name.
Brashier's early life is detailed in the university's ode to his legacy.
As a teen, Brashier worked at a gas station and funeral home, the latter where he discovered his talent at helping grieving families and preaching during funeral services. 
He became a local church pastor and, after graduating from Furman University, graduated the Southeastern Baptist Theological Seminary and Erskine College.
Brashier became a full-time evangelist and maintained a heavy travel schedule. A friend from another pastorate asked him to join in a real estate venture that turned a profit and prompted him to believe God wanted him to support ministry through business.
He supported the Southern Baptist Radio and Television Commission during its heyday of providing weekly, gospel-themed radio programming.
Brashier attended Scenic Hills Baptist Church in Travelers Rest, where his son Tommy serves as pastor.
Brashier is survived by his wife, Christine; daughter, Kathy Brashier Duncan and her husband, John; two sons, the Rev. Thomas Walter Brashier Jr., and Ted Brashier and his wife, Angela; and more than two dozen grandchildren and great-grandchildren. He was predeceased by his son Martin Timothy Brashier.
No memorial service has been announced yet, according to an obituary posted by Thomas McAfee Funeral Home.