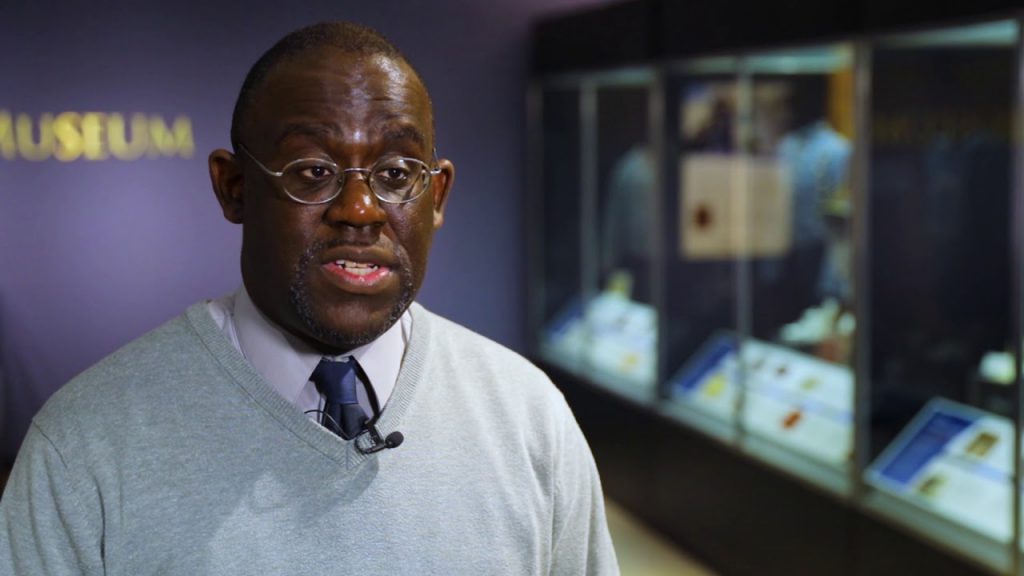 Citadel School of Humanities and Social Sciences professor, Damon Fordham, was recognized by the South Carolina House of Representatives for his work as an educator, author and historian who specializes in U.S. history and African American studies.
Fordham, an alumnus of The Citadel Graduate College and the College of Charleston, teaches numerous history courses at The Citadel.
Watch a video with Fordham about the Green Book, below.
A house resolution in honor of Fordham
TO RECOGNIZE AND HONOR DAMON LAMAR FORDHAM FOR HIS MANY YEARS OF DEDICATED COMMUNITY SERVICE TO THE PEOPLE OF CHARLESTON AND TO EXTEND BEST WISHES AS HE CONTINUES TO SERVE IN THE YEARS AHEAD.
Whereas, it is with great pleasure that the South Carolina House of Representatives recognizes those individuals who give tirelessly of themselves to the welfare of this great state's citizenry. Having spent his life working to enhance the lives of others, Damon Lamar Fordham exemplifies such South Carolinians; and

Whereas, Damon was born in Spartanburg on December 23, 1964, to Anne Montgomery. The following year, however, he was adopted by Pearl and Abraham Fordham of Mt. Pleasant. After graduating from high school, he attended the University of South Carolina, where he received his undergraduate degrees. He then attended the College of Charleston and The Citadel, where he received his Masters Degree in History; and

Whereas, Mr. Fordham believes strongly in education and active participation in his community. He currently teaches United States and African‑American History at Charleston Southern University and The Citadel in Charleston, and has previously taught United States History and African‑American Studies at the College of Charleston; and

Whereas, an active writer, he was a weekly columnist for the Charleston Coastal Times from 1994 to 1998, as well as the author of Mr. Potts and Me, in 2012, Voices of Black South Carolina ‑ Legend and Legacy, in 2009, True Stories of Black South Carolina, in 2008, and coauthored Born to Serve ‑ The Story of the WBEMC in South Carolina, in 2006. He has also performed research and written articles, which have appeared in the books of other writers; and

Whereas, contributing his knowledge and voice beyond the written page, Mr. Fordham has appeared on numerous radio and television programs in both the United States and the United Kingdom to comment on history and storytelling; and

Whereas, he strives to live by the motto, "Educate yourself to lead yourself, for if you wait on others to show you the way, you will wait for a long time"; and

Whereas, the members of the House recognize that the success of the State of South Carolina, the strength of its communities, and the vitality of American society as a whole depend, in great measure, upon the dedication of individuals like Damon Lamar Fordham who use their talents and resources to serve others. Now, therefore,

Be it resolved by the House of Representatives:

That the members of the South Carolina House of Representatives, by this resolution, recognize and honor Damon Lamar Fordham for his many years of dedicated community service to the people of Charleston and to extend best wishes as he continues to serve in the years ahead.

Be it further resolved that a copy of this resolution be presented to Damon Lamar Fordham.

H. 5055, January 29, 2020
Sponsors: Reps. Gilliard, Alexander, Allison, Anderson, Atkinson, Bailey, Bales, Ballentine, Bamberg, Bannister, Bennett, Bernstein, Blackwell, Bradley, Brawley, Brown, Bryant, Burns, Calhoon, Caskey, Chellis, Chumley, Clary, Clemmons, Clyburn, Cobb‑Hunter, Cogswell, Collins, B. Cox, W. Cox, Crawford, Daning, Davis, Dillard, Elliott, Erickson, Felder, Finlay, Forrest, Forrester, Fry, Funderburk, Gagnon, Garvin, Gilliam, Govan, Haddon, Hardee, Hart, Hayes, Henderson‑Myers, Henegan, Herbkersman, Hewitt, Hill, Hiott, Hixon, Hosey, Howard, Huggins, Hyde, Jefferson, Johnson, Jones, Jordan, Kimmons, King, Kirby, Ligon, Long, Lowe, Lucas, Mace, Mack, Magnuson, Martin, Matthews, McCoy, McCravy, McDaniel, McGinnis, McKnight, Moore, Morgan, D.C. Moss, V.S. Moss, Murphy, B. Newton, W. Newton, Norrell, Oremus, Ott, Parks, Pendarvis, Pope, Ridgeway, Rivers, Robinson, Rose, Rutherford, Sandifer, Simrill, G.M. Smith, G.R. Smith, Sottile, Spires, Stavrinakis, Stringer, Tallon, Taylor, Thayer, Thigpen, Toole, Trantham, Weeks, West, Wheeler, White, Whitmire, R. Williams, S. Williams, Willis, Wooten and Yow.