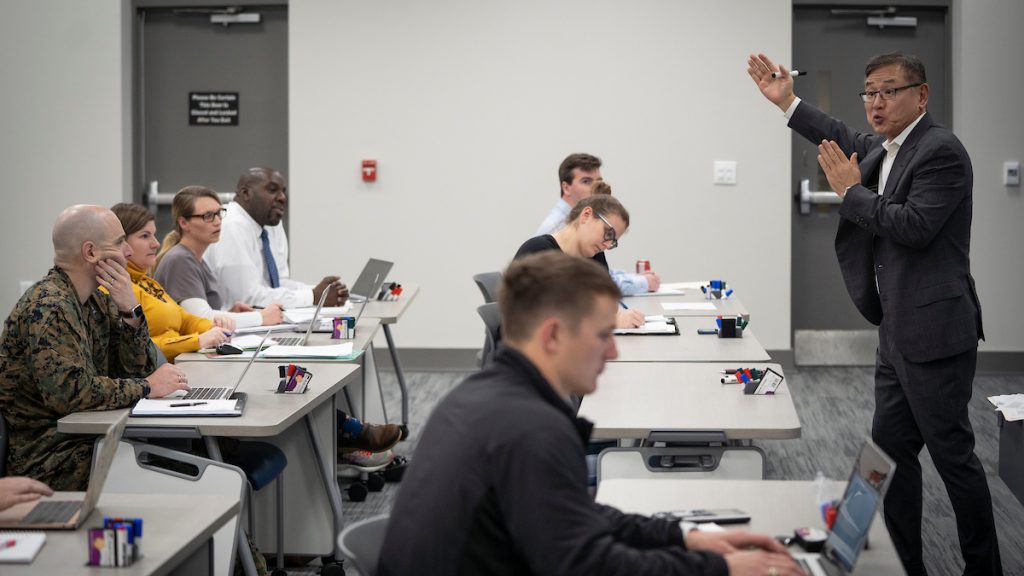 Photo: Dr. Kwangsoo Lim teaching a Citadel MBA course in January 2020, before the campus was closed in response to COVID-19
When it comes to its online and part-time Masters in Business Administration (MBA) programs, The Citadel is one of the best in the biz.
According to the U.S. News & World Report, the Tommy and Victoria Baker School of Business has one of the best part-time MBA programs in the country. This achievement comes just after the same publication named The Citadel's online MBA program as one of the best, as well.
Together, these two options make for an adaptable — and convenient — course of study.
"Whether it's something that affects everyone, like the Coronavirus, or something that only affects one person, like moving to a different city — our students are at an advantage," said Jeremy Bennett, Ph.D., director of the MBA program. "They're able to leverage the fact that The Citadel has two top-rated MBA programs — one in-person and the other online. If, for whatever reason, students are unable to take face-to-face classes, they have another top-rated program to choose at the same institution."
Some of the advantages of an MBA from The Citadel include developing essential management and leadership skills that are immediately applicable for students who are working professionals. Additionally, the same expert faculty members who teach on campus teach the online students.
The college began offering a fully online MBA program in 2016, and has risen rapidly to be considered one of the best part-time and online programs in the country.
The annual U.S. News & World Report rankings are based on a combination of average peer assessment score, average GMAT and GRE scores of entering students, average GPA of part-time students, the part time students' number of years of work experience, and the ratio of full-time to part-time students. For an online program, the methodology is based on a combination of engagement, expert opinion, student excellence, faculty credentials and training, and services and technologies.