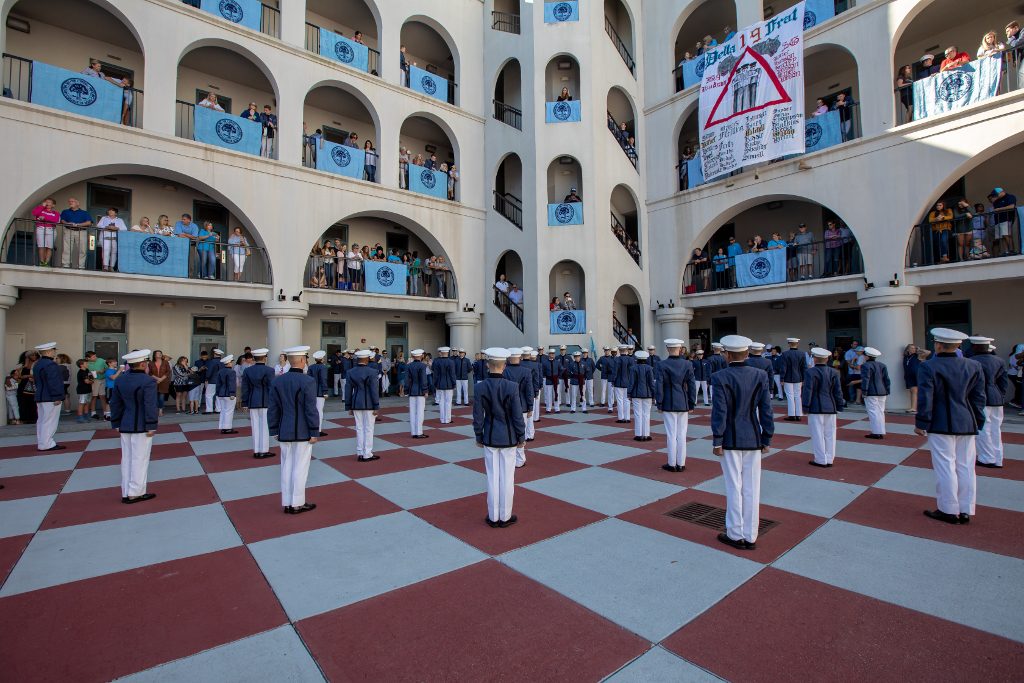 Parents, family members and loved ones will visit their cadets at The Citadel Oct. 4 – 6. Held annually, Parents' Weekend features traditional events such as The Citadel's iconic military dress parade, cadet drill competitions, and performances by the Regimental Band and Pipes.
Ring Presentation ceremony
One of the most anticipated events of Parents' Weekend is the ring presentation ceremony during which seniors will be called to the stage in McAlister Field House one by one to receive their bands of gold. This year's ceremony will be streamed live on The Citadel's Facebook page and on The Citadel YouTube channel.
Parents' Weekend 2019 schedule
Time
Event
Location
Oct. 4
10:30
President meets
with parents
Buyer
Auditorium,
Mark Clark
Hall
12:50
First Class procession
to McAlister Field
House with Pipe Band
Center campus to McAlister
Field House
1:00
Presentation of rings
to Class of 2020 (Live
stream available)
McAlister Field House
Various
Muslim and Jewish
Religious Services
Off campus.
Call Office of
Chaplaincy at 843-953-5049
6 – 9:00 p.m. (Times assigned per company)
Ring Ceremony and
family photos
McAlister Field House
Oct. 5
8:30 – 10:15
All barracks open
Pipe Band
performs in
barracks
8:45 – 9:15
Kelly Cup competition
Padgett-Thomas Barracks
quad
9:30 – 10:00
Performance by
Regimental Band and Pipes
Summerall
Field
10:10-10:20
Freshman Promotion Ceremonies
All barracks
10:30-10:45
Carillon Concert
Heard campus-wide
11:00-11:45
Review Dress Parade (cancelled if raining)
Summerall
Field
12:00-12:45
Lunch
*See below
12:00-2:00
Citadel Alumni Assoc.
Tailgate (open to all, pay at door)
Holliday
Alumni
Center
1:30
Cadets March-Over/
March-On joined by
VMI Contingent
Center
campus to
Johnson
Hagood
Stadium
2:00
Bulldogs vs. VMI
Johnson
Hagood
Stadium
Oct. 6
9:00
Anglican Service
Mark Clark
Hall, Greater
Issues Room
10:00
Protestant Worship
Summerall
Chapel
11:00
Catholic Mass
Summerall
Chapel
*Lunch details:
Coward Hall – Buffet Lunch
Deas Hall – Boxed lunch
RCRR – Regimental Band & Parents only
Tickets for these meals must be purchased in advance. More information can be found here.