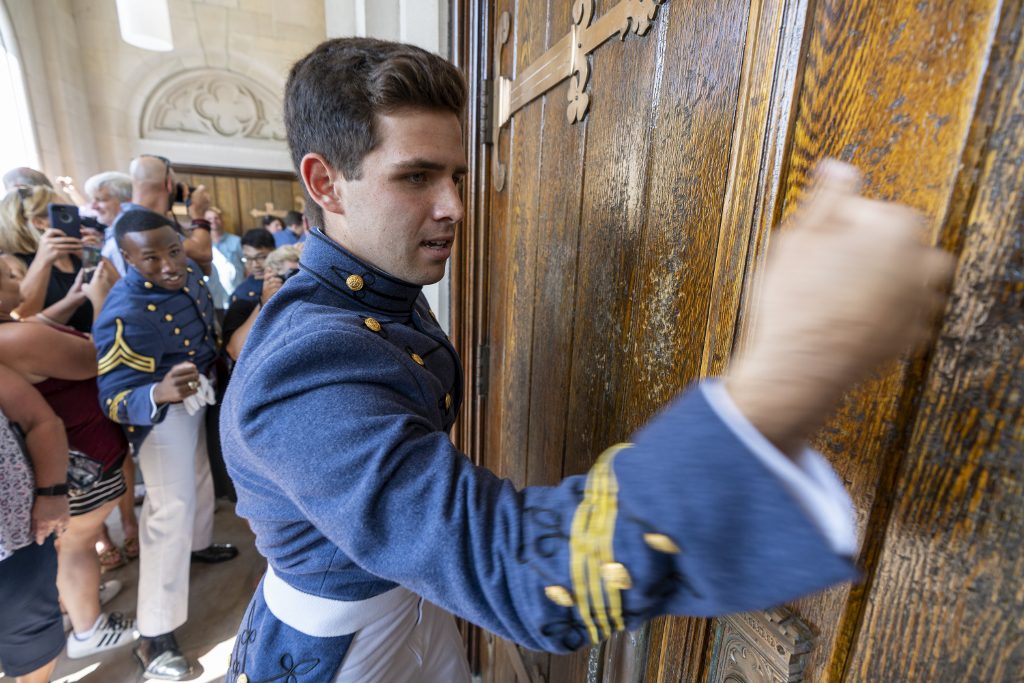 Rings rapped, families visited, pipers piped, the Class of 2020 got gold, and the best of the best earned the Commander's and Kelly's Cups. Here's a look back at Parents' Weekend 2019.
Ringing in the celebration for The Class of 2020
After more than three years of studying, drilling and training 1st Class cadets earned the right to walk in formation to McAlister Field House, cheered on by the freshmen and led by The Citadel Pipe Band.
Once inside, each senior was called individually before their family and friends to receive their band of gold. Then came the time they've longed for: they were instructed to remove their gloves and put on their rings in unison.
Following the Ring Presentation Ceremony, the jubilant field run to Summerall Chapel where cadets rap their rings on the dent-peppered door in a nod to those who came before them.
And for many, a somber stop following the run at The Citadel War Memorial to pay their respects.
Knobs' letters, cup winners and… that game
Saturday, The Citadel Rifle Legion performed in Padgett-Thomas Barracks.
Members of The Citadel Class of 2023 were promoted from cadet recruits to cadet privates in their home barrack's quad, eagerly accepting their company letters.
And every Parents' Weekend, the Regimental Commander's Bowl is awarded to the company with the best fourth class retention rate and fourth class performance in close order drill, physical training, and knob knowledge during the Cadre Period in order to recognize and promote leadership and followership excellence.
The 2019 winner of the Regimental Commander's Bowl? India Company.
In addition, cadet companies compete for the Kelly Cup, which is awarded to the best-drilled fourth-class squad in the Corps of Cadets. The four best-drilled squads were chosen after preliminary competitions among all 18 cadet companies.  Winner of the Kelly Cup? Alpha Company.
Later, the college's seminal military dress parade marched patriotically along in honor of cadets' parents and visitors on campus, including Keydets from Virginia Military Institute (VMI).
And, of course, THAT game. In the words of Col. John Dorrian, USAF (Ret.), Citadel Class of 1990, "I was starting to enjoy the annual tradition, which is now once again a rivalry game! After 17 years, the shako goes back to VMI.

Bye, bye for now, Silver Shako.
Parents' Weekend (and the many events included therein) is one of The Citadel's great traditions. 2019 carried that tradition forward to be remembered by many for years to come.