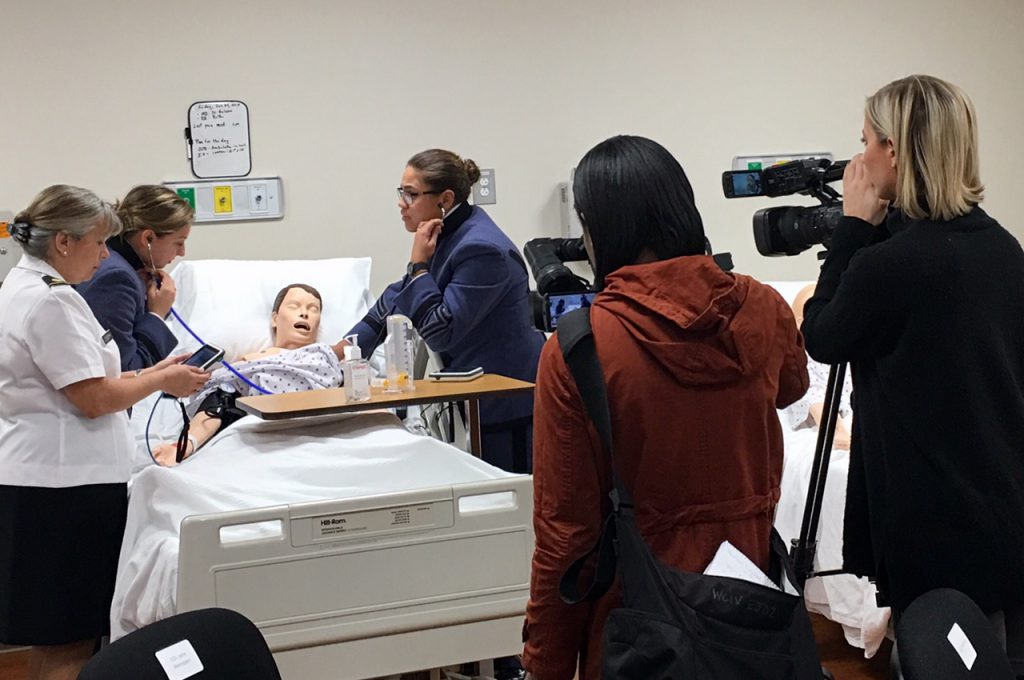 New program on accreditation track as nursing voted "most ethical profession" for 16th year
When learning how to treat patients, nursing cadets and students at The Citadel now have the ability to become proficient at inserting needles, checking vital signs, and even responding to heart attack or stroke symptoms before they begin to help treat live human patients. The Swain Department of Nursing at the college has a six-bed, high-tech human simulation lab. The 2,000 sq. ft. lab features five adult manikins and one pediatric-sized simulator that replicate patient condition scenarios ranging from mild to acute.
The new facility includes patient rooms with equipment and supplies found in hospitals, a classroom, and a control room where instructors manipulate the simulated scenarios, observe and videotape the students' actions during replicated patient events. Four of the human simulators are mid-fidelity, and two are high-fidelity, meaning more capable of exhibiting complex health conditions.
"The human simulation lab allows cadets and students to work through realistic patient scenarios that they will eventually perform on real patients later in their studies during their clinical experiences at hospitals," said Amelia Joseph, Ph.D., RN, nurse administrator for the Swain Department of Nursing at The Citadel. "Working with the patient simulators builds confidence, enhances clinical decision-making, and builds an understanding of the teamwork needed to produce optimal patient outcomes."
Ribbon-cutting event Friday, Jan. 26
The Swain Department of Nursing Human Simulation Lab was formally unveiled during a ribbon-cutting event with The Citadel Board of Visitors on Friday, Jan. 26.
On the path to accreditation
The Swain Department of Nursing was launched in January of 2017 and is now on the path to accreditation, with a Commission on Collegiate Nursing Education site visit scheduled for the fall of 2018. Department offerings include Charleston's only evening undergraduate nursing program (non-cadet) as well as a nursing major cadets and active duty military students during the day.
"The need for more nurses and nurse-leaders is real and continuing which is why The Citadel initiated our program and why it is already at capacity," said Joseph. "Veteran and active duty nursing students receive special consideration for admission because The Citadel is devoted to developing principled, military leaders."
Public's trust in nurses is unmatched according to Gallup poll
As The Citadel's nursing program grows, nursing was rated as the most honest and ethical profession in America for the 16th year in a row according to a recently released Gallup survey. Nursing received an 82 percent rating according to the survey. Nurses have surpassed all other professions since being added to the poll in 1999, other than in 2001 when firefighters were voted No. 1 after the 9/11 terrorist attacks.
"I am thrilled that The Citadel is now offering a nursing major. This will allow me to fulfill my dream of graduating, receiving my band of gold, and obtaining a nursing degree," said Cadet Abigail Koger who is a U.S. Air Force scholarship student. " The staff and facilities are excellent and have taught me so much that I will be able to use in the Air Force and the civilian sector to help those in need."
More information
Learn more about The Swain Department of Nursing, the nurse administrator, and some of the cadets and students by reading the article here.
For information on applying to The Swain Department of Nursing at The Citadel, please call (843) 953-1852 or visit http://www.citadel.edu/root/nursing.