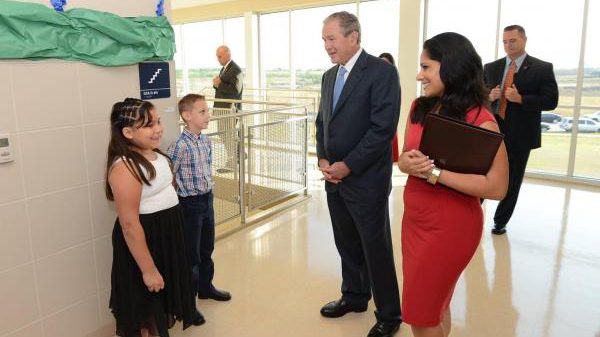 Photo: Charlie Teague, background right, stands guard for former President George W. Bush, center. (Courtesy: Mitchell News-Journal)
When former President Ronald Reagan spoke to Gregory Charles Teague's graduating class at The Citadel, it changed his life – but it had nothing to do with what was said.
"I saw all the secret service guys, and I thought, 'That looks kind of cool,' so I looked into that," Teague said. "I just knew that was what I wanted to do."
In the midst of a government shutdown and in Mitchell County over Christmas to visit his father, Bobby, stepmother, Rebecca, and mother, Ella Jo Willis, of Burnsville, Teague recalled the path that took him from small-town boy to protector of presidents.
Charlie, as he's known, is a Class of 1989 Mitchell High School graduate. He earned a degree in business administration from The Citadel and applied for a job with the Secret Service in 1994 while serving as an officer in the Army National Guard. The Secret Service is an exclusive government agency when comparing its 3,000 agents to others, such as the FBI, which has 35,000.
"The interview process is very extensive," he said. "There's a lot of hurdles."
First is the treasury test, then a physical, followed by a polygraph and a drug test, then there's a panel interview with three agents, all after a background check.
"If one of the agents interviewing you takes a disliking to you for some reason, it can hurt you," he said. "But, the polygraph test gets most people."
The Secret Service employs people with an array of educational backgrounds. Teague, 47, said he knows agents who have history degrees, many have criminal justice backgrounds and several hold law degrees – they decided they didn't want to be lawyers, he said.
"I finally got hired in 1998 while living in Asheville working as a dock supervisor for a trucking company," Teague said. "I hated every day of it, but it was a job, and I had gotten to the point where I didn't know if I was going to get hired by the Secret Service and was about to look into trying to get hired with the Charlotte-Mecklenburg Police Department or something like that. Then, a guy from the Charlotte Field office called and told me they wanted to hire me."
Teague took the job and was placed in Charlotte. While there he worked on financial crimes such as counterfeit money, credit card fraud and other bank crimes while doing temporary protection assignments, which usually lasted one or two days. He was assigned to Sen. Joe Liebermann during the 2000 presidential campaign, for example.
Teague eventually left Charlotte and went to the Washington, D.C., field office for a couple of years where one facet of his job was conducting interviews with people considered national security threats. He was later moved to his permanent protective assignment.
While working security detail at the 2000 Winter Olympics in Salt Lake City, Utah, Teague's supervisor told him some agents were needed in Washington, D.C., and asked if he was interested. He called Debra, his wife of nearly 20 years and former teacher, and she agreed to the move. Soon after, his time protecting President George W. Bush began.
"Every agent does a permanent protective assignment," Teague said. "It's either the Vice President, current President or a former President. I got lucky because I always wanted it to be a president and I got five years with President Bush."
While on Bush's detail Teague was responsible for security advances, shift work and all the other things protecting a President entails.
"Some guys would rather go to a detail for a former President because they don't want to go to D.C. because the cost of living is really high and D.C. is just a mess," he said. "Since I always wanted to do a detail with a president I knew going to D.C. would help."
When his time in D.C. with President Bush was over, Teague went to the Secret Service's field office in Atlanta for six years to work on the organized crime and electronic crimes task force. He was also a member of the administrative team there that conducted interviews and background checks for applicants as well as participated in outreach at schools and recruiting events.
Teague went back to D.C. as a member of President Obama's detail for two years before leaving again to work on former President Bush's detail. He's been there ever since.
Teague can be seen in many photographs with President Bush. He is currently the supervisor of former First Lady Laura Bush's detail, and when a video clip of President Bush handing former First Lady Michelle Obama a cough drop at the funeral of late Sen. John McCain went viral, Teague is seen seated directly behind Ms. Bush.
"They all get along pretty well," Teague said.
The pressure that comes along with protecting the leader of the free world is immense, Teague said. There are many factors involved but politics isn't one of them.
"It's pretty stressful," he said. "Secret Service agents don't let politics play a part in what we do. We look at it as protecting the office of President as much as protecting the person who was elected President. We have guys who are Republican, guys who are Democrats and some who don't have an affiliation, but none of us look at it that way. Whether it was President Bush or President Obama, we do what we have to do."
Teague has grown fond of the Bush Family over the years, but admits he still employs the Secret Service rule, "Don't speak unless spoken to."
"It sometimes can be a little more relaxed," he said. "Especially with Ms. Bush. She'll be talking about something, and she'll ask me something, and I'll answer, or if she asks something out loud I'll answer, and she's fine with that. But, we know where the line is. We know when we need to shut up and do our jobs. We're flies on the wall."
As a result, Teague said he gets upset when people retire from the Secret Service and write books about their time with a President.
"It makes it hard on the rest of us," he said. "We sign a bunch of non-disclosure agreements and stuff because we are privy to very sensitive information. If the President can't trust the agents around him then how can we do our jobs?"
Teague's time in the Secret Service has taken him to more than 40 countries, including Vietnam, Egypt, India, Israel and Mongolia. The demands of being married to a Secret Service Agent caused Debra to eventually become certified to teach in five states, and she has taught at 18 different schools. The job often causes Teague to miss holidays with his family and he admits is gone a lot, but he said he does not regret a day of his time in the Secret Service.
"Most of my classmates think what I do is pretty cool," he said.
Teague was diagnosed with Hodgkin's Disease in 2014. After six months of chemotherapy, he was clear of the disease in January of 2015. He currently lives in Rockwall, Texas, about 30 minutes outside Dallas with Debra, a native of Auburn, Alabama, his son Grayson, 15, and daughter, Bethany, 10. He is two years away from retirement.