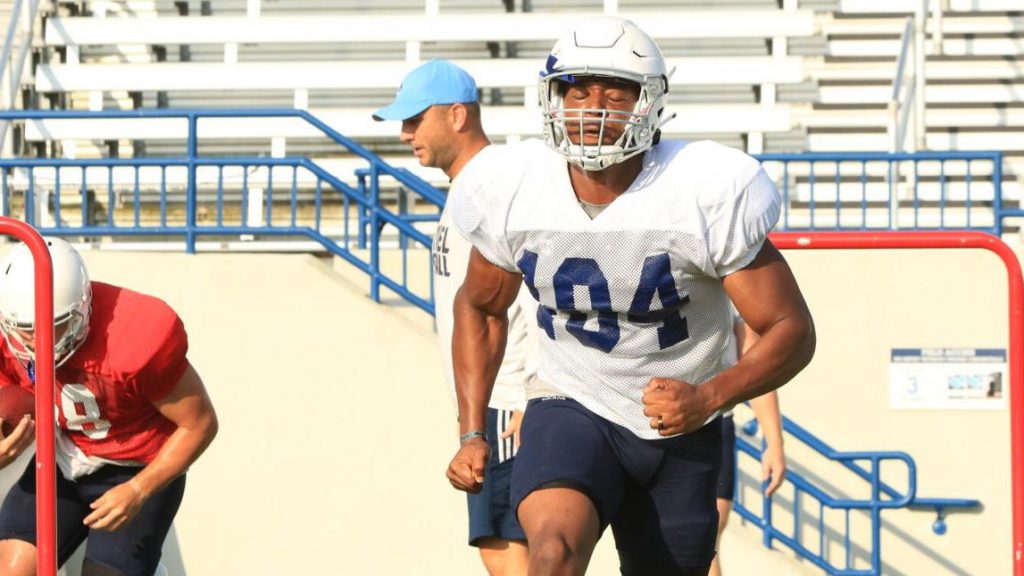 He's already served in Haiti, Kuwait and Syria, and was posted to the Pentagon for the last two years as an advisor to the Sergeant Major of the Marine Corps, the highest ranking enlisted Marine in the Corps.
His next assignment?
Perfecting the mesh point in The Citadel's triple-option offense.
Meet Elijah Bass, an active duty Marine who is playing football for The Citadel this season.
Sgt. Bass, 24, is a day student at The Citadel (not a member of the Corps of Cadets) who is attending college through the Marine Enlisted Commissioning Education Program. That program allows selected Marines without a college degree to earn a officer's commission and a bachelor's degree at the same time.
And it also allows Bass to fulfill his dream of playing football.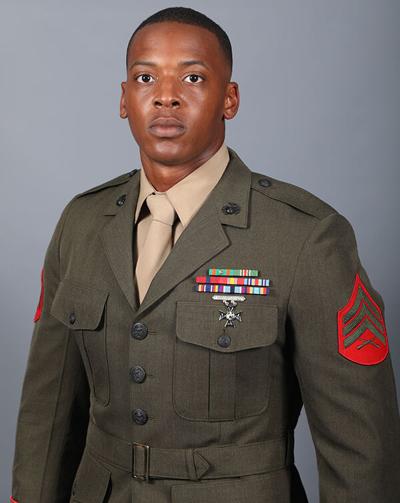 "It's kind of always been my dream," Bass said. "And I feel like dreams are just dreams until you go out there and make it a priority. And so I wanted to make my dream come true."
Bass' dream is no idle one. At 6-0 and 230 pounds, he established himself as one of the fastest players on the team during summer workouts. Coach Brent Thompson has him working out at fullback during preseason practice, and says Bass should at least make an impact on special teams this season.
"He's doing a really good job for not having played a whole lot of football," Thompson said. "He's figuring it out on on the run here a little bit. There's 22 bodies out there running around him, and you've got to figure out where you fit in. It's a bit of a learning curve for him, but he's making progress every day.
"I don't know if we will use him at B-back this year, but I think special teams is probably the best way for him to make an impact."
Lacrosse to Marines
Bass said he hasn't played football since the eighth grade in Mississippi. His family moved to Stafford, Virginia, as he started high school, and there he played lacrosse for four years.
"I was definitely interested in playing football in high school," Bass said. "But my mom, she thought football was dangerous and was very strict on that, so my brother and I played lacrosse."
After graduating from high school, Bass joined the Marines rather than go to college.
"Personally, I knew my maturity level was not where it needed to be to go to college," he said. "My stepfather is a Marine, and he always told me, 'If you want to mature a little bit, take the Marine path.' And I just knew that was something I wanted to do, so I made that decision."
After basic training at Parris Island, Bass went to Combat Logistics School to become a landing support specialist, and deployed to Haiti, Kuwait and Syria before he was assigned to the Pentagon.
Then he was selected for MECEP and came to The Citadel with a plan to study psychology and philosophy, and to play football.
Bass was familiar with the story of Luke Boyd, another active duty Marine who studied at LSU through MECEP and walked onto the football team.
"I knew Luke's story, so I knew I could walk on at The Citadel if I got my size and speed up," Bass said.
'Do you like football?'
As fate would have it, Bulldogs strength coach Donnell Boucher spotted Bass working out in the gym.
"He asked me, 'Hey, do you like football?'" Bass said.
Bass began working out with the Bulldogs over the summer, and immediately moved to the top of the speed charts Boucher uses to track the players' progress in different sprints.
"We were definitely shocked," Thompson said. "If you look at him, you can see he's an explosive guy, but you don't know how fast he truly is until you get him out there on some radars and clocks. Immediately, we said we've got to find something we can do with him."
Bass started out at linebacker, but was moved to fullback because "it's one of the easier positions on offense to learn," Thompson said.
Even if he doesn't carry the ball once this season, Bass already has made an impact on Citadel football.
"He's great for the locker room and the meeting room," Thompson said. "He's got a lot of experience, he handles his business really well and he's really organized. He's doing a great job with our guys."
The Citadel has a couple of long-time players in graduate students Raleigh Webb and Willie Eubanks III, but Bass is the new "old man" of the squad.
"They definitely make fun of me when it comes to my age," said Bass, who's been married to his wife, Kayla, for a year. "But the whole point is, if I can keep up, then we're all the same age. They include me in all the great shenanigans, and its a good time. But it's also, for me, a good mentorship opportunity.
"They want to know more about my life story, but then they are teaching me lessons as much as I'm trying to teach them."