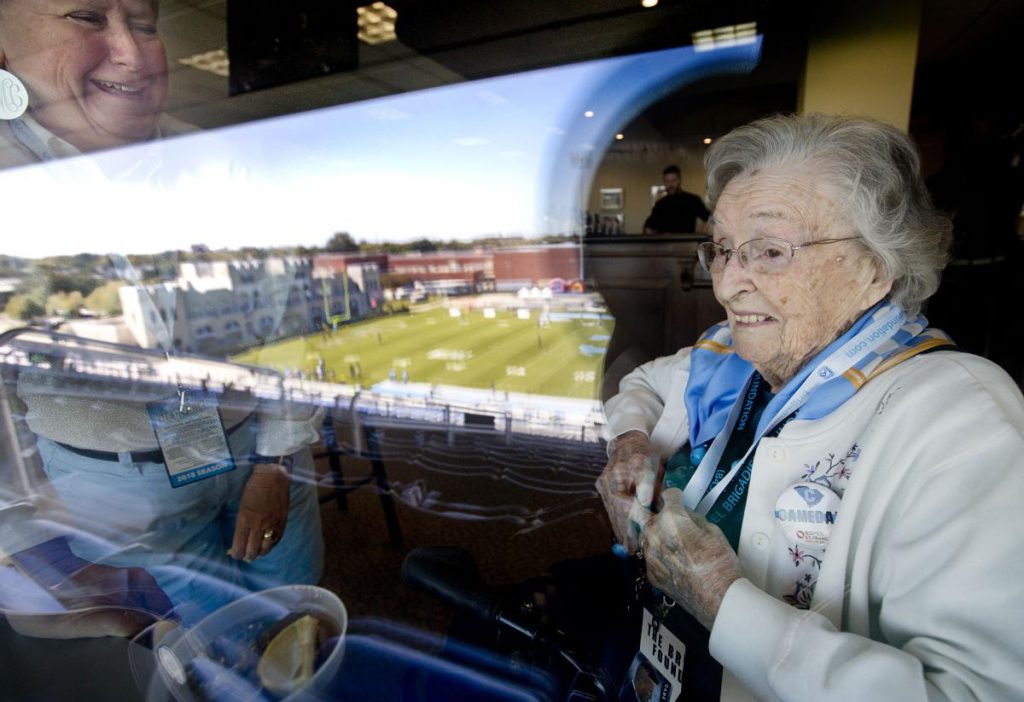 As seen in The Post and Courier, by Jeff Hartsell
It's game day at Johnson Hagood Stadium, and the oldest living fan of Citadel football settles into her place.
On the fourth-floor club level, Helen McCoy, 101, is seated smack in front of the window near the 40-yard line. She's surrounded by family and fellow Citadel fans, gazing at her beloved Bulldogs on the green grass below.
"We moved down here in 1976, and I've been a fan ever since," Miss Helen says.
"Actually, it was 1967," gently corrects her son, Peter.
Whatever the date, Helen McCoy has been a Citadel fan for a long, long time. She's the oldest member of The Brigadier Foundation, which raises money for athletic scholarships. And though such rankings are unofficial, she might be the oldest living Citadel fan. She will turn 102 on Dec. 4.
"She's a huge fan and really means a lot to us," says Citadel football coach Brent Thompson. "I first met Miss Helen at the women's football 101 class we held a couple of years ago, and immediately fell in love with her.
"She's so spirited about Citadel football, and I'd never met anybody that loved Citadel football as much as she does at that age."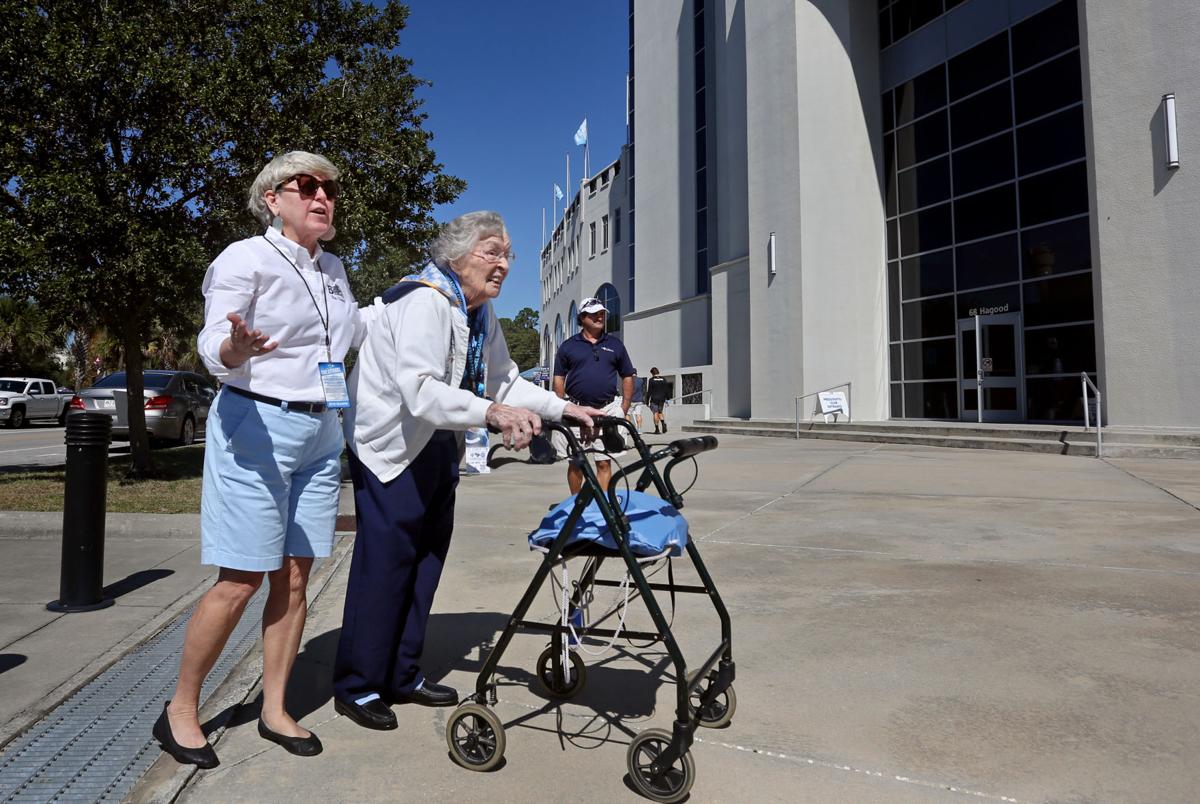 Miss Helen's attachment to the Bulldogs began before her son, Peter, attended The Citadel on a wrestling scholarship. He graduated in 1974.
"When I was in high school (at the old St. Andrews in West Ashley), we went to Citadel football games," says Peter, who serves on The Citadel's Board of Visitors. "At that time, a lot of local people came out to the games, and we did as well."
During Peter's wrestling career at The Citadel, Helen became something of a "team mom," coming to all the matches and even helping to drive the team to away contests.
Helen McCoy was born in New York, playing sports such as field hockey in high school and eventually going to nursing school. She worked at St. Francis Hospital when it was located downtown, and was married for 60 years to Dr. J. Joseph McCoy, who was a pathologist at the VA hospital in Charleston. He died in 2002.
Around that time, attending Citadel football games became a routine for Miss Helen, who has 11 grandchildren and 19 great-grandchildren.
"She has her hair done every Saturday, decked out in Citadel regalia, and then heads to the stadium," Peter says. "We used to sit and tailgate in front of the alumni center. But if that cannon went off before the game and I didn't have her in the stadium, she'd eyeball me big time."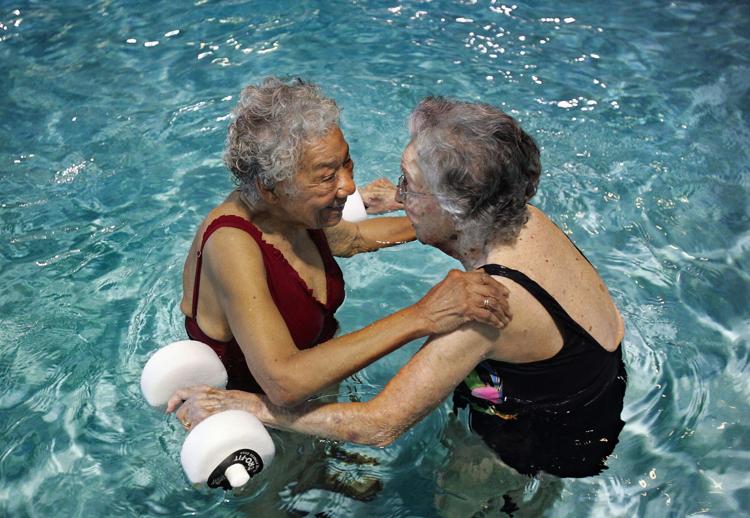 Miss Helen, who has had two hip replacements and a knee replacement, now lives with another son, orthopedic surgeon Dr. James Joseph McCoy, in West Ashley.
When the Bulldogs are on the road, she listens to the game on the radio. She's a big sports fan, loves to watch golf and tennis and used to keep a scorebook during baseball games. And she's a Dodgers fan, of course, "because they started out in Brooklyn."
Her favorite Citadel player?
"Oh, Stump Mitchell," she says, recalling the Bulldogs' star running back of the late 1970s. "He was a stump!"
The 2015 and 2016 seasons were particularly fun for Miss Helen, as The Citadel won back-to-back Southern Conference championships.
"She loved (coach) Mike Houston, and she loved (running back) Tyler Renew," Peter says. "And she loves Coach Thompson and is a big fan of his."
Miss Helen plans to be back at her spot at Johnson Hagood Stadium on Saturday when the Bulldogs play rival Furman University, her favorite drink perched on the ledge in front of her.
Asked the key to her long life, Miss Helen points at the cup.
"Sweet tea?" someone asks.
"Rum and Coke," says Peter as Miss Helen laughs.