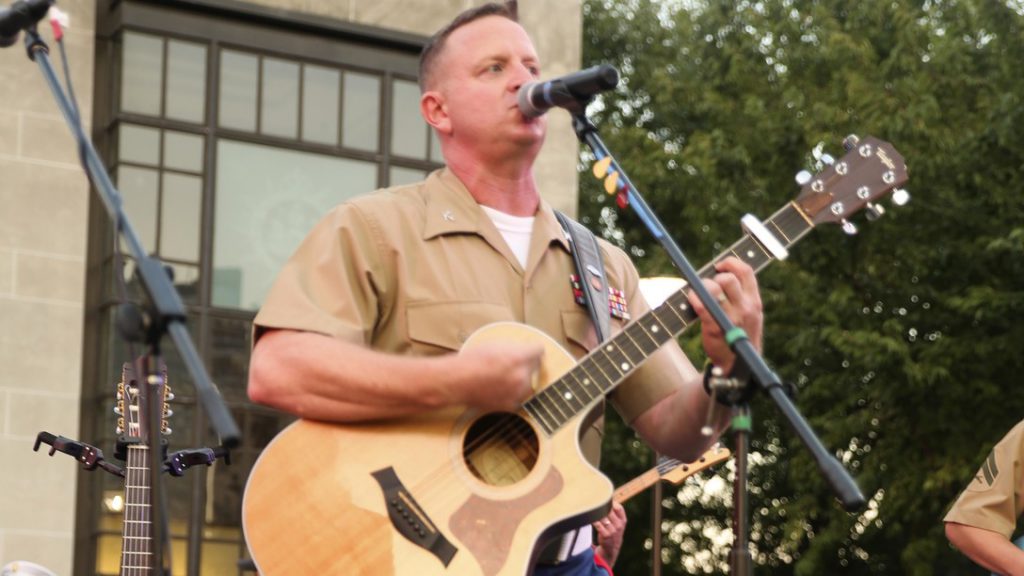 As seen in JDNews.com, by Kevin Vandenburg
Marine Mike Corrado: It's an honor to play for the hometeam
This year's Fourth of July Celebration at Camp Lejeune will feature a special musical performance by singer-songwriter Marine Col. Mike Corrado.
The special event will only be open to Department of Defense identification cardholders and their guests, unlike previous years when the celebration has been open to the public. Camp Lejeune looked at ways to cut costs overall this year due to needing $3.4 billion for repairs and reconstruction following damages from Hurricane Florence in September, The Daily News reported.
Though the July 4 celebration aboard Camp Lejeune has previously hosted national acts such as LL Cool J and Kelly Pickler, this year's show was designed to be more personal, according to Event Coordinator Patsy Schneider.
"The location, entertainment, and even the fireworks launch all directly support and represent the uniqueness of the Marine Corps," Schneider wrote in an email to The Daily News "Mike Corrado is one of our own and his performance speaks directly to the fabric of the Marine Corps family."
While planned to be a celebration of Independence Day, Corrado was chosen for his patriotic songs that mix the intimate and the upbeat in a way that connects with the crowd of military personnel and their families in a way few other acts could.
"He was the choice," event emcee Yolanda Mayo said. "He was the first person we went to."
Mayo, a retired Marine, has hosted the event every year since 2007, but said the upcoming show feels like a homecoming because of the special nature of a Marine performing for Marines. She is a friend of Corrado's and said it would be a privilege to share the stage with him.
Corrado's goal for the event is putting on an energetic, fun show for everyone in attendance. He plans to mix his own songs with ones people are familiar with.
"It's the ultimate invite to play for the home team," Corrado said. "For me being a Marine and a musician, any time I get a chance to play at camp and for the families has been an honor."
Corrado has been playing music his entire life. He grew up playing drums and percussion but switched to guitar while attending college at The Citadel. He served in the Marines for five years and was stationed at Camp Lejeune when he entered inactive ready reserve.
He then lived out of a van and performed more than 200 shows a year across the east coast, he said. His songs and albums began garnering attention. His fifth album was set to release on Sept. 12, 2001, but when the events of the day before happened, Corrado was mobilized and later deployed to Iraq.
Until 9/11, Corrado said his music was akin to Dave Matthews Band and jam bands, but the events of the tragic day affected him, like all Americans, as well as his music.
"Then it switched gears," he said. "I started trying to focus on the song-writing and on stories and characters, telling that different kind of perspective."
Corrado returned from active duty in 2006 and turned his focus back to making music and performing. Through talent, passion, and practicing his skills, he saw undeniable success. He has opened for the likes of Bon Jovi, The Black Eyed Peas, and John Mayer. He has performed with Toby Keith. His music videos have aired on CMT, and he has been featured in magazines such as Rolling Stone.
Though he has performed with such enormous acts, it's the opportunities his military connection has afforded him some of his most memorable moments, he said. Three weeks ago he was in Chicago playing for 20 living Medal of Honor recipients. Among them was Hershel Williams, who received the decoration for his service in the Battle of Iwo Jima in World War II.
"That to me is just a pinch yourself moment and awe-inspiring as it is to share the stage with any act," Corrado said. "Hopefully by performing the best you can and doing the best you can you're doing them justice."
In addition to his musical and military career, Corrado also started Grunt Tunes, a production company formed to help active service-members record music.
"What's really cool is there's a lot of talented folks in the Marine Corps and all the services, but somebody may be sitting in a barracks who is playing a guitar and who has a single that they want to get out there," he said. "If they have questions on how to do it I'd like to help them out because at one point I had a lot of questions."
Although Corrado was born in Rochester, New York, moved around every couple of years growing up, and attended college in South Carolina, he's come to regard Jacksonville as his home.
"My wife figured it out: Jacksonville is the longest I've ever stayed in one place in my entire life," Corrado said.
Performing at home and in front of his military family will guarantee July 4 at Camp Lejeune will be more than a regular concert for Corrado and those in attendance.
"He's going to pour his heart out for the Marines and sailors," Mayo said. "What better way to celebrate our country's birthday?"
Food and beverage vendors will begin service at noon at Onslow Beach and attendees are encouraged to enjoy the beach and the water. Corrado will play at 7 p.m. and fireworks will launch at 9 p.m. For more information on the Fourth of July Celebration at Camp Lejeune, visit www.mccslejeune-newriver.com/july4