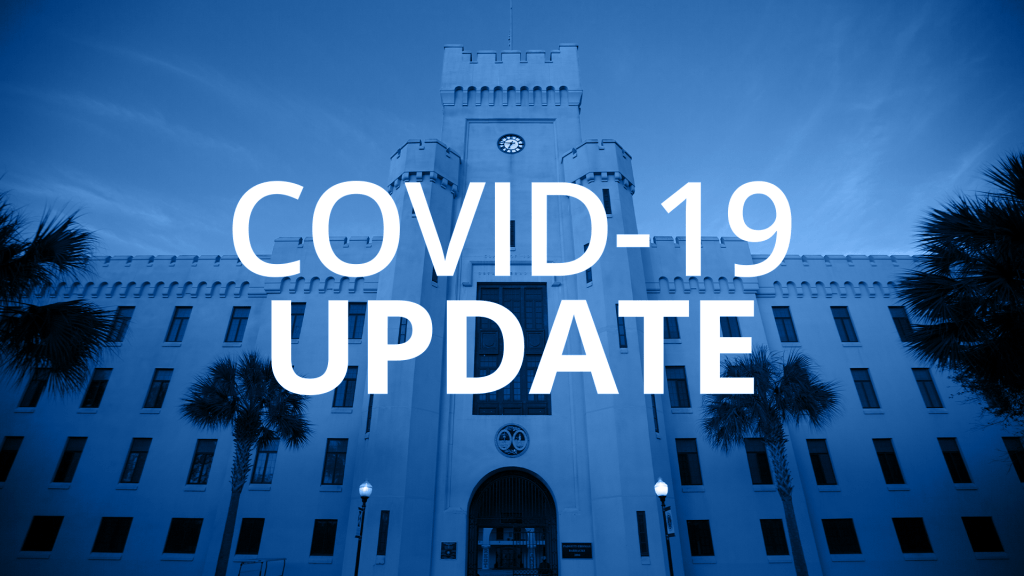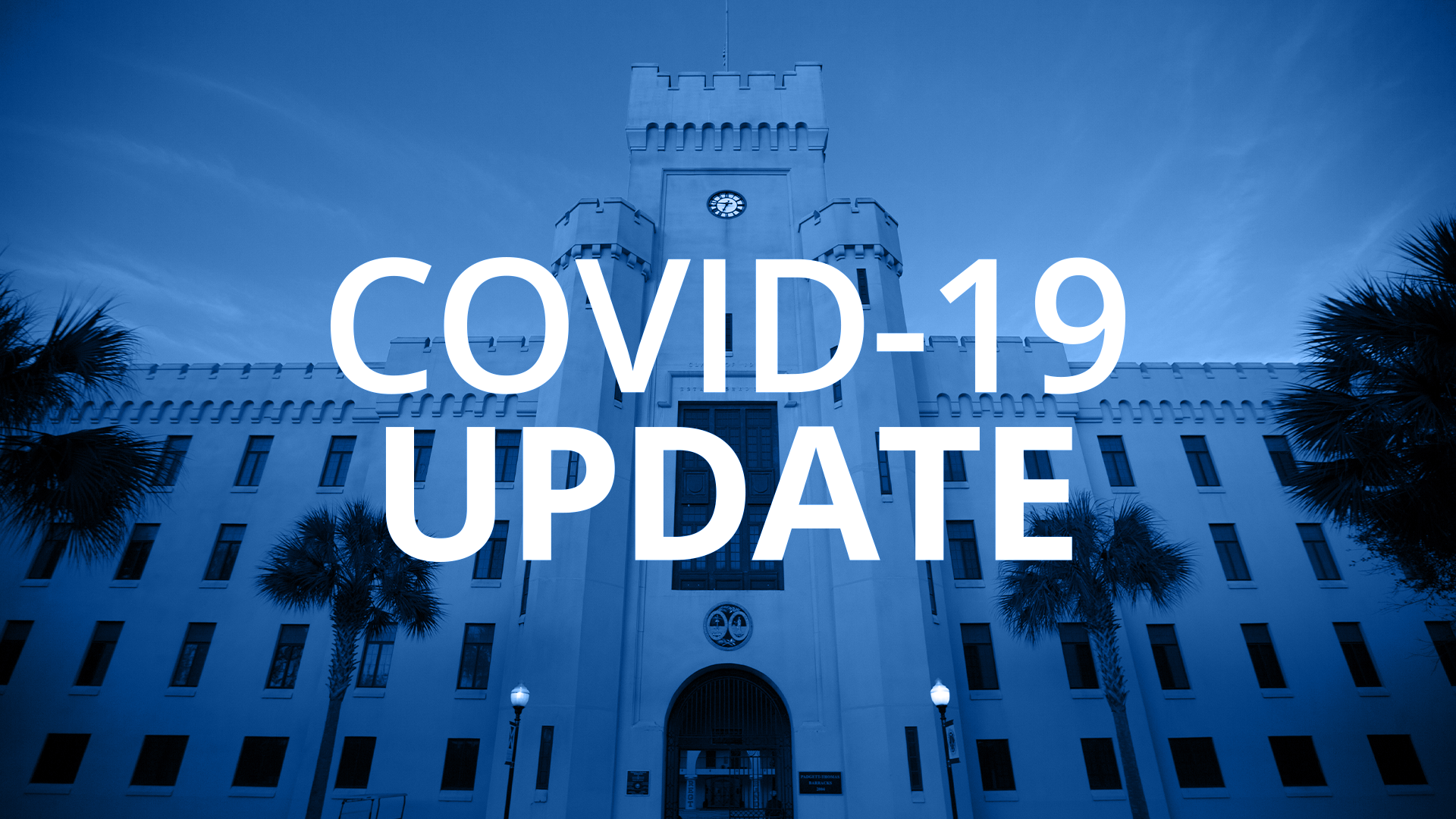 Citadel Family:
Today, Governor Henry McMaster announced new measures requiring The Citadel and all higher education institutions to discontinue in-person instruction on our campuses through the end of the semester. As you know, we previously announced our intent to move forward with online instruction starting March 23.
This is not anyone's preferred alternative for the completion of the academic year, particularly the Class of 2020. We take these actions to protect everyone's safety, and our focus now is on details for transitioning to online instruction. Our faculty and staff made extraordinary progress in setting conditions for the continued academic success of our cadets and students. More work remains, but the mobilization I've seen so far is nothing short of inspiring.
For cadets and students used to face-to-face instruction, this is an opportunity to develop new study habits, different from the structure inherent to The Citadel experience. Our Citadel family is known for resilience, and we shall persevere as we work through the myriad issues anticipated with the continuance of online instruction. Since we are making this transition abruptly, we all need to work hard to overcome challenges and be patient with one another as we work out complexities such a change brings.
I'm sure you have questions and concerns about our way ahead. There are many issues we will need to resolve. We don't know yet the feasibility of our normal commencement exercise for the Class of 2020 on May 9, or any of the affiliated events and ceremonies associated with graduation.
I give you a commitment we will confer degrees for all who complete academic coursework and remain proficient, and will work closely with the Armed Services to support graduates committed to serving in the military. It is my intent that our college celebrate your graduation with you, and my direction for our staff is to explore all options.
I assure you that the faculty and staff of the college are working hard to resolve these issues in a manner best serving our cadets and students.
Today's announcement enables us to provide additional information below, and we will communicate regularly as we develop answers to your questions and additional information becomes available. Please continue to monitor The Citadel's website and social media platforms.
Stay Safe, God Bless The Citadel, and God Bless America.
Glenn M. Walters '79
General, USMC (Retired)
President
FOR CADETS AND STUDENTS
Cadets will access the barracks to clear their rooms, and conduct gear and uniform turn in prior to May. In separate communication, we will provide coordinating instructions for dates, times, processes and resources on campus to make this happen. If cadets need access to barracks rooms for immediate reasons, such as retrieving essential items to complete academics online, they should contact their TAC officer and Public Safety.
Maymester and summer study abroad programming up to June 30 are suspended. A final decision will be made by April 15 for programs beginning after July 1. No airline ticket purchase should occur until after April 15. For payment or reimbursement issues, or more information, contact the Office of Study Abroad.
The staff is developing plans and guidance for several other issues, and will provide additional information as situations warrant:
1) Actions and requirements for graduating cadets and students.
2) Disposition of room, board, and parking fees, if applicable.
3) Sophomore cadet company assignments.
4) Cadet rank/cadre positions for next school year.
GUIDANCE FOR CITADEL SUPERVISORS AND EMPLOYEES
Per the Governor's Executive Order, employees necessary to the continuity of operations may be directed to report to work as needed to ensure The Citadel can continue to deliver mission-critical services.
To support our ongoing mission, the following areas will require a regular staffing presence on campus: Post Office, Public Safety, Facilities and Engineering, Information Technology Services, Registrar, Enrollment Management, Provost's Office, and other departments as requested. All other departments should minimize campus visits and encourage telework as appropriate. We ask employees limit their time on campus. Employees may come to campus to retrieve files, pick up technology, or gather materials in order to work remotely.
Currently, employees may not be compensated for time not worked, and we will update you if additional options become available. All employees not on campus must either telecommute, use accrued or advanced leave, or be in a no-pay status. FTE employees may use sick leave first, then utilize compensatory time or annual leave as necessary if unable to work. Temporary employees are not eligible for leave with pay for absences from work. Departments should be flexible and creative, and consider options for allowing temporary employees to work remotely to maintain operations and services.
For those able to work remotely, please consult your supervisor on your availability to telecommute and related responsibilities. Employees may be asked to complete IT security training to reduce risk, and provide task lists or status reports to ensure accountability. Employees accessing The Citadel's data remotely are responsible for maintaining the security, condition, and confidentiality of equipment and materials (including, but not limited to, files, applications, manuals, forms) at alternate workplaces. Telework assignments may include checking/responding to email communications, attending daily virtual meetings, completing online training, document processing, execution of project-based work, or other relevant tasks. If applicable, employees should clock into Kronos to record time while working off campus.
Employees in an FTE status not able to telework and do not have available leave, please contact HR at hr@citadel.edu to discuss possible advanced leave options. The SC Department of Employment and Workforce is providing temporary unemployment benefits for individuals unable to work during the COVID-19 pandemic.
For additional employment related COVID-19 questions, please visit our website at www.citadel.edu/hr and and our Frequently Asked Questions page. For questions or concerns, please contact hr@citadel.edu and HR will respond as soon as possible.