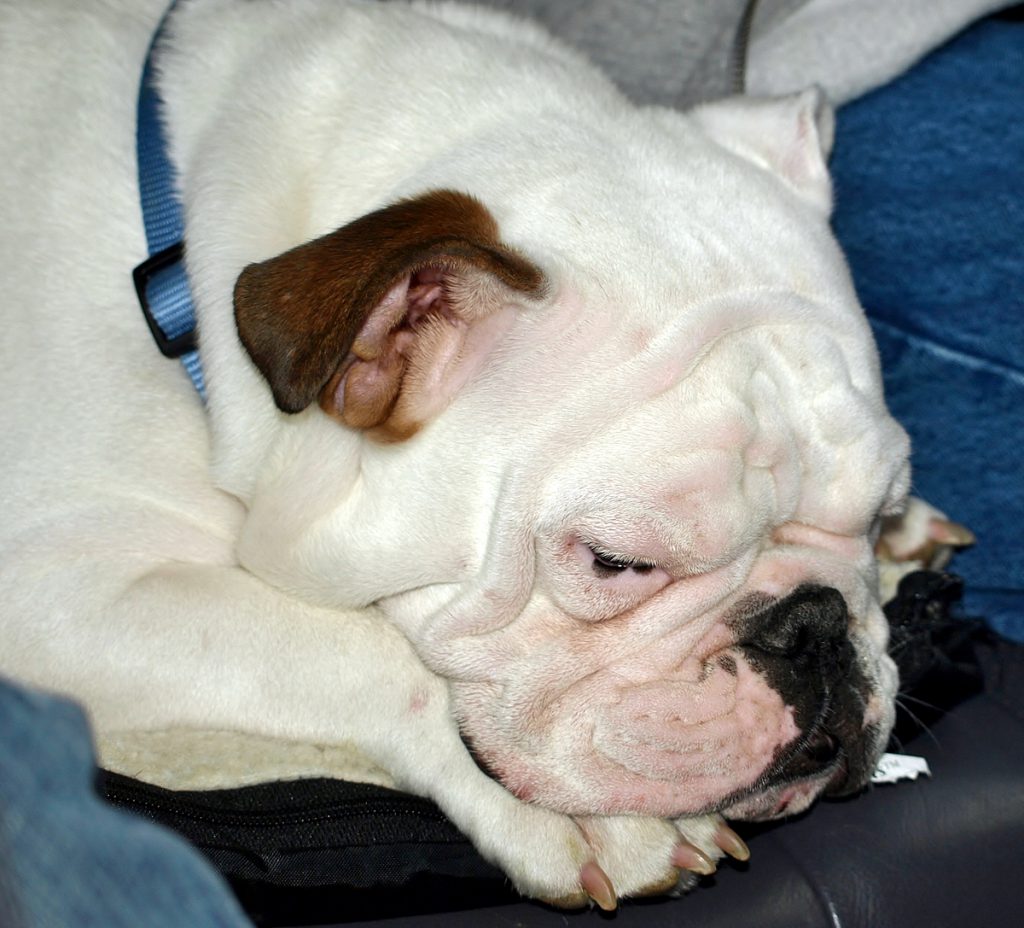 Maci the bulldog has an impressive lineage. She's the offspring of former Citadel mascot, General Thomas Curtis Metsker, who was named in honor of a heroic Citadel alumnus. She one of three pups born to General and his mate Lolla Lou, a daughter of the famous UGA V from University of Georgia. And, Maci is also named after her three human brothers, two of whom graduated from The Citadel.
"The school held a raffle for the three pups to raise funds for the mascot program which runs on donations. At the time, our second cadet son, Alex, was attending The Citadel. So, I purchased over $150 worth of raffle tickets to support the college," said Cliff Stoddard, Jr. "I did not win the raffle. But I did let the school know that if one of the winners did not want the pup, I would buy her from them. The boys always loved The Citadel and their mascots so much."
The winning family wasn't able to take the puppy after all. They asked the Stoddards to make a donation to The Citadel and adopt the puppy. They did.
"We are a Citadel family through and through, in fact I wear Citadel shirts rather than my own Georgetown stuff," Stoddard said.
"We picked up Maci when we came to get our son Alex for Thanksgiving," Stoddard recalls. "We brought Maci back to our home in Clinton, Maryland. She really loved the snow and quickly adapted. We started adapting too."
Maci was a very energetic bulldog pup.
"We were always told that bulldogs were happy laying around and the most exercise they get is moving from one pillow to another, but that was not the case with Maci. She has more energy than any bulldog I've ever seen," Stoddard said.
Maci even became a little bit famous at the U.S. Capitol. When she was a puppy, Stoddard was working as counsel to the U.S. Senate Permanent Subcommittee on Investigations.
The Senate is very pet friendly and I was able to take her to my office frequently. My boss, Mark Greenblatt, (the newly confirmed Inspector General for the US Department of the Interior) loved to play with her. The visitors to the Capitol would stop and play with her. We taught her how to wave her paw, which everyone loved to see. Because she is the granddaughter of UGA V, I took here down to visit with Senator Johnny Isakson, (R-GA), where he and his staff played with her. Maci was very popular.

Cliff Stoddard

In 2009, The Citadel invited Maci and her litter-mates back for homecoming.
"We were all featured in the end zone at half time. Her two sisters grew large like typical bulldogs, but Maci stayed little, making her even more popular."
But Maci has slowed down. In fact, Stoddard contacted the college to share Maci's story after she was diagnosed with Lymphoma. "She still has bursts of energy, but she sleeps a bit more now."
He wanted The Citadel family, many of whom are bulldog owners, to know Maci's story. He knew they would understand.
The name "Maci" was forged using the initials of Stoddards' three sons Michael, Alex and Christopher. Michael did not attend The Citadel but his brothers did. Alexander graduated with The Citadel Class of 2008.
The oldest of the brothers, Christopher, graduated in 2000, accepting a U.S. Air Force commission. But 1st. Lt. Christopher Stoddard passed away just two years after graduation during a swimming accident. He was gone before the Stoddards even knew Maci.
"You can imagine what Maci means to us. She loves my wife Christina the most and follows her everywhere," Stoddard continued. "Maci has been a very close member of our family and we know she will not be with us forever, but we will smile and laugh when we think of her antics and the many tender memories she represents."