Lt. Gen. Michael Steele accepts 2018 Krause Center Award for Leadership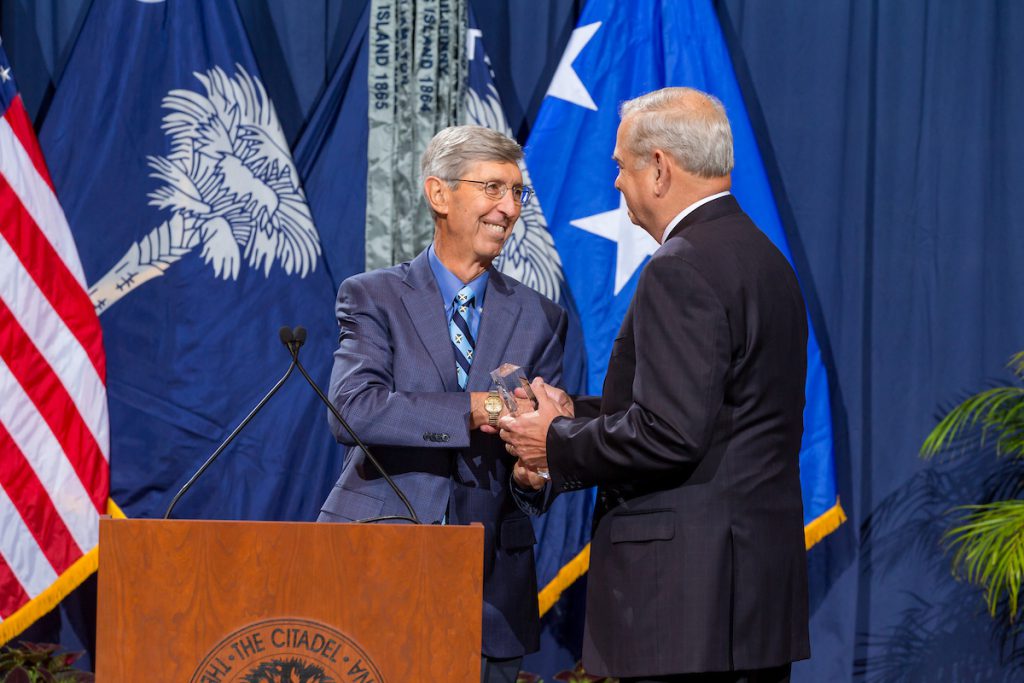 Photo: Bill Krause,  namesake for Krause Center Award for Distinguished Service, presents award to Lt. Gen. W. Michael Steele
Lt. Gen. W. Michael Steele, U.S. Army (Ret.), is the recipient of the 2018 Krause Center Award for Distinguished Service, Leadership and Ethics. The award is presented annually to a Citadel graduate whose life and actions exemplify the highest ideals of distinguished service, leadership, and ethics through their personal integrity and service to others.
Steele graduated from The Citadel in 1967. As a U.S. Army armor officer, he served in numerous operational commands throughout his career, including commanding the 2nd Battalion, 504th Parachute Infantry Regiment and 504th Parachute Infantry Regiment (Devils in Baggy Pants) at Ft. Bragg, North Carolina. He also served as commanding general of the 82nd Airborne Division at Ft. Bragg and led the division during Operation Uphold Democracy, which toppled Haiti's military regime in 1994.
Beginning in 1996, Steele served as commanding general of the U.S. Army Pacific. His final assignment was that of commanding general, U.S. Army Combined Arms Center. After retiring from the Army in 2001, Steele served in the domestic and international defense industry, heading programs for leader development, military training and advanced technology weapon systems.
Steele is a past chairman of The Citadel Board of Visitors, and he currently serves on the The Citadel Foundation's Board of Directors.
"Lt. Gen. Steele's extraordinary leadership and service to the nation and to The Citadel reflect the very essence of a principled leader. He exemplifies everything a Citadel graduate should strive to become," said Col. Tom Clark, USMC (Ret.), executive director of the Krause Center for Leadership and Ethics.
Bill Krause, the award's namesake, presented the award to Steele on Thursday, March 22, during The Citadel's 11th Annual Principled Leadership Symposium. The Krause Center for Leadership and Ethics sponsors the annual two-day event.
More specifically, the Krause Center Award recognizes one Citadel graduate annually who exhibits The Citadel's core values of honor, duty and respect in both professional and private life; embodies the values and ethical character of a principled leader; and exemplifies service before self in actions and deeds.
Previous recipients include Gen. Bill Hartzog '63, Sen. Fritz Hollings '42, Henry Johnson '75, Frank Mood '60, Mayor Joe Riley '64, Bill Sansom '64 and Steve Sittnick '77.