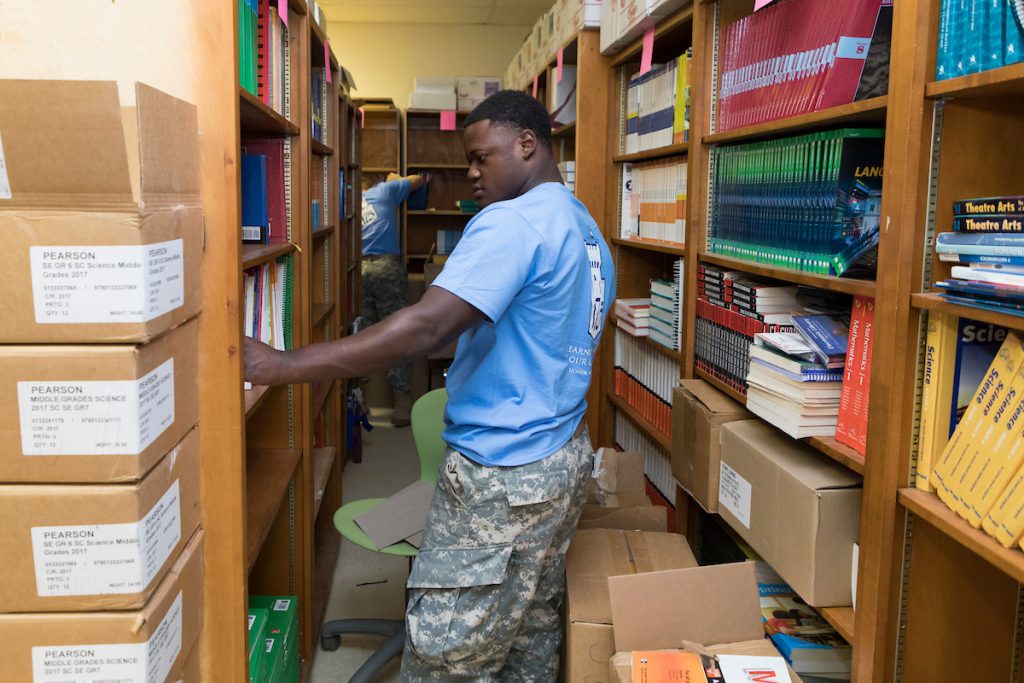 ---
Citadel cadets provide community service all year, every year, as they train to become servant-leaders. The college's long-standing relationships with community partners such as the City of Charleston Recreation Department, the Charleston County School District, Habitat for Humanity and the Lowcountry Food Bank make it possible for cadets to learn the value of community service by volunteering on a regular basis.
However, on Leadership Day—held annually in October—every freshman and sophomore of the South Carolina Corps of Cadets is engaged as a group in service learning and civic engagement for maximum impact. This year Leadership Day is October 18.
More than 100 sophomores will guide some 720 freshmen at more than 15 Title I schools where they will spend the day teaching students about heroism. The remaining 450 sophomores will visit 25 community partner sites to build, clean up or serve meals. Juniors will attend intensive ethics training seminars, and seniors will receive ethics and leadership coaching at some of the most influential businesses and organizations in the Charleston area.
"Leadership Day really does embody the lessons we learn throughout our four years here at The Citadel. We know we need to serve before we can lead. We also learn through these opportunities that truly effective leaders never stop serving," said Cadet Dalia Martinez, Regimental Public Affairs Officer. "Cadets look forward to this day to get out and help the community surrounding our college."groberg
Medal of Honor recipient Florent Groberg will be this year's special Leadership Day guest. In 2012, Groberg was a U.S. Army captain serving as a personal security detachment commander in Afghanistan when he personally disrupted the plans of two suicide bombers, thus saving lives and taking on injuries. In 2015, Groberg received the Medal of Honor for his actions. On Leadership Day he will join Citadel President Lt. Gen. John W. Rosa in speaking to sophomores during the early morning send-off. Rosa and Groberg will then visit the Military Magnet Academy in North Charleston to speak with students and to review parade in Groberg's honor.
Leadership Day is now embraced by the entire campus with Citadel Graduate College students and veteran students encouraged to participate. Faculty and staff members assist with Leadership Day planning and implementation, while others attend the college's National Coalition Building Institution International (NCBI) training course. NCBI is a non-profit leadership development organization promoting skills for working with diverse populations.
Leadership Day, which was initiated in 2011, and all of the college's year-round service learning initiatives are directed by The Citadel's Krause Center for Leadership and Ethics. The annual day of service was instrumental in The Citadel receiving the Carnegie Foundation's Elective Community Engagement Classification.
"Affording our cadets and students the opportunities to learn by serving in our community is a deeply appreciated gift given by more than 45 Lowcountry community partners. We hope our collaboration helps support their important work," said Conway Saylor, Ph.D., director of service learning and civic engagement for the Krause Center for Leadership and Ethics.
Some of the businesses and agencies hosting groups of senior cadets for day-long leadership and ethics training sessions include:
Barnwell Whaley Patterson and Helms
Blackbaud
Boeing South Carolina
Charleston County School District
Dixon Hughes Goodman
Hollings Marine Laboratory
Life Cycle Engineering
Medical University of South Carolina
National Institute of Standards and Technology
National Oceanic and Atmospheric Administration
Northwestern Mutual
One80 Place
SCANA/SCE&G
T.Y. Lin International Group/Lindbergh & Associates
Wells Fargo
Agencies participating in the criminal justice ethics session for seniors include:
Camden Military Academy
Charleston County Sheriff's Office
City of Charleston Police Department
Federal Bureau of Investigation
GardaWorld
Raytheon
S.C. Law Enforcement Division (SLED)
S.C. Law Enforcement Division Homeland Security
Southeastern Consulting Partners
U.S. Army
U.S. Department of Homeland Security
U.S. Secret Service
U.S. Customs and Border Patrol
U.S. Immigration and Customs Enforcement