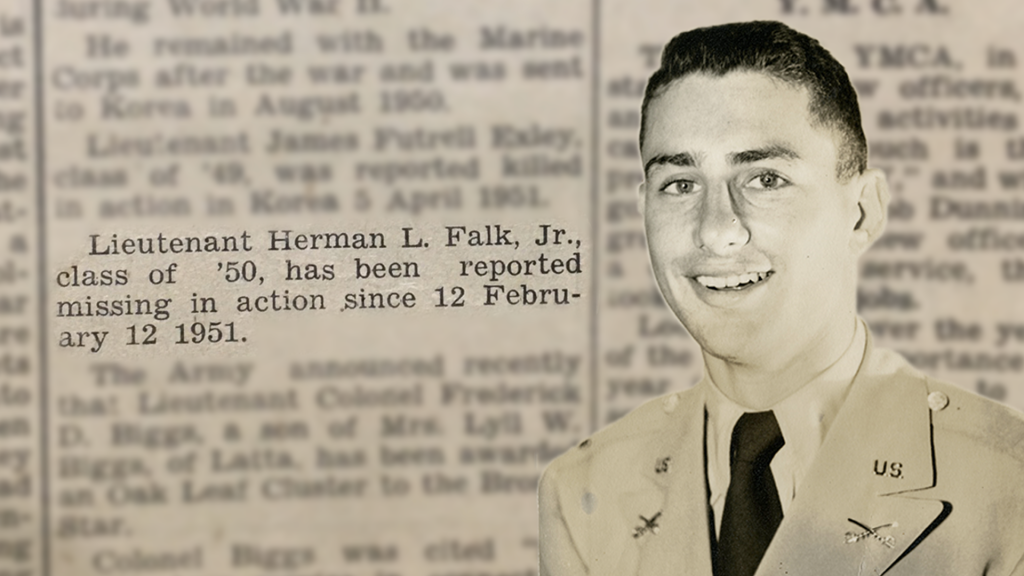 1st Lt. Herman Falk's name is written in two places on The Citadel campus: The Citadel War Memorial, as well as the plaque outside Summerall Chapel that honors Citadel cadets who lost their lives in war. The name of The Citadel Class of 1950 alumnus and U.S. Army Prisoner of War (POW), is also recorded on the Courts of the Missing at the National Memorial Cemetery of the Pacific in Honolulu, Hawaii.
Soon, Falk's name will also be written on a gravestone in one of the nation's most well-known military cemeteries. 1st. Lt Herman Falk will finally be laid to rest, with full military honors, in Arlington National Cemetery at 1 p.m. on Thursday, April 11. All Citadel alumni and their guests are welcome to attend the memorial.
"The Citadel has a long tradition of answering when country calls. 1st Lt. Herman Falk is one of the heroes who answered that call," said Col. John L. Dorrian, vice president for communication and marketing. "Lt. Falk served, and died for, his country not even a year after graduating from The Citadel. We happy to know that he will be laid to rest in the country he served, and that his loved ones will receive the closure they deserve. The Citadel family is proud to claim 1st Lt. Falk as one of our own. We will never forget his service and sacrifice, and we will continue to honor his legacy."
In September 2018, the Defense POW/MIA Accounting Agency (DPAA) announced that they had identified Falk's remains. He was returned to the United States between 1990 and 1994, when North Korea returned 208 boxes of co-mingled human remains. They turned out to be the remains of at least 400 U.S. servicemen who died during the war.
Falk's remains were identified using mitochondrial DNA and Y-chromosome DNA analysis, dental and anthropological analysis, and circumstantial and material evidence.
In February 1951, Falk was in South Korea as a member of Company B, 38th Infantry Regiment, 2nd Infantry Division, supporting the Republic of Korea against the Chinese People's Volunteer Forces in the vicinity of Changboing-ni. The 22 year old, who had graduated from The Citadel less than a year before, was reported missing in action on Feb. 12, 1951, along with half of his platoon, or 156 soldiers.
After the war, returning American POWs reported that Falk died in either April or May that year, while being held prisoner at the Suan Bean Camp in North Korea.
According to the DPAA, there are still 7,686 Americans who remain unaccounted for from the Korean War. They continue to work to identify more of the missing, including from Falk's platoon, and have released the identifications of 200 POWs confirmed through contemporary forensic analysis in the past year.
Several thousand Citadel alumni were serving in the U.S. Armed Forces when the Koran War began. Thirty-one are listed on The Citadel War Memorial as killed in action in that war.