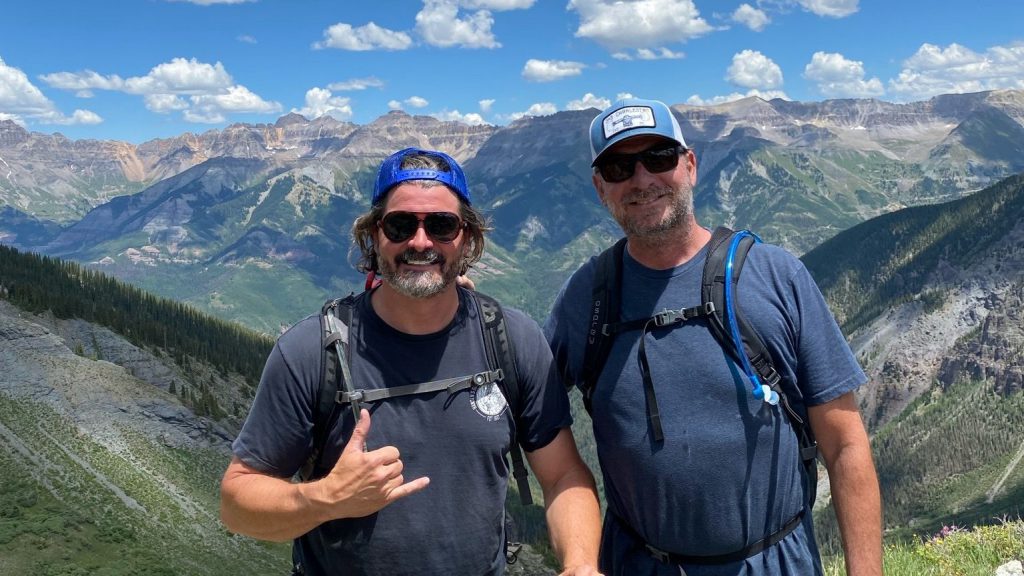 Note: Scott Hansen (left) is a member of The Citadel Class of 1994
Island Coastal Lager co-founders Scott Hansen and Brandon Perry aren't running a craft brewery, but they are looking to take a piece of the $116 billion domestic beer market from national conglomerates like Anheuser-Busch and Pabst Brewing Co. Headquartered in downtown Charleston with a production facility in Tampa Bay, the 5-year-old company was created to fill a void for those looking for something in between artisanal craft beer and Bud Light.
"We were like, 'We need to take the quality from craft, and bring it over to the macro side," Perry said. "Taking that artisanal mentality to a mass market brand."
Island Coastal Lager started out with its flagship 4.5% ABV lager and has added three beers since — Active, Lemonada and Southern Peach. The company has seen tremendous growth since 2018, when it sold 865,755 12-ounce can equivalents. In 2020, that number grew to 2,485,056, giving Island a 95% growth rate, according to a recent crowdfunding campaign that values the company at $65.7 million. As of publication, the company has raised over $2.5 million from over 2,500 individual investors.
Island currently distributes in seven states, and partnerships with Costco International and Carnival Cruise Line have landed its beer in China and the Bahamas. The company's increasing popularity is due in part to the lifestyle brand Hansen and Perry are building by targeting millennial and Gen-Z beer drinkers in search of a better light beer.
"We're really trying to curate this lifestyle around the brand and the beer," Perry said. "We're a marketing, high quality beer, tech company all rolled into one. We sell beer, we sell merch, we sell experiences."
Island employs a growing number of Charleston residents at its downtown headquarters on Immigration Street in the former Charleston County jail, and its local footprint just got a little bigger down the road at the Seabreeze Marina, where in July, Hansen and Perry opened the first Island Cabana Bar.
"The Island Cabana Bar & Ship Store," which serves a full food and beverage menu daily from 11 a.m.-9 p.m., is designed to be the flagship for what they hope will be a national collection of franchised taprooms licensed to use the Island Coastal Lager brand.
Island Coastal Lager bills itself as "the No. 1 fastest growing lager brand family in the Southeast," and while you won't find a physical brewery in Charleston, the blue and white can is becoming common at local Publix, Harris Teeters and several South Carolina bars and restaurants. Perry and Hansen, a Citadel graduate, founded Island Coastal Lager in the Lowcountry, but they aren't trying to compete with the growing Charleston craft brewery industry. To them, measuring Island's success to the local craft beer community's is like comparing apples to oranges.
"We're headquartered here, but we don't trade on Charleston because it's not really our mission to be the Charleston beer in San Francisco," said Hansen, referring to their goal of expanding distribution to reach the West Coast. "[Charleston] played a part in the inspiration for what we're doing. Now looking backwards, this building's on an island, we're selling a beer called Island — it's like the American dream."