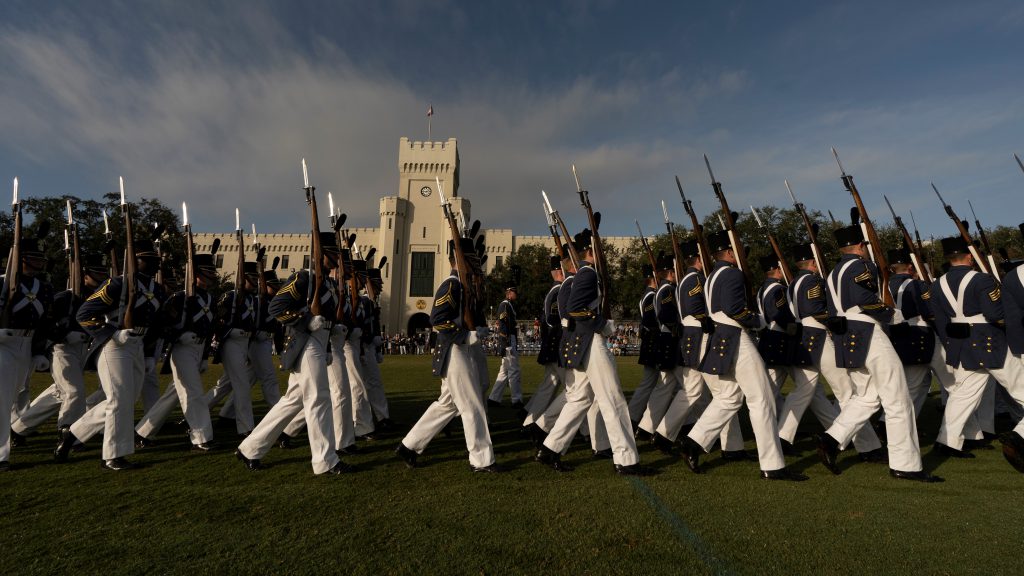 During normal times, the changing of the guard ceremony would have taken place on this day as part of the annual Corps Day/Recognition Day weekend ceremonies. The Class of 2020 Summerall Guards would have performed their last precision drills as a unit and then passed their rifles to the new platoon.
Because on this day, the Class of 2021 Summerall Guards would have performed for the first time, but cannot due to the campus closure related to COVID-19, the college wanted to recognize them by announcing their names.
Known around the United States as one of the elite military drill troupes, membership is a high honor at the military college of South Carolina. Created in 1932, The Summerall Guards have represented The Citadel at events around the nation, including performing in five presidential inaugural parades.
The platoon is named for Gen. Charles P. Summerall, former Chief of Staff of the U.S. Army and Citadel president from 1931 until 1953. It's purpose is to exemplify the exactness and thoroughness of a Citadel cadet's training through a unique series of movements based on old, close order Prussian drills. The maneuvers have never been written down, are passed from class to class, and are performed to a silent count.
The selection process includes weeks of Bond Volunteer Aspirant (BVA) training. More than 100 junior cadets who pass an initial physical fitness test take part in the six week long BVA training and tryout sessions. They must perform military pushups, sit-ups and rifle-bearing physical training, exhibiting exceptional physical condition and stamina.
The 61 seniors will be commanded by Cadet Joshua Gorczynski.
Carson Adams

Austin Ajami

Jack Beehler

Coleman Bennett

Cade Bennett

Kiel Bilton

Brian Bolchoz

Ben Boyette

Aaron Causey

Huston Curtis

Michael Curtis

Andrew Desjardins

Jared Douglas

Chad Duncan

Owen Dunne

William Edwards

Joseph Field

Etienne Fonteneau

Haven Garrett

Jeremy Gentle

Michael Goodwin

Joshua Gorczynski

William Grant

McKinley Grooms

Jacob Harding

Bryce Harrington

Buddy Herring

Alexander Hocutt

Derian Insani

Karl Johnson

Nikolaus Johnson

Wesley Kelley

James Kober

Patrick Kress

Cameron Liles

Cole Mangum

Trevor Moreno

Joseph Murphy

Nick Piacentini

Matt Player

Sam Poulin

Sean Reen

Thomas Rogers

George Saulnier

James Shields

Douglas Smith

Myles Starnes

Ian Stephan

Gabriel Stokes

Colby Thomas

Colton Webster

Jonathan Westmoreland

Maxwell Whalen

Thomas Wiand

Caleb Williams

Joseph Winkler

Greyson Young

Samuel Zuschlag
The Class of 2021 Summerall Guards:
Carson Adams
Austin Ajami
Jack Beehler
Coleman Bennett
Cade Bennett
Kiel Bilton
Brian Bolchoz
Benjamin Boyette
Aaron Causey
Michael Curtis
Huston Curtis
Andrew Desjardins
Jared Douglas
Chad Duncan
Owen Dunne
William Edwards
Joseph Field
Etienne Fonteneau
Haven Garrett
Jeremy Gentle
Michael Goodwin
Joshua Gorczynski
William Grant
McKinley Grooms
Jacob Harding
Hamilton Hardman
Bryce Harrington
Buddy Herring
Alexander Hocutt
Derian Insani
Karl Johnson
Nikolaus Johnson
Wesley Kelley
James Kober
Patrick Kress
Cameron Liles
Cole Mangum
Trevor Moreno
Joseph Murphy
Nick Piacentini
Matt Player
Sam Poulin
Sean Reen
William Rhodes
Thomas Rogers
George Saulnier
James Shields
Douglas Smith
Myles Starnes
Ian Stephan
Gabriel Stokes
Colby Thomas
John Vallos
Colton Webster
Jonathan Westmoreland
Maxwell Whalen
Thomas Wiand
Caleb Williams
Joseph Winkler
Greyson Young
Samuel Zuschlag