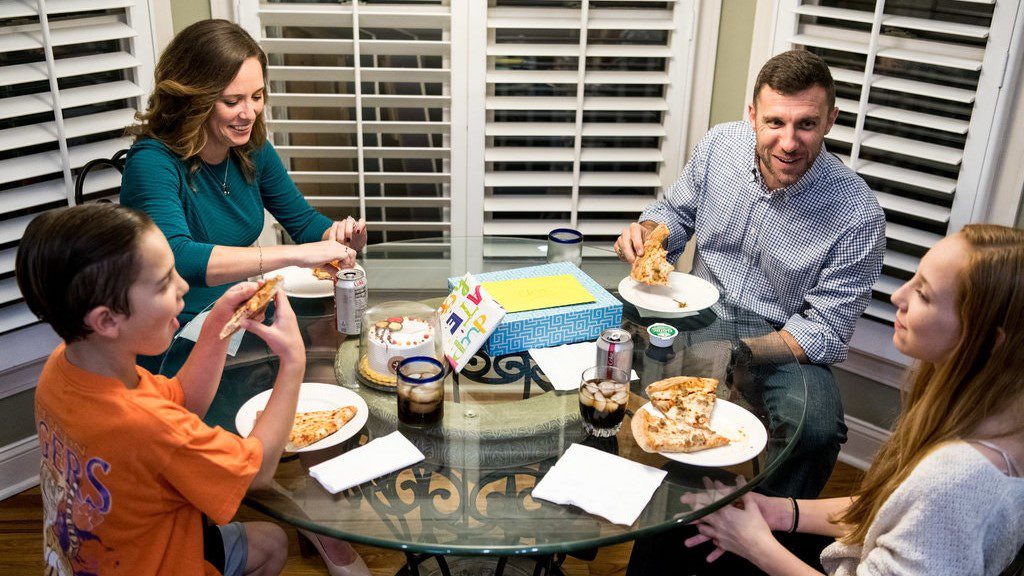 Photo: Kathryn and Gabe Whitaker with their children in Mount Pleasant, S.C. The couple are split on whether to impeach the president. (Courtesy: Sean Rayford for The New York Times)
Kathryn Whitaker's support for impeaching President Trump makes sense in this corner of South Carolina: She is a Democrat and a candidate for the State Senate.
"The president really put his personal interests and professional interests over the country's," said Ms. Whitaker, 37. "He was caught abusing his power."
But her position is complicated by the most intimate relationship in her life: Her husband of 15 years, Gabe Whitaker, is a Republican who thinks impeachment is "a huge waste of time."
"Just the conversation is creating division, which is what each party tries to do," said Mr. Whitaker, 41. "I'm getting sick of all that."
The polarizing political moment in Washington, where the House of Representatives is expected to vote on Wednesday to impeach a president for only the third time in history, has pitted lawmakers against one another in hearing rooms and on cable news screens. But the sharp divisions in the nation's capital have also emerged on smaller stages throughout the country.
With opposing views — but far less grandstanding — the battle over impeachment is playing out from block to block, house to house and even across shared dinner tables.
Perhaps no one expects the Senate to remove Mr. Trump from office. But the lack of suspense over the outcome has hardly diminished the passionately held opinions about impeachment, especially in places like the suburbs of Charleston, which anchors South Carolina's most competitive congressional district, a Republican-leaning sliver of coast represented in Congress by a Democrat.
Representative Joe Cunningham, a freshman in a district where Republicans have a 10-point advantage, spent much of the past few weeks in the cross hairs of a debate across his district.
A TV ad campaign in Charleston urged constituents to call his office and demand that he vote no. The ad played on Sunday even during the mildest of programming: a network airing of "The Sound of Music."
Democratic voters, meanwhile, cautioned that while they could forgive their congressman for breaking with the party on some issues, they would not be quite as understanding on a vote as consequential as impeachment.
Mr. Cunningham announced on Monday along with other moderate Democrats that he would vote in favor of impeachment. But in a country that already seems weary of hearing about the topic, the intense debate here in the Charleston area has led to meaningful discussions between friends over lunch, relatives at family gatherings and neighbors at parties — the rare instance where a political issue has lingered beyond a fleeting news cycle.
Linda Ketner, a Democratic donor and activist, said a friend had even asked her about impeachment during the sermon at church on Sunday. "He says, 'What do you think Joe should do?'" Ms. Ketner recalled.
At the Whitakers' brick house on a peaceful cul-de-sac in Mount Pleasant, polite disagreement over impeachment is hardly unusual for a couple whose relationship began when they were not yet adults.
As with other couples, the two of them evolved over the years in their political views. Ms. Whitaker became more liberal, more engaged in politics and more eager to share her opinions. Mr. Whitaker remained more conservative and echoed the hesitation of many others who worry that speaking publicly about contentious political matters can cause friction — and nothing has been more fraught lately than the question of whether lawmakers should try to remove the president from office.
"I'm not excited to talk about this," Mr. Whitaker said.
The couple met in their hometown, rural Cameron, S.C. He went to The Citadel, the famed Southern military college, and she to Clemson University, a land-grant school known for engineering and other sciences. "She was a College Republican when we dated, so I don't know what happened," he said with a laugh. By the time she became a Democrat, after interning for Charleston's long-serving Democratic mayor, Joseph P. Riley, "I was already hooked," Mr. Whitaker said.
Ms. Whitaker was used to politically mixed relationships. Growing up, her father was a Democrat and her mother a Republican. The day after President Bill Clinton was elected in 1992, her mother awoke her by banging drawers in frustration. A similar scene played out in her own home after the 2016 election, when a similarly disappointed Ms. Whitaker had to inform her own daughter, Hannah, now 12, that a woman had not been elected president.
Now that another presidential election is at hand, the Whitakers have agreed to disagree on impeachment, though Mr. Whitaker, who works in highway construction and voted for Mr. Trump, said he was unsure how he would vote in 2020. "I don't see him acting like the commander in chief I'd like to have," he said of the president.
"We have a lot of conversations," said Ms. Whitaker, a legal marketing and business development consultant. "But my husband has said, 'Let's not always talk politics, please!'"
With Ms. Whitaker running for office and so much attention focused on Mr. Cunningham's impeachment vote, the issue has been hard to ignore. The Whitakers and other families are doing their best to navigate the treacherous terrain.
Patrick Garrison, 33, said his mother had banned any impeachment talk from the Thanksgiving table. But Mr. Garrison, a Republican who works in commercial real estate, said the issue inevitably came up after dinner at a recent family wedding and on a road trip to Asheville, N.C., with one of his cousins, James Shelley, a Democrat.
"Truthfully, I appreciated the opportunity to talk to somebody who also follows it closely but has a different media diet than I do," said Mr. Shelley, 30, an account representative for a software company who lives in North Charleston. "I value his opinion. He arrived at it through thoughtful consideration, just like I did."
Quipped Mr. Garrison: "We'd rather talk about politics instead of football." (He is a University of South Carolina fan; Mr. Shelley roots for Clemson, which has recently had far more success on the gridiron.)
Mr. Shelley, whose interest in politics was piqued when he discovered "The West Wing" on Netflix six or seven years ago, said he had donated $10 to Mr. Cunningham's re-election campaign on Tuesday, as a thank you for his impeachment vote.
"Using my tax dollars to try to secure political favors from a foreign government to ensure his re-election, the continuation of his power, scares me," Mr. Shelley said of Mr. Trump. "I think there's a reason we have this clause in the Constitution, and it's because we don't want a king."
Mr. Garrison, who volunteered for his first political campaign when he was just 13, said he liked that Mr. Cunningham had pushed for an offshore oil drilling ban and to deepen the Port of Charleston. But he is less likely to support him next year because of his decision to vote yes on impeachment.
"It just feels like Washington is out of touch with its voters — and that's with both parties," Mr. Garrison said. "The issues that voters want to be tackled, they're not even getting looked at because they're so worried about what the media is perceiving, what the national parties are perceiving, what the whips and majority leaders are perceiving to be these big issues, instead of what their local constituents want."
Not everyone in the high-stakes district has been able to keep their relations quite as cordial. Jen Gibson, a 45-year-old Democrat who lives in the part of Charleston that sits in more conservative Berkeley County, said that after the last presidential election, she mostly cut off contact with relatives who kept posting pro-Trump memes on social media.
Having grown up in West Virginia as the granddaughter of an illiterate coal miner, Ms. Gibson said she found Mr. Trump's policies — and her family members' posts — to be callous. "I don't understand how they can forsake people that are just like us," she said.
But in a city known for Southern gentility, many neighbors seem proud to remain above the political fray. Allyson Kirkpatrick called impeachment "unreasonable" but did not want to dwell on divisive politics when one of her closest friends, who lives next door, worked for the Obama administration.
"We are citizens of Charleston first," said Ms. Kirkpatrick, who lives on a street of stately homes near the lower shores of the Charleston peninsula and has bonded with neighbors over shared concerns such as street flooding. "We meet at the dog park, and we just don't talk politics."
Her neighbors include Anna Laszlo and Gil Kerlikowske, a former commissioner of Customs and Border Protection appointed by President Barack Obama. Their foyer prominently displays photos of the couple's time in Washington, though this being the South, Ms. Laszlo said, most people are too well-mannered to ask many pointed political questions.
"I'm hoping what people will see is, 'Well, Anna and Gil are more like us than different from us,'" she said. "'Maybe there's something there that not all Democrats are bad.'"
Later this week, Ms. Kirkpatrick is having a cocktail party, and she has invited friends from the neighborhood. Among them are Ms. Laszlo and Mr. Kerlikowske.